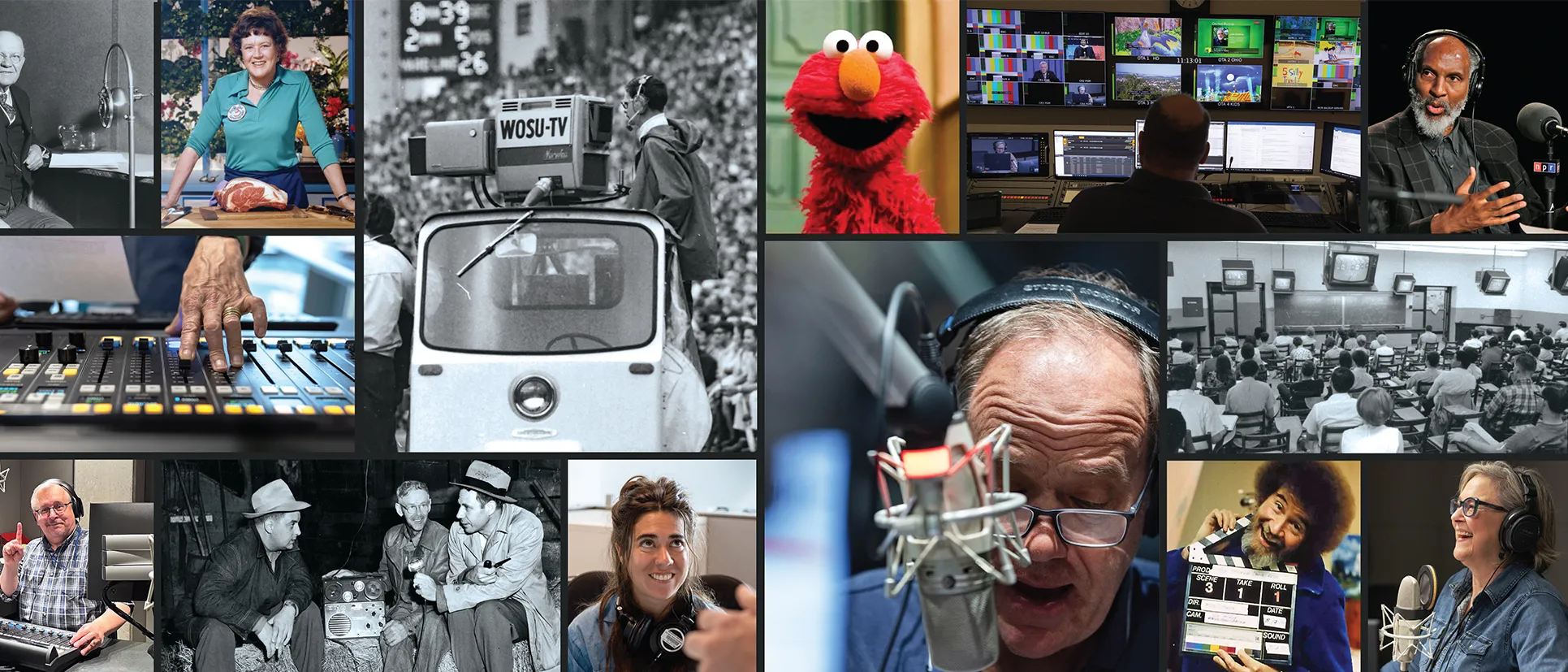 Campus & Community
WOSU turns 100: Power of the people
WOSU Public Media has enriched Central Ohioans' lives from the earliest days of radio to these times of plentiful ways to tune in. What comes next? New GM Ronnie Agnew shares.
WOSU Public Media has enriched Central Ohioans' lives from the earliest days of radio to these times of plentiful ways to tune in. What comes next? New GM Ronnie Agnew shares.
Q What's next for WOSU?

A

The staff and I are here to expand local content. WOSU has a proud legacy of producing great content, from "Columbus Neighborhoods" and "Broad & High" on television to radio offerings like "All Sides with Ann Fisher" on 89.7 and "Front Row Center" with Christopher Purdy on Classical 101. With a smaller newspaper presence in markets across the country, news is an area for us to expand to make sure people are informed. We're part of a new venture — The Ohio Newsroom — with public media across the state to provide important local and regional news. I'd also love to create well-done documentaries that can get shown across the country. I want to see Columbus featured more in the PBS and NPR arenas. 

And, of course, digital will play a major role in what we do in the future, so our app and streaming are very important. We're evolving as audiences and their viewing and listening habits change. It's a world where people get to choose, and we have to be where people are.  

Q What excites you about the new headquarters?

A

The Sandy and Andy Ross Community Studio has the capacity to become a community gathering place. Engagement, dialogue, discussions — the sky's the limit for what the Ross studio can be. Throughout the building, we have upgraded technology, from a media learning lab, to performance studios, to enhanced editing suites, to production studios. I couldn't be happier to be in a place with so much potential.  
Q Tell us your thoughts on WOSU as a training ground for students.

A

With our move from the Fawcett Center to the new headquarters near High Street, we have big call letters on the side of our building. It is a great billboard, letting students know there are opportunities here. I want as many student interns as possible to come through. I'm passionate about the media, and I believe in helping students. Now, all they have to do is walk across High Street.  

Q How do you create a supportive environment for reporters, editors and other staff?

A

I'm a people person. I've met with each staff member one-on-one with no agenda. Just to talk and hear what's important to them. I've always believed the best ideas come from the staff, not the leader. I've been engaging staff members about what's next. What do we want to be?  

Q What do you want alumni to know about WOSU's offerings and opportunities?

A

WOSU is an ideal way to stay connected to Columbus and Ohio State. Download our app, stream our programming. WOSU Radio and TV are member stations, meaning we rely on our community for a majority of our financial support. People who believe in the arts and people who want to see WOSU on the national scene can help us fund programming. And we'll have a volunteer program for people who live in the Columbus area.  

Q With so many options for entertainment and news, why should people choose public media?

A

We are seeing a constantly growing media landscape, with the exception of local news, which is where our news team and The Ohio Newsroom come in. On a national level, PBS has been rated the most trusted media organization for 19 straight years. My grandchildren can watch PBS and I know it's a safe place for them. 

It's gratifying to see the community wrap its arms around public broadcasting as a point of pride. We have a very healthy radio audience. People say they never touch their dial. It stays tuned to WOSU. Plus, we'll be expanding our storytelling. To have this university, with all of these experts in all of these topics, and to see the impact and the things we can do together — my mind is always churning. What's the next thing we can do here that's going to make a difference? 
Support WOSU
Listen, watch, help: WOSU Public Media provides options such as radio news, classical music and PBS television. You can help sustain its programming and day-to-day operations by donating.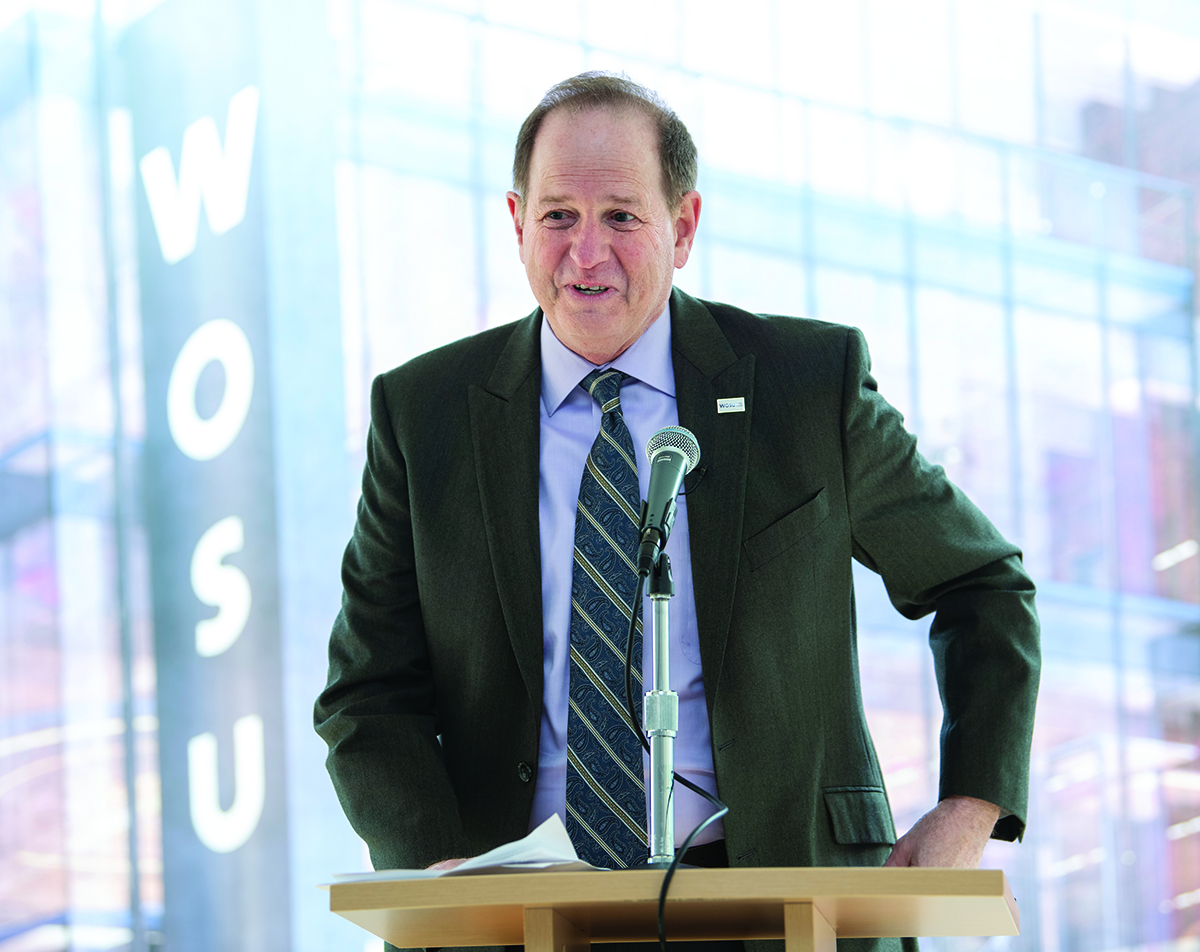 Tom Rieland's rich legacy 
Ronnie Agnew not only succeeds Tom Rieland, who retired in January after leading WOSU for 19 years. He also holds the new Thomas Rieland Endowed General Manager position, which honors his predecessor. 
During Rieland's tenure, WOSU cemented its status as a community asset. As the fifth leader in WOSU history, he enhanced ties with the university, grew student experiences and built a staff passionate about public media. 
Rieland also was dedicated to increasing WOSU's presence in the community. After initiating a capital campaign effort, WOSU raised over $12 million for the new $32 million headquarters at 14th Avenue and North Pearl Street and created paths to future growth. 
Rieland strengthened bonds with the Friends of WOSU board and longtime donors such as Andy and Sandy Ross, whose generous support of more than $8.7 million helped solidify funding for the new headquarters and establish the endowed position. 
"With the new WOSU headquarters fully operational, Ronnie and the senior team have a lot of room for growth and opportunities to engage Central Ohio in new and innovative ways — both in person and virtually," Rieland says. "I see great things ahead for WOSU."