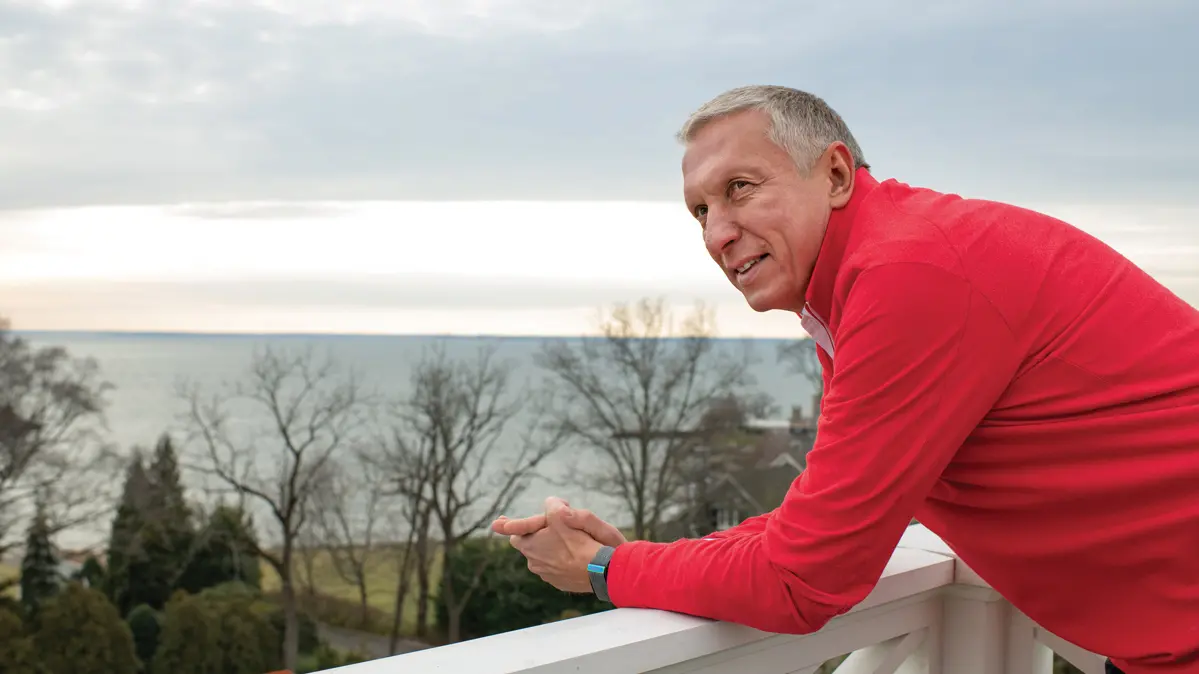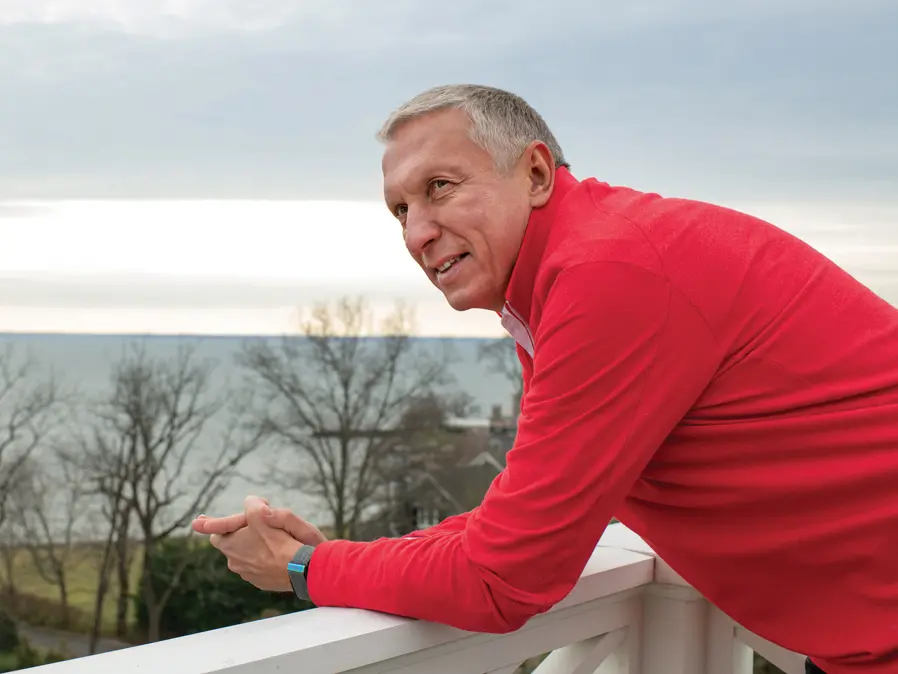 Our Alumni
Right time, right place
A springboard can take many forms. For this enterprising scientist and entrepreneur, who arrived in America to attend Ohio State at 26, the confidence of faculty mentors and his own fire for knowledge and innovation were essential catalysts. Now he's investing in new generations of big thinkers.
"The United States seemed like the best place to continue in science while learning more about entrepreneurship," he recalls. Unfortunately, his score on the Test of English as a Foreign Language (TOEFL), required for admission, fell short of Ohio State standards. Determined to recruit the brightest students, Miller intervened and secured an exemption for Timashev.
This esteemed professor's willingness to take a chance on him was all the budding scientist and entrepreneur needed to begin again. At 26, he set foot on the Columbus campus for the first time in the fall of 1992.
Miller's office offered Timashev the support he needed to navigate a new academic system, and a graduate student in Slavic languages was assigned to help him improve his English. Within a year, he achieved the level of fluency he needed to work as a teaching assistant. To further quell his culture shock, he immersed himself in life on an expansive campus half a world away from his family in Ufa.
"From basic social interactions to the placement of light switches in a room, everything felt different," Timashev says. He acclimated by making friends, playing rec sports and attending football games.
From an academic perspective, it was immediately evident Miller had made a wise bet on Timashev.
"Like the other students we had recruited from MIPT, Ratmir was top notch in terms of intellectual ability, knowledge and motivation," Miller says. Under the guidance of George McBane, a faculty member whose lab he helped build from the ground up, Timashev excelled. He spent most of his time honing his expertise in molecular spectroscopy, an area of science that studies materials by gauging their interactions with various frequencies of electromagnetic radiation.
"People often ask me how I ended up in Columbus instead of New York or San Francisco, but I'm incredibly happy that I landed at Ohio State," Timashev says. "Mentors like Professor Miller and Professor McBane put so much hard work and dedication into developing young scientists, and they gave me the opportunity to be part of one of the best chemical physics programs out there."
---
Anyone who knows Timashev has heard him describe his theory for success in business: "Right time, right place, brilliant product." Six simple words that quickly sort startups into triumphs and failures. Timashev fully intended to earn a PhD at Ohio State in addition to his master's, but the advent of e-commerce was growing too close for comfort. If he waited too long, he would miss his window.
"It was easy to see that the internet was about to change our lives," he says. "In the early '90s, everything you read was about how we would soon be able to buy and sell just about anything online."
In 1996, Timashev told McBane he was moving on from Ohio State to start a business. McBane urged him to stay three more years to earn his doctorate, but his mentor's protests couldn't persuade him. "I told him, 'George, if you told me I could get my PhD in three months, I still wouldn't do it. The internet is coming, and I can't wait any longer to be part of it.'"
Timashev's science studies may have delayed his business plans, but he would never trade the time he spent working shoulder to shoulder with some of the most accomplished chemical physicists in the world.
"When you think about it, science and tech entrepreneurship are actually very similar," he observes. "In both fields, you have to experiment. You have to create a new idea and spend years of your life proving it. Then you have to risk everything you have to make it work."
Fortunately, Timashev already had a winning idea. Before companies such as Dell and Hewlett-Packard sold personal computers, some self-starters bought computer parts and handled assembly themselves. Timashev decided to go into business selling parts to these techies.
The e-commerce pioneers of the 1990s scaled mountains their successors could hardly imagine, beginning with building technology that could process online payments. Timashev knew he needed a tech guru to help bring his vision to life. Baronov, his close friend and former roommate from MIPT, was up for the challenge. "Ratmir's creativity, honesty and openness define him as an incredible serial entrepreneur, and he immediately drew me in," Baronov says. "This youthful openness has not changed at all since we first met in 1985."
Impact in the making
The Timashevs' historic gift will further expand entrepreneurial opportunities at Ohio State.
While Timashev was gregarious, visionary and brimming with more good ideas than any two people could pursue, Baronov was pragmatic and reserved, a keen intellect who spoke the language of technology with native fluency. Baronov poured his time and energy into developing new products and systems, leaving Timashev space to generate ideas and focus on sales and marketing.
"From the beginning, Ratmir and I understood who did what, so our 'lanes' have always been clear," Baronov says. "Our alignment and complementary skill sets as co-founders have fueled our success."
Baronov built their online computer parts store using Windows NT, a Microsoft operating system quickly gaining popularity. As he created the infrastructure to conduct business online, Baronov became an expert in Windows NT, even developing tools to manage its networks more effectively. In late 1996, he and Timashev began selling these tools on Baronov's personal website for $20 each. They realized they had struck gold when these sales exceeded profits from their computer parts venture.
In an alternate reality, the pair could have competed with Jeff Bezos to scale their e-commerce site, launched only months after Amazon.com. Instead, they founded Aelita Software and never looked back. Over the next decade, they capitalized on the Windows systems management software that Baronov had developed to fill a chasm of untapped demand.
"Working with Ratmir to build this company never felt like a job," Baronov says. "We were having fun from the beginning, and we built the company almost like we would approach a hobby — at first as something we loved to do and then as something that could grow and become profitable."
Bill Largent, a former Aelita executive and now one of Timashev's closest friends, remembers the untrammeled energy that defined Timashev's leadership during those years. "Ratmir has incredible intellectual curiosity and an insatiable appetite to keep learning," Largent says. "In all the years we've worked together, he has never lost his enthusiasm for taking on the next challenge."
In 2004, Timashev and Baronov sold Aelita to Quest Software for $115 million. By then, the next challenge had already presented itself.
---
In the early 2000s, a nascent technology called virtualization was poised to revolutionize the way businesses stored data. Essentially, it allows multiple virtual computers (called virtual machines or VMs) to run using a single physical computer's hardware elements, such as processors, memory storage and power supplies. By separating hardware from the software running on it, virtualization allows businesses to reduce hardware costs and maximize efficiency. It's what makes cloud computing possible.
By the time they sold Aelita Software, Timashev and Baronov were itching to get in on the ground floor. In 2006, they entered the virtualization space as the founders of a new Columbus-based company called Veeam, for the acronym VM. With Veeam, they set out to capture lightning in a bottle for a second time — and they succeeded. Over the next several years, Veeam created tools for VM administrators to monitor and back up system data. Their backup tools, in particular, propelled Veeam to explosive growth and became the core of company revenue.  
In 2020, Timashev and Baronov sold their company in a transaction valued at $5 billion. By then, Veeam had dominated the market in backup and cloud data management for more than a decade, counting more than three-quarters of Fortune 500 companies in its customer base and achieving more than $1 billion in annual revenue.
"I never cared about being known, like being seen as the Steve Jobs of systems management or Bill Gates of cloud data management," Timashev says. "I just wanted to create products that solve problems for our customers. Veeam has done that now for close to 500,000 business customers. I consider that my greatest accomplishment."
Timashev didn't step away from Veeam because he was out of fresh ideas. He wanted to channel those ideas in a different direction. In addition to spending time with his wife, Angela, and children, he devotes his days to studying new technology, building software incubators and empowering the next generation of innovators through philanthropic support.
---
"I want all alumni to think about Ohio State and Columbus first, as the place to hire, the place to expand, the place to create an internship program. The campus is getting better and better — beautiful, modern, powerful."
Ratmir Timashev
Timashev remembers turning to the conversation partner who helped him gain English fluency back in the 1990s and marveling that his new university had invested in his education. "I told her that when I succeeded in business, I would repay Ohio State for the opportunity it gave me as a young scientist," he says.
He has repaid his alma mater many times over.
In 2016, Timashev donated $5 million, through Veeam, to support student scholarships, teaching and research in chemical physics and data analytics in the College of Arts and Sciences. "This gift was about investing in STEM in a place where great ideas can take flight," says Largent, who helped facilitate the gift as president of Veeam.
Dean of Natural and Mathematical Sciences Susan Olesik, who chaired the Department of Chemistry and Biochemistry at the time, says the funding fueled the growth of Ohio State's Spectroscopy Institute. "Thanks to Ratmir's generosity, the 20 faculty members conducting research in this institute will help define the field of next-generation, ultra-fast optical spectroscopy for decades to come," she says. "Now they have the support they need to analyze material science in ways we can't even imagine yet."
The gift also created an endowed professorship in chemical physics, enabling Ohio State to entice exceptional talent with the prospect of conducting research that is more innovative or risky than traditional funding sources will cover. 
"I've told Ratmir how proud and impressed we are that he is willing to support Ohio State," Miller says. "More and more, even the most basic science research grants are becoming tied to research that provides tangible results in a short time. The kind of support we receive from Ratmir gives us the opportunity to pursue truly exploratory and transformational research over a much longer period of time."
Encouraged by the impact his support is making, Timashev expanded his footprint on campus in 2020 with a $17 million donation to the College of Arts and Sciences, the college's largest gift to date. Most of the gift went toward the new Timashev Family Music Building, one of the most technologically advanced facilities of its kind in the country.
While Timashev built his dream at the intersection of science and business, he advocates for an education that's also rich in the arts. "I've always believed that to produce the best results, you have to engage the emotional, creative part of your brain as well as the logical, technical part," he says. Timashev credits his family and his years of playing the domra, a Russian stringed instrument, with fostering his creativity.
---
On an unseasonably warm day in February, Timashev visited Smith Laboratory to talk with students in an Integrated Business and Engineering (IBE) class and share his path as an entrepreneur. He came away brimming with enthusiasm.
"They asked excellent questions: How do you come up with and test your ideas? What mistakes did you make? What are the most important characteristics for entrepreneurs?"
Timashev sees himself having many such conversations and get-togethers in his work with the just-announced Center for Software Innovation. The center is made possible by a $110 million gift from the Timashev Family Foundation. Rooted in the philosophies of the IBE program, the center will launch in the months to come with Timashev in the role of an executive in residence with the College of Engineering and Fisher College of Business.
For years, Timashev resisted pressure to relocate his companies to Silicon Valley, even when venture capital was scarce in Ohio. Today, he is even more passionate about the roles his alma mater, Columbus and the Midwest — the American heartland, he likes to call it — will play as technology continues its ascent.
"I want all alumni, especially alumni who work in technology and software, to think about Ohio State and Columbus first, as the place to hire, the place to expand, the place to create an internship program. The campus is getting better and better — beautiful, modern, powerful."
Timashev talks of a circle of life, one that has current and future students reflecting on who gave them a hand up and then reaching out to help those to come. As he talks, it's impossible not to think of the professor who, in the 1990s, met and advocated for a young scientist with big dreams.
"Ohio State gave me the opportunity to build two successful companies, and I want students to realize they have all the opportunity they need right here," he says. "This is the right time and the right place to build something."