Spirit & Sports
2 sons follow dad into Buckeye football brotherhood
'90s defenseman Lorenzo C. Styles will proudly tell you: Lorenzo P. and Sonny Styles are playing together and keeping tradition alive. 
The brotherhood, the ties that bind teammates together for a lifetime, has always meant a lot to Lorenzo C. Styles, since his time playing outside linebacker for Ohio State in the early '90s. "The undisputed leader of the defense," the 1993 media guide called him.  
"A lot of the guys I played with, we're still close," he says. "We still talk and a lot of us do business together." 
Now, those ties means even more to him because his sons, Lorenzo P. and Sonny Styles, have become a part of the brotherhood.  
It didn't start this way. 
The younger Lorenzo wanted to walk a different path. He enrolled at Notre Dame and played for two years as a wide receiver. He even shared the field with his brother in Ohio Stadium last season when the Fighting Irish came to Columbus.  
Close, but not in the brotherhood. 
One year, a change of heart, a trip through college football's transfer portal later, he's home — closer to his family and the Pickerington community where he grew up. Now he's a Buckeye, wearing scarlet and gray instead of green and gold. 
"It was about finding the best fit for me on the field and then off the field, too," Lorenzo P. says. "I have my family here. I feel like that's the biggest difference from being at Notre Dame — being here, my family, my friends, a lot of love that I grew up around.  
"But I think it's just really a great opportunity for me to go excel on the field and try to become the best version of myself as a football player and a person."  
The senior Styles says of having his family in the same football community: "It's obviously a great feeling as a father. The brotherhood has not changed, so the experiences my sons are having now are pretty much the same. And that tradition is carrying on." 
A family affair 
Like their father, a member of those fierce Buckeye defenses of the '90s, Lorenzo's sons play on the same side of the field. Lorenzo P. switched schools and switched sides — once a wide receiver, he's now a cornerback.  
"The two Styles brothers," Lorenzo P. says. "I know Sonny's going to do his job and I'll do mine. It even makes me want to go a little harder to have my guy back there with me." 
Sonny is listed as a safety but may play all over the field this year. A unicorn, his coaches say, with elite skills. He and his brother are learning from each other.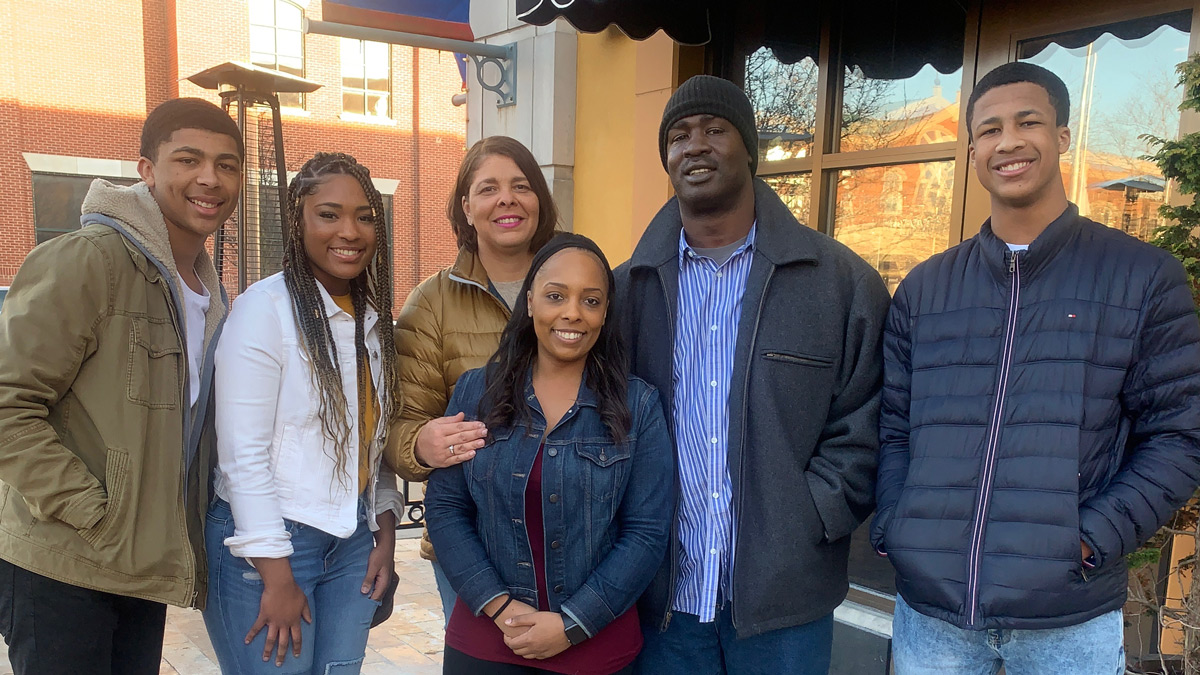 "I think we just pick each other's mind. He picks my mind on the defense and how it operates, what everyone is doing," Sonny says. "And then I kind of pick his mind on receivers, like what's their thought process?" 
Seeing two young Buckeyes with "Styles" on the back of their jerseys brings back memories and emotions for their mother, Laverna '94, also a lifelong Buckeye. 
"Life has come full circle," she says. "I met my husband when we both attended Ohio State, cheered for him as a Buckeye and now I'm cheering for our sons as Buckeyes. 
"I'm excited that both boys are playing in the same stadium and on the same field as their dad, and both as Buckeyes. It's not something you see happen often, so I know it's a true blessing." 
Sonny echoes his mother's thoughts. 
"It's truly a blessing. I think my dad would have been proud of us wherever we went, but it makes it a little bit more special to be able to do great things in the same place where he was a few years back," Sonny says. 
Like all Buckeye fans, the elder Lorenzo hopes his sons beat the team up north and play for championships. But it's simpler than that, too. 
"The main thing is that they walk off the field like they walked on: be safe, get better, be successful." 
Old traditions, new challenges 
Some of the experiences this year for Sonny and Lorenzo P. will be the same as they were 30 years ago, from Skull Session to "Hang on Sloopy." The Victory Bell and "Carmen Ohio." But much has changed. 
"The way they train is a little different now. I won't necessarily say smarter, but they train the body differently than we did," Lorenzo C. says. "We were a little bit more, I guess, from the old-school tradition. Banging heads all the time and the three-a-day practices." 
But the father sees the new challenges his sons face as well. 
"The media exposure is a lot more with social media and stuff like that. It's a lot more intense," he says. "We had to be careful about what we did and what we said and who we were around and associated ourselves with. But with social media, it's more present now and they have to be very mindful of that."  
The elder Lorenzo — who is still friends with teammates Tito Paul '01 and Obie Stillwell '96, '21 and who has reconnected with Ryan Miller '97, '05 MBA, Bob Hoying '95 and Luke Fickell '97 — hopes his sons make the same kind of friendships and connections. 
"You go through the struggles of camp, the struggles of everybody getting better," he says. "You're sharing that same common goal and everybody's working extremely hard to reach that goal. The team creates that brotherhood. It's inevitable."