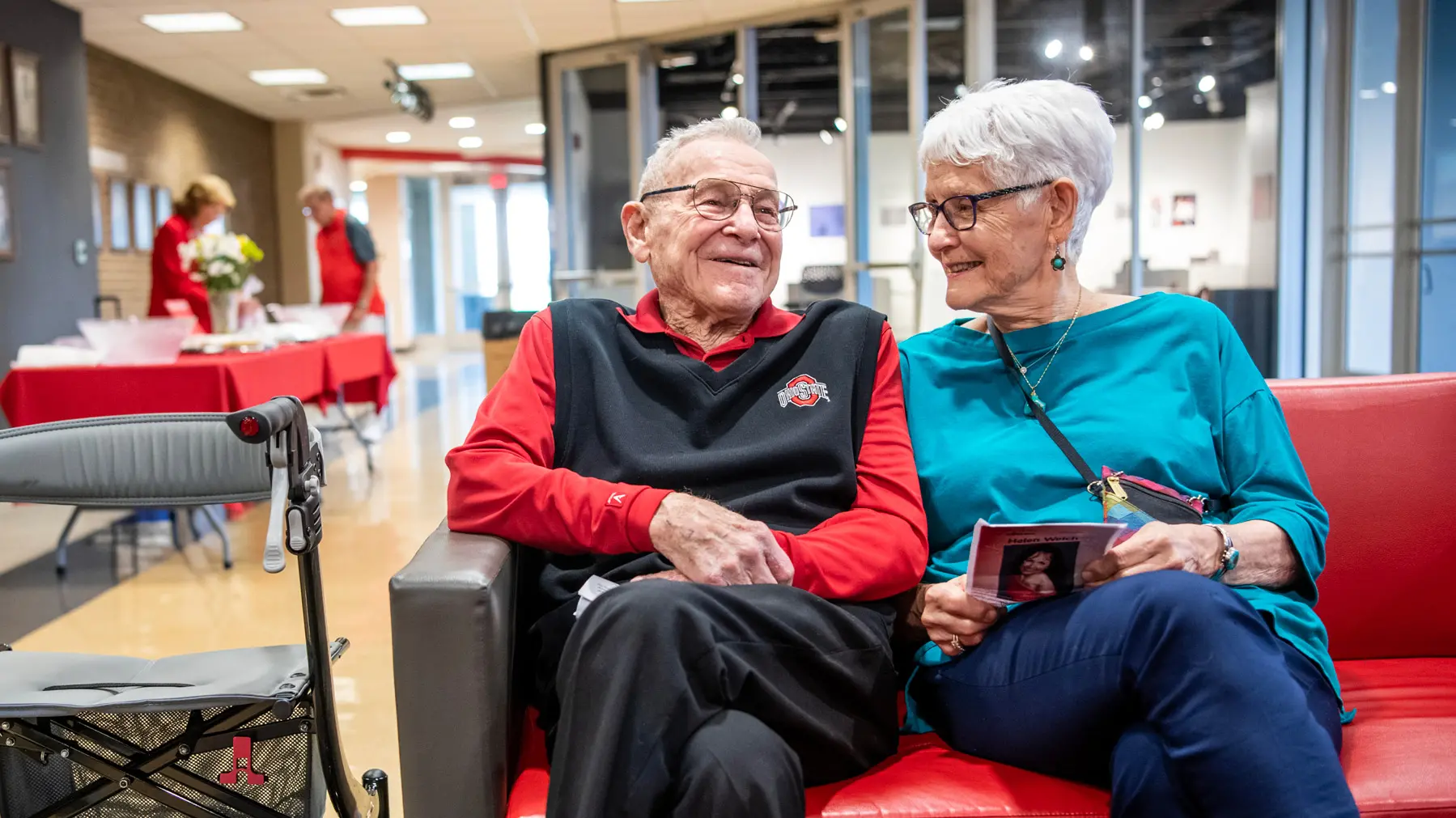 Our Alumni
99-year-old Merle Lashey Jr. seizes all the days
Lashey embraced a return to college in his 30s. By then, this World War II veteran already was an experienced farmer, and he remained close to agriculture through roles in finance, public service and international consulting. Now, his commitments to his community and university are as powerful as ever.
How did he juggle so many different roles? "I just did it," he says in his unassuming way. "Family and friends have given me so much support. They keep me sharp and encourage me."
Among his closest supporters was his wife, Evelyn, with whom he shared 63 years of marriage, three children (David, Beth and Miriam), three grandchildren, seven great-grandchildren and a great-great-grandson.
Lashey was heartbroken when Evelyn passed in 2010. That year, he sent out Christmas cards, noting it was his first Christmas without Evelyn. One of the card recipients was another Buckeye, Marley, whose late husband had worked for Lashey years before. Then living in Pennsylvania, Marley responded with a letter of sympathy.  
"It was a beautiful, amazing letter," Lashey remembers. He wrote back. The two corresponded for months, then Marley drove over for a visit. She hadn't seen Lashey in 44 years. 
"We took a walk, and I reached out to hold his hand," says Marley, a College of Nursing graduate who enjoyed a long career in that field. "We both felt so comfortable together." They started dating — Lashey was 88 years old and Marley 78. Eleven years later, they are still in love. 
---
In considering Lashey's long, wonderful life, it's clear he has a remarkable ability to take risks, embrace change and keep moving forward.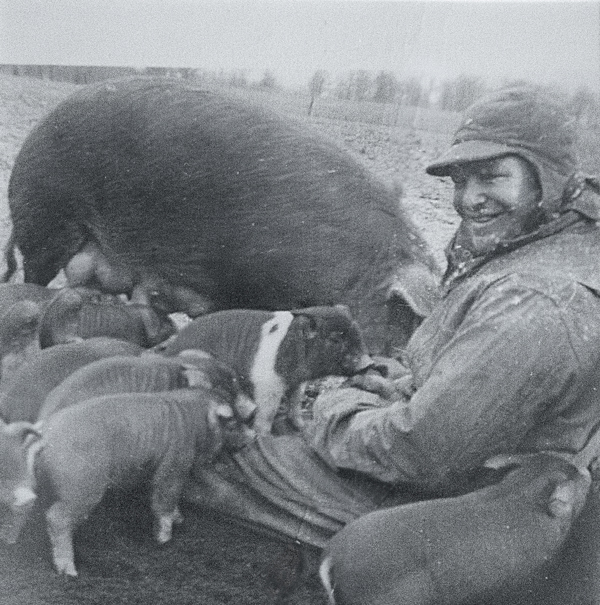 For instance, in 1946, he resumed his studies at Ohio Wesleyan University, where he had begun classes before being drafted within a year of his high school graduation. But after a few semesters, life changed. His father-in-law got sick and could no longer run the family farm. Lashey left school to take over. It was a big job. While he'd grown up on a 10-acre farm with a few chickens and cows, now he was in charge of 50 times that acreage and thousands of livestock. 
Lashey took the challenge in stride. "I never thought I'd have an opportunity to manage a big farm, so I was grateful for the chance."  
Faith and family fueled him. He and Evelyn had their children and embraced the rhythms of farm life and the bonds of a tight-knit community. Each Sunday, the couple sang in the choir at Green Camp United Methodist Church, which he still attends. 
But after 12 years in farming, Lashey had reason to rethink his path.
"A good friend of mine got injured in a corn picker accident and lost his hands," Lashey says. "I began to think, what if something happened to me? Without a college education, what would I do?" 
Going back to college felt risky. He was 37.  
"I wasn't the greatest student in high school, so I didn't know whether I could be competitive or not." But Evelyn, a teacher and college graduate, encouraged him. So in 1960, Lashey enrolled at the new Ohio State regional campus in Marion. He flourished, buoyed by support from his professors, all the while continuing to farm. He later transferred to the Columbus campus to complete his studies. 
"I remember being on the tractor, going through my notes," he says. "I could probably plow out a few hills of corn while I was studying."
"There's a famous line in 'Les Misérables': 'To love another person is to see the face of God,'" Lashey says. "I think that's the main thing. God is love, the essence of love. That's how I try to live. I try to be kind to everyone I meet."
Merle Lashey Jr. '63
Lashey earned several academic awards and graduated in 1963 with a bachelor's degree in agricultural economics. He decided to use his education to help his fellow farmers. He took a job at Agricultural Production Credit Corp. as a manager and eventually CEO, and for 13 years he provided credit and counsel to farmers. 
Then Ohio State came calling. The College of Food, Agricultural, and Environmental Sciences had a partnership with the U.S. Agency for International Development. They offered Lashey a two-year contract to help develop the cattle industry in Kenya. Uncertainties accompanied the proposition, including leaving a comfortable job and moving his family to Africa, but Lashey decided to go for it. He enjoyed the international work so much that he took another contract in Egypt, where he marketed potatoes, and in Swaziland as a credit specialist.  
Between the international assignments, Lashey returned to Marion County and was elected to the Board of Commissioners, serving from 1975 to 1981. He worked to improve county services and establish a new hospital. He also campaigned to elect candidates he respected. His scrapbook is filled with letters from public servants grateful for Lashey's efforts, including one from fellow farmer and U.S. President Jimmy Carter, and another from Secretary of Agriculture Robert Bergland, who held an event on his farm.  
All of this networking might have swelled some folks' heads, but not Lashey's. He remains humble, grounded by family, friends and 50 years in farming.
---
Sixty-three years after beginning classes at the Marion campus, Lashey remains a loyal Buckeye who supports and enjoys offerings there. A member of the President's Club donor community, he has helped fund the Science and Engineering Building, student scholarships and a new gymnasium.  
"I had such wonderful encouragement and support from the professors here," Lashey says. "It started in an old high school, not what you see now. Being 15 or 20 years older than [other students], a lot of them called me Dad. It was a good chance … to find out whether or not I could compete academically with these bright young students.
"I found encouragement and care," he says. "One of my first professors, Harold Hazlett, he was my algebra instructor. And he was so encouraging, helpful and wanted to make sure that he was there if I needed help.  
"It's people like that, the community that supports you, that helps you become what you are. … I'm so thankful and want to give back." 
Throughout his life, Lashey has sought opportunities to bring joy to others, no matter the circumstance. Take the day during World War II when Lashey and his battalion had just entered the German city of Ulm. Bullets rained down, and Lashey dove into a hole for cover. Looking down, he spotted a cellar filled with wine bottles.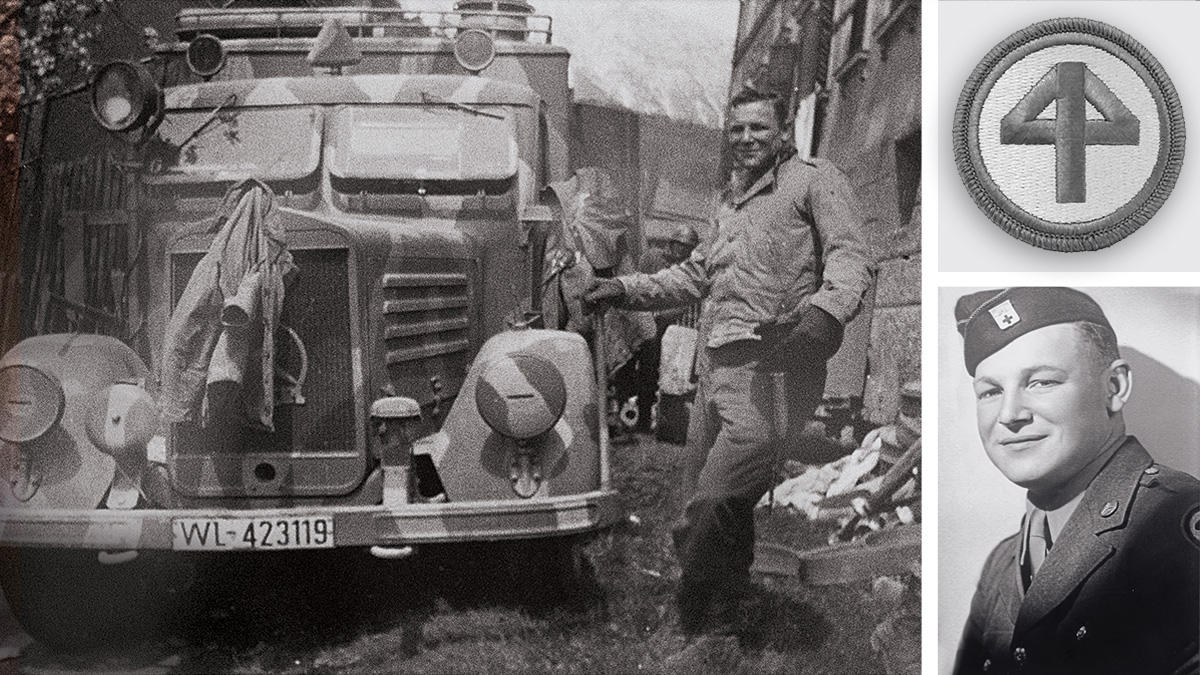 "I knew I had discovered something valuable," he says. "The troops would love to have something to drink."
With his captain's permission, he and his fellow soldiers loaded dozens of bottles into a firetruck abandoned by the fleeing Germans. The truck joined the caravan of Army vehicles snaking through the Tyrolean Alps in Austria and, at destination's end, the soldiers uncorked the bottles and drank jubilantly. 
But not Lashey. "I don't drink," he says. He didn't want the wine for himself; it was for his friends. "I was really a popular guy and we were a popular company. All the companies around heard we had a wine truck." 
Today, a month or so into his 100th year, Lashey continues to enjoy many friendships, including one with Dan Wigton '79. A Marion resident and senior vice president for Stifel, an investment banking company, Wigton has known Lashey most of his life. He, too, has deep roots in Marion and has seen firsthand the extent of Lashey's community involvement. 
"Merle is a man of honor," Wigton says. "He has a great work ethic and was very active on his farm and as a county commissioner. He's always looking for ways to help the community and do as much as he can. And Merle has worked and traveled all over the world, serving as a tremendous ambassador for Marion, Ohio." 
Gerber often sees him on campus, too. "He faithfully attends our Five Nights on Campus performing arts series. Merle and Sue arrive early and sit up front near the stage." 
Those early arrivals ensure Lashey won't miss a minute of the show. He loves music, especially Broadway musicals. His favorite production is "Les Misérables," which he and Marley have seen five times. 
"There's a famous line in 'Les Misérables': 'To love another person is to see the face of God,'" Lashey says. "I think that's the main thing. God is love, the essence of love. That's how I try to live. I try to be kind to everyone I meet."
Another friend of Lashey's is Cathy Gerber '91, director of community relations and development at Ohio State Marion. The two like to grab lunch now and then. "Merle enjoys supporting our downtown restaurants," Gerber says, "and he's greeted with hugs and kisses upon arrival and throughout each visit."
Reflections on community
Communities are important to Merle Lashey Jr. He's been part of many throughout his 99 years — his family, farming, the military, public service, his church, Ohio State. We talked with him about what it means to be part of a community, to make commitments and reap support. Here's a recap of our conversation. — Mary Alice Casey   
On growing up on a small farm
It was the start of the Great Depression. I remember my father coming home. It was the first time I ever saw him cry. His salary had been cut tremendously, so he decided to become a little farmer, like all the farms that bordered us out there, strictly an agricultural community. And he built a barn and got some cows and hogs and chickens and a big garden. And we became self-sustaining and made it through the Great Depression. I thought we had a good life. 
On embracing farm life in Ohio
What really brought me back to Marion was the farm, because after the war, I married a farm girl. Her father got ill, and he wanted her to come back to farm. So that's how I ended up farming for quite a few years before I went back to school at Ohio State. So the farm was my success story, and it has always been there. I've always been a part of it. Farming's a good life. I love the call of nature. I love to see the crops grow, the wildlife. I just have a great love for nature, and that's part of the farm. 
On the agricultural community
Being a young farmer like that, observing neighbors, getting advice from neighbors, using Marion County's OSU Extension agent, having access to all the Ohio State trials for increased yields by using fertilizer and herbicides, that was important. Extension played a big part in making me successful in my farming operation. 
On being a Buckeye who pays forward
Well, it's local, and it just creates an academic atmosphere that you like to be associated with, to be involved in some way. And as to my trying to support Ohio State, I felt I owed it to Ohio State. It was kind of a payback thing, because Ohio State contributed to my success, starting with farming and my credit union work. It changed my whole life, made me so diversified. It's just unimaginable what Ohio State means to me, especially the Marion campus.
On getting a solid footing at home
How I was brought up, my parents and their Christian beliefs and how they treated people — I think that established my personality, to be like them, to be kind and responsible. I think I owe that to them, my personality, who I am today.
On community involvement
I'll tell you, it doesn't hurt to volunteer. You volunteer for the Red Cross. You volunteer for food banks. You help out the cat sanctuary. To volunteer gets you involved in what's going on around you. I just go back to the word "involvement" — in your life, in your community. It's one of the most important things that has guided my life and made me reasonably successful. At least I feel I'm that, and that's important.