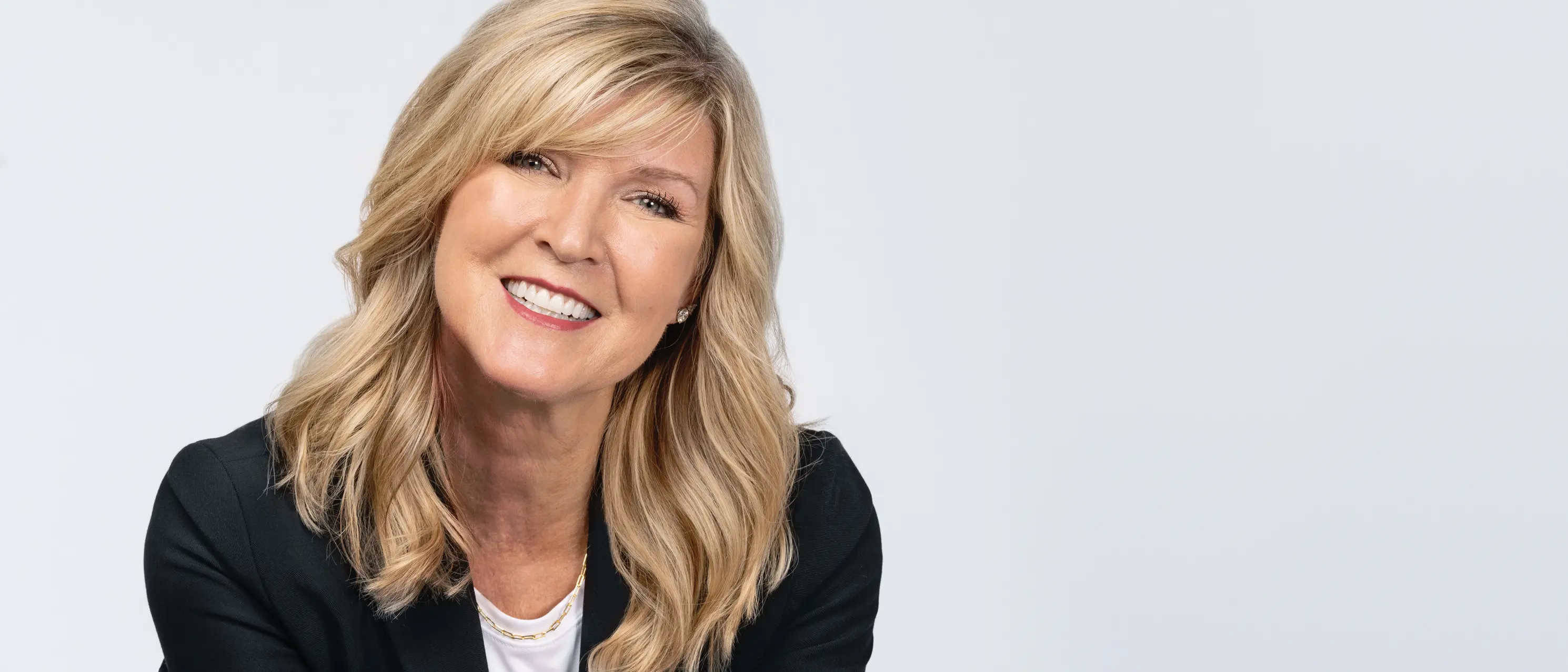 Our Alumni
Serving with her values 
In 1963, Ohio State sophomore Jim Grote opened the first Donatos Pizza. His daughter Jane Grote Abell '88 has found her own ways to lead with love.  
In 1963, Ohio State sophomore Jim Grote opened the first Donatos Pizza. His daughter Jane Grote Abell '88 has found her own ways to lead with love.  
"I was surrounded by people who were skeptical of this concept," Grote remembers. "The neighborhood was full of electricians, plumbers, real estate people, construction people — all honest people and hard workers — who told me that it's rough out there and I would never make it if I clung to these goody-two-shoes principles." 
His hometown skeptics couldn't have been more wrong. 
Donatos was successful from the beginning, with the whole family chipping in: Abell, her siblings Tom, Katie and Kyle, and her mom, Annie. Jim Grote instilled in his children the importance of caring deeply about the people they served.  
All four kids began their careers at Donatos by picking up trash in the parking lot, eventually progressing to cracking eggs and making pizza dough. From keeping the area around the store clean for their neighbors to making sure the shop's neon light didn't shine too brightly into anyone's home, the Grotes treated their neighbors like family — and their neighbors responded with enthusiasm.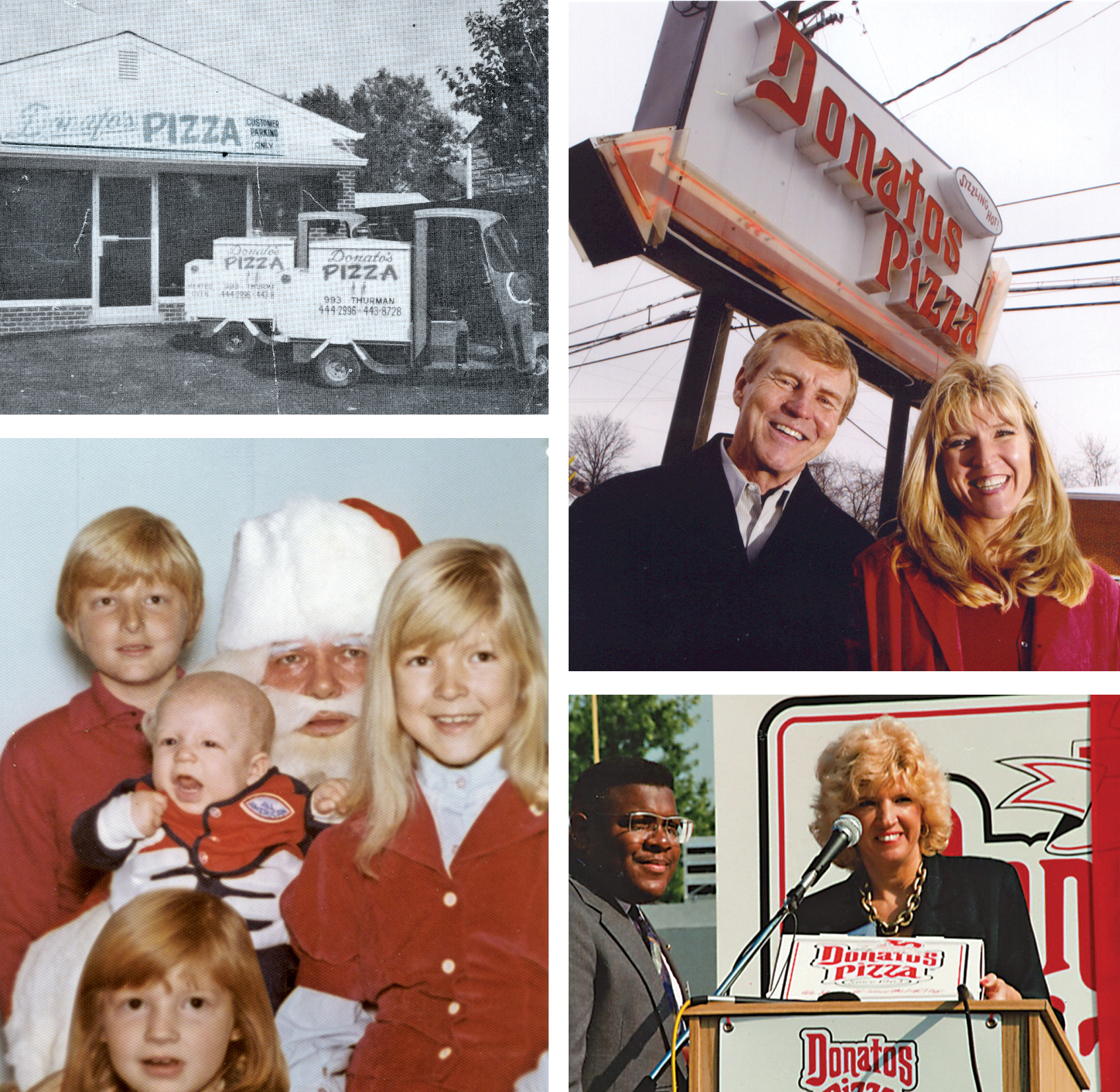 "Our home became a center of gathering, one that was always full of joy and energy," Abell recalls. "That was where I learned the art of hospitality from my mom, who always opened our front door to our neighbors and invited them into our living room. They soon became our friends and family." 
Abell had earned paychecks from Donatos since the age of 11, but she wasn't sure how she wanted to make her mark on the business. She knew she loved working with people, so she enrolled in organizational design and communications at Ohio State to learn how to build a people-centric company that would stand the test of time. 
She balanced her class time with long hours at Donatos' north campus location throughout her undergraduate years and still found time to make close friends and participate in campus traditions. 
"I couldn't have had a more fulfilling experience at Ohio State," she says. "The energy on campus has always been contagious." 
Some of her fellow students became lifelong friends, forming the scaffolding of a support network that would prove essential in navigating the challenges that lay ahead. 
Over the past 35 years, Abell has held a long list of job titles at Donatos: training manager, director and vice president of people services, chief people officer, senior VP of development and franchising, chief operating officer, president and now executive chairwoman and chief purpose officer. 
Video: Jane Grote Abell's 2022 commencement speech 
Leading the business alongside her dad and her husband, Donatos CEO Tom Krouse '82, Abell learned quickly that tough calls can become even tougher when values, not profit, take priority.  
From the outset, one of the most difficult decisions to make was turning down potential franchise partners. A candidate may be willing to sign a 20-year commitment representing millions of dollars in revenue for Donatos, but they may not bring the right traits or motivation to the role. 
Perhaps the most public test of values came in the wake of selling the company to McDonald's in 1999. The Grote family had never searched for an exit strategy, but the prospect of expanding the company's footprint internationally and creating new opportunities for employees was hard to pass up. 
While Abell remembers her McDonald's colleagues as "good people with strong values," she immediately noticed glaring differences in culture and decisionmaking between a private, family-run business and a corporation accountable to shareholders. While the Grotes' mission was to build an international enterprise with McDonald's that reflected their family style of business, reality couldn't match those aspirations. Abell began to absorb the stress of leading Donatos within a foreign ecosystem. 
"I quickly realized that I needed to lead differently," she says. "I lost my courage to speak up and share my ideas. I started working from a place of fear, which led to longer and harder hours. I realized I was becoming someone I didn't like anymore." 
Over time, she made a conscious effort to rediscover her own voice. Then came news that McDonald's planned to sell off or close the company.  
Determined to salvage the jobs of nearly 5,000 Donatos employees, Abell led the charge to buy back the company in 2003. "Selling a company to McDonald's is most people's swan song before they ride off into the sunset," Krouse reflects. "But Jane made the case to Jim for buying the company back for the associates, and she can be very persuasive."  
From Krouse's perspective, the company buyback was a perfect demonstration of the way Abell combined courage and compassion in equal parts. "It's rare to find a tough businessperson with a heart, but Jane manages it," he says. "She has an almost unnatural ability to gauge the health and well-being of an organization and point it in a better direction." 
---
By all accounts, Abell has managed to prioritize the people of Donatos at every stage of her career.  "In an industry that tends to be quite macho, she brings a very nurturing, caring aspect to the business," Krouse says. 
In 2014, Abell participated in the popular television show "Undercover Boss," which brought her into close contact with store associates who thought she was a new hire. Kanisha Dumas, a young employee tasked with helping to train her, remembers striking up a conversation while folding pizza boxes. Empathy comes naturally to Abell, who responded with compassion to Kanisha's story of recently losing her brother and striving to become the first college graduate in her family. 
After filming wrapped up, Abell gifted Dumas $50,000 for college tuition and a car to travel back and forth to college in Cincinnati. "I am incredibly grateful for Jane," says Dumas, who stayed with Donatos for nearly a decade and now works for a leading manufacturer of laboratory equipment. "I would not have been successful in college without her. She has a huge heart." 
Abell's "Undercover Boss" experience inspired creation of the Promise Family Fund, which leverages associates' donations, matched by Donatos, to give emergency funding to staff members in crisis. Recently, the fund helped a family that had lost its house in a fire move into an apartment. 
During the pandemic, more employees experienced personal crises than ever before. "Without a doubt, the past two years have been the most challenging I've ever seen for our people," she says. In response, she and her team stretched their resources to offer additional mental health assistance and extra pay to managers who had become mentally and physically exhausted from the frenetic pace of operations. 
Abell's generosity has always extended far beyond her own company. The Donatos Family Foundation: Love Our Neighbor focuses on housing, hunger and health — a reflection of her family's resolve to invest heavily in a few worthwhile causes instead of spreading their generosity thin. This year, the foundation raised more than $100,000 for Habitat for Humanity and $90,000 for the Mid-Ohio Food Bank, and last year it contributed $90,000 to Nationwide Children's Hospital, a figure it hopes to top this year. 
Closer to campus, Abell is committed to amplifying her impact by serving on the advisory group for Scarlet and Gray Advantage, aimed at helping students graduate debt-free. An avid football fan, she and her family also invite families from the South Side Learning Center to join them at games — and, of course, to enjoy a pizza from Donatos, the official pie of the 'Shoe. 
Few causes are as close to her heart as the Reeb Avenue Center, a 67,000-square-foot former school building that brings together nearly a dozen agencies and nonprofits to offer long-term wraparound services to residents of the South Side of Columbus. The area has experienced devastating economic decline since Jim Grote established the family's first store in the neighborhood. 
Reeb opened its doors to the public in 2015, but the project was years in the making. More than a decade ago, then-Mayor Michael Coleman was en route to a press conference in the area when he spotted a father and son walking along the street with a grocery cart of recyclables. The child, wearing only a diaper, was walking barefoot on the hot pavement in the heat of summer.  
"I looked at the father and asked him if he needed anything, and he looked at me and said something like, 'I have no hope, and you guys can't do anything about it,'" Coleman recalls. "And that hit me right between the eyes. I knew I had to do more to help." 
Coleman called on Jim Grote and other community leaders with connections to the South Side, such as Don Kelley '59 and the Rev. John Edgar, to assist. Abell quickly got involved, partnering with longtime friend and business leader Tanny Crane '78 to fundraise for the project once a larger group of stakeholders, spearheaded by Erika Clark Jones, had conducted a study to identify neighborhood needs. 
"We didn't go in with a strategy; we went in with an open heart," Abell says. She and Crane spent nearly four years working with like-minded leaders to recruit and house community partners who could offer education and workforce development, mental health and addiction services, child care, healthful meals and affordable housing resources to anyone who walked through the Reeb Avenue Center doors. 
Abell and Crane raised $12.5 million to renovate the structure and an initial $4 million for an endowment to subsidize building operations. But they quickly learned that building trust with local residents would take more than smiles and waves.  
"They viewed people like Jane and me as do-gooders who came and went all the time," Crane reflects. "We realized that to make this a success, we had to be present." 
For several years, Abell and Crane spent three to four days a week at the Reeb Avenue Center for hours at a time, making conversation with people taking an adult education class or stopping in for a hot lunch. "People love being around Jane because she's so positive and energetic," Crane observes. "She always leads with thinking the best of people." 
Trust developed slowly, but their persistence paid off. In the first five years in operation, the Reeb Avenue Center attracted upwards of 200 neighbors for daily lunch, 450 for dinner and thousands more for comprehensive services. On a recent visit to the center, Abell met Dustin Blankenship and Kayla Peek, a couple in their 30s who live a few blocks away. Over the past two years, Peek has received daily lunches, mental health support and community through weekly bingo, while Blankenship has begun working on the cleaning staff at Reeb.  
"This is like a second home to us," Peek says. "They'll lead you in the right direction here."  
When the pandemic hit, Reeb continued serving more than a hundred meals a day, passing them through the back door of the facility. Now that the building has reopened, it is again filled with the sound of children playing in the early childhood center run by Sprout Five, job applicants typing away on computers and diners laughing and chatting in the café. "This is truly my happy place," Abell says. 
---
These days, Abell devotes her time to three primary endeavors: Donatos, where she has taken on a more strategic, visionary role; the Reeb Avenue Center; and being with her children, stepchildren and grandchildren — some of whom have joined the family business. 
Underneath her outwardly sunny, positive demeanor there is plenty that weighs heavily on her mind. Like most restaurant chains, Donatos has struggled to reach full staffing and to ensure that its workforce, from boardroom to kitchen, is as diverse as the communities it serves. With a possible recession looming, Abell and her team also must think carefully about how to retain and support associates if sales decline. 
And, while the Reeb Avenue Center has played a critical role in supporting the South Side over the past seven years, Abell recognizes that she can't assume there will be a linear progression toward higher employment, lower poverty and better access to services. "The pandemic devastated the surrounding neighborhood," she says. "It made what was hard even harder." 
Despite the guarantee of obstacles ahead, she keeps putting one foot in front of the other in the only way she knows how — by leading with love, as she has for more than 35 years. 
She often thinks back to the vision her father painted when they ran the very first shop on Thurman Avenue. "I remember him talking over and over about how we would share our principles around the world one day," she says.  
Grote's vision soon will become reality. Donatos now has more than 400 restaurants in 27 states, and the company is poised to go international within the next two years.  
"We aim to expand the business for the sake of our associates. We want them to be able to live out their own dreams," Abell says. "Whenever there is an opportunity to make a difference in a community because of our values, we will take it."