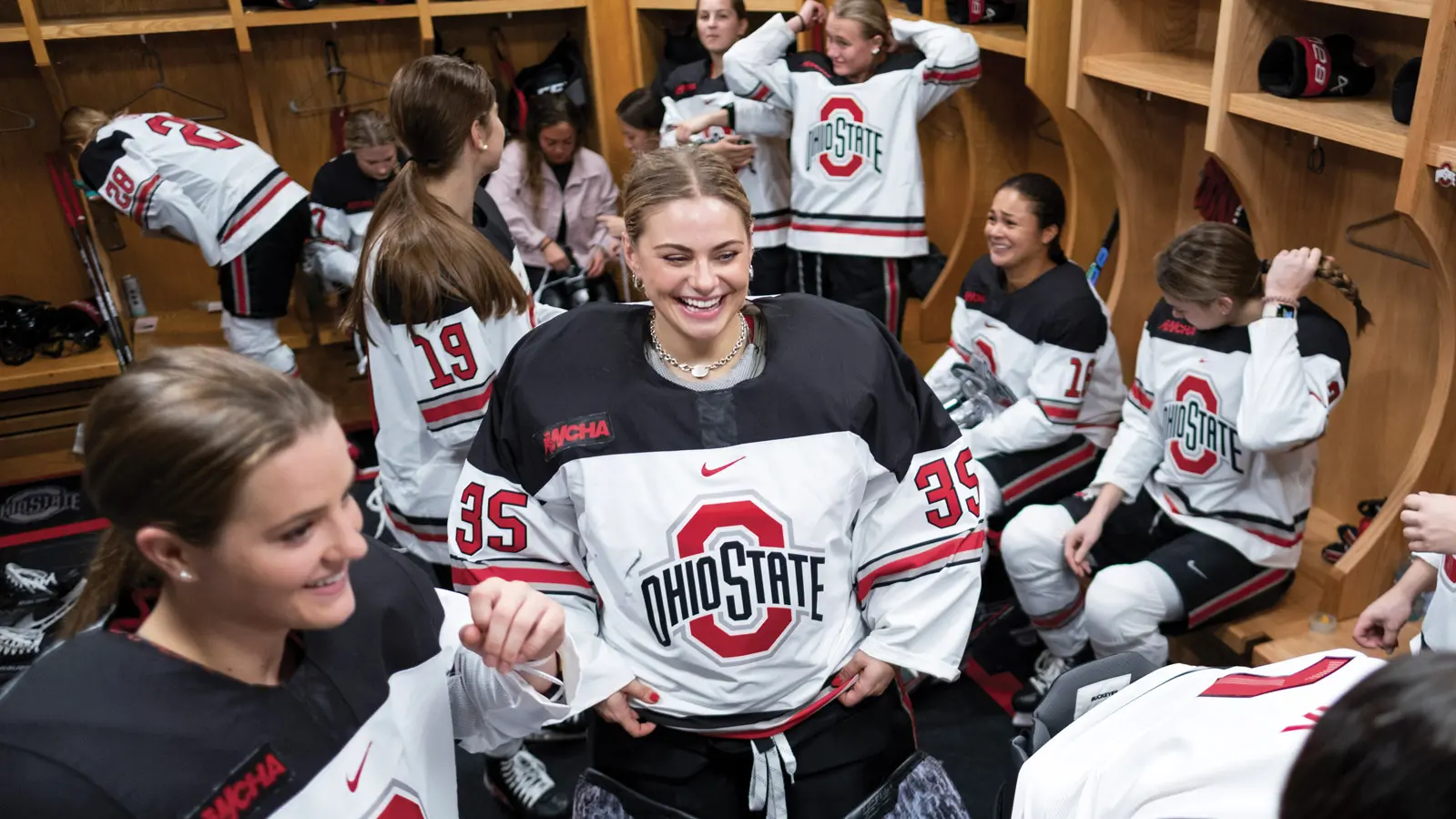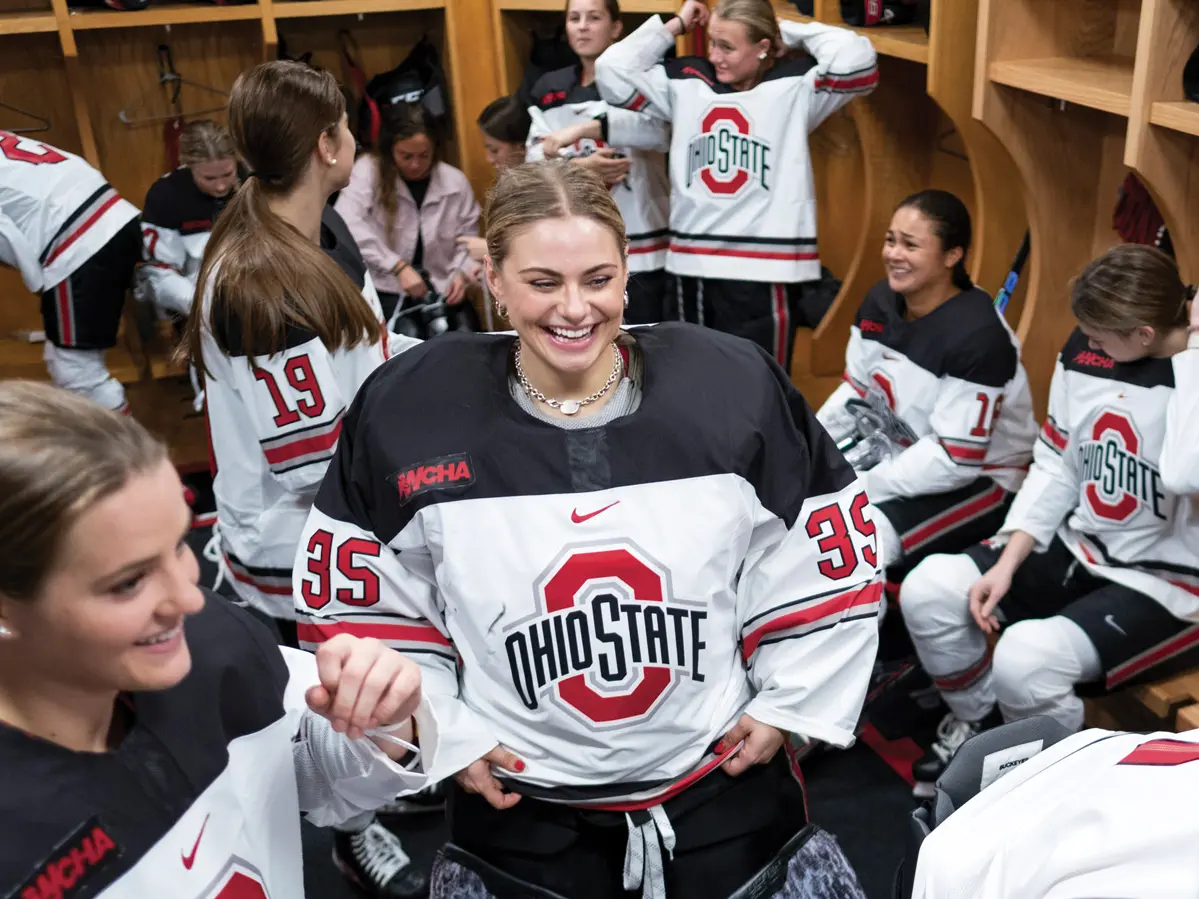 Spirit & Sports
Hustle & heart: The making of national champs
The women's ice hockey team has reinvented itself as a powerhouse, thanks to a new coach, player buy-in and an approach that delights in working hard together.
The banners are conspicuous — specifically, the dates on the banners.
They're the first thing you see upon walking into The Ohio State University Ice Rink. Across the ice in big, bold characters, they announce the postseason achievements of the team.
NCAA Tournament Appearances: 2018, 2020, 2021, 2022.
Conference Playoff Champions: 2020, 2022.
Frozen Four Appearances: 2018, 2021, 2022.
It's hard not to notice that all these honors accumulated within the past five years.
On this October afternoon, the team is preparing for its first homestand of the season, during which another banner will be added, this one commemorating the program's first national championship. In March, the Buckeyes defeated perennial powerhouse Minnesota Duluth 3–2 in the NCAA championship game, the culmination of a rapid rise under head coach Nadine Muzerall.
As practice wraps up, Muzerall — Muzzy, as her players fondly call her — calmly presides over one last round of drills from center ice. As usual, and despite her mother's longstanding objection, she's chewing two pieces of gum at once. (Muzerall prefers caffeinated Zenergy gum, but sometimes goes for grape Hubba Bubba or Juicy Fruit.)
One of these drills ends with Emma Maltais '21 falling on goalie Lexington Secreto while scoring. They break out in laughter as they flop to the ice together and then help each other up. Maltais, a fierce 5-foot-4 forward from Ontario and one of three captains, has returned for a year of grad school after spending last season away from Columbus, winning an Olympic gold medal with the Canadian national team. (Flash forward just a second: In November, she broke the team record for career points scored.)
Muzerall ends this practice by gathering the team in a circle. She praises the players for the good energy in the day's session and reminds them what it's like for opponents "to play on this rink when you're not a Buckeye." They've built up a powerful home ice advantage.
It wasn't always this way.
Muzerall and her husband, Ryan, were remodeling their home in Minnesota and fresh off the birth of their second child when she got a call from Diana Sabau, then Ohio State's executive associate athletic director. It was August 2016, and Sabau had been charged with finding a new women's hockey coach on short notice.
Muzzy was not interested. She was an assistant coach at the University of Minnesota, where, as a player, she'd been part of the inaugural women's hockey team in 1997–98, set the program's still-standing career goals record at 139, won a national championship in 2000 and became the first women's hockey player in the school's "M" Club Hall of Fame.
After a decade spent coaching a boarding school team in Massachusetts and playing professionally in Europe, she had returned to the scene of her past glories and was building a good life there, including a role in one of college hockey's greatest dynasties. Since she'd joined the coaching staff in 2011, the Golden Gophers had been to five-straight national championship games, winning four.
Meanwhile, Ohio State's program was struggling. In 17 seasons, the team had never reached the NCAA tournament, and it had racked up more losses than wins in 11 of those seasons. Before the offer to Muzerall, the team had two different head coaches in as many years. Still, when she balked, her spouse replied, "Are you out of your mind? This is THE Ohio State!" His pitch: With so many resources at the school's disposal, the potential to be a contender was there, if only the right person were in charge.
Muzzy took the job.
"I was legit scared," she remembers. "I had never been a head coach. I had no idea what that entailed."
After spending her first season observing her new team and scheming with Scott Daly '98 of the leadership coaching firm Focus 3, Muzerall rolled out a "culture playbook" connecting beliefs to behaviors to outcomes. It's posted in the team lounge in St. John Arena, and many of its phrases, such as "Embrace Productive Discomfort" and "1 Shift Warrior," have become mantras among the players.
One of the first moves of Muzerall's culture-change initiative was to call on the women to give up alcohol for the season. Maltais says it was "a big shocker to a lot of girls. They didn't want to do it. Some mentioned quitting." A few teammates quickly tested the new rule's efficacy. "Our captains held them accountable," Maltais says. "Our whole team got held accountable. And since then, it was complete buy-in."
Crucially, the players enforced the discipline; Muzerall didn't learn about the infraction until she saw the guilty parties running stairs as punishment.
"At that point, we were so ready to jump on board and follow a strong leader," says Lauren Spring '18, '21 MS, a captain of that 2017–18 team and now the Buckeyes' director of hockey operations. "When Muzzy came in, we all bought into excellence, and I think ever since, it's just been a slow uphill trajectory.
"In the grand scheme of things, it happened pretty fast," she says.
At first, the Buckeyes started beating powerhouse programs that used to blow them out. By her second year, Muzerall had Ohio State in the national semifinals, aka the Frozen Four. Soon, winning records and postseason success became the norm. The team started attracting higher profile recruits like defenseman Sophie Jaques '22, the budding superstar who won the Arthur Ashe Jr. Female Sports Scholar of the Year Award last season and is back to work on a master's degree in civil engineering and play hockey.
Even with her pick of the elites, Muzerall says she still gravitates toward players who've faced adversity: "I just like a kid with a story, who's gritty." She was raised in Mississauga, Ontario, by a single mother, an immigrant from Scotland who never got her driver's license. Muzzy started playing on boys' hockey teams at age 5; she used to hitch a pre-dawn ride to practice on the back of her mom's bicycle on snowy Ontario streets, with her older brother riding alongside them carrying her hockey bag.
A similar combination of hard-nosed perseverance and familiar tenderness comes across in Muzerall's coaching. It's no wonder Maltais and her fellow captains, grad students Paetyn Levis '22 and Gabby Rosenthal '22, see themselves in Muzzy. All of them started out playing on boys' teams as kids.
"We all learn a lot from her," Levis confides. "Because honestly, she's one of the hardest workers I've ever seen."
"Pressure is a privilege," associate head coach Peter Elander tells the team, huddled in a locker room in St. John. "There's like 400 people in the warmup to watch you. That means they care."
It's true; the ice rink next door is packed for tonight's home opener. The crowd includes longtime fans, a packed student section and kids such as Centerburg ninth grader Emma Shaw — the daughter of Dr. April M. Stojak Shaw '06 PharmD, one of the first women to play hockey for Ohio State — who descends the bleachers to fist bump players as they enter the ice.
In the locker room, Muzerall cites a recent conversation with her mentor, former Minnesota coach Laura Halldorson, who reminded her that hockey is — at its core — supposed to be enjoyed.
"Our bar is high," Muzzy tells her players. "However, we can't lose sight of the fun. And the fun starts with the girl next to you, walking arm-in-arm as family."
The merrymaking kicks in almost instantly, as a quick locker room dance party set to Waka Flocka Flame's "No Hands" precedes a 5–2 beatdown of St. Cloud State — two dozen players giggling and goofing off in hockey pads, then cheerfully vaporizing their opponent. Such camaraderie was a big selling point for Rosenthal during her campus visit two years into Muzerall's tenure: "The whole time, everybody you could tell really loved each other and was there for one another."
As part of her culture-shifting initiative, Muzerall began meeting biweekly with every player, starting each sit-down with talk about their families and personal lives. She also instituted an open-door policy, which led to many players stopping by and unloading heavy burdens. Trust and loyalty ensued. Spring says, "It's like she has 27 daughters."
This dynamic is abundantly on display on a Sunday afternoon following that opening homestand as the team gathers for a potluck celebrating Canadian Thanksgiving. At a house south of campus shared by six players, there are festive decorations: a paper fold-out turkey, a garland of autumn leaves around the mantle and personalized nametags at every seat. Along staircases and above cabinets, conspicuous banners hang here, too — mementos from various postseason tournaments.
With its high ceilings and wide-open layout, this living room is a social hub for the team. Other players live across the street, and more reside a few houses down. The teammates like to go out together, including to see other Ohio State athletes compete, and they often gather here to watch NHL games or host events like this one.
"We get together a lot off the ice," says senior forward Ramsey Parent, who lives in the home. "Somehow we don't get sick of each other."
Today the living room nearly overflows with players, coaches and a few relatives. Senior forward Jenn Gardiner, who organized this event, brought her mother along. Muzerall is present with her daughter and son. The spread on the kitchen counter features just about every Thanksgiving staple — turkey, stuffing, mashed potatoes and gravy — and that's before you factor in a whole table of desserts. The refreshments are lemonade and water.
As is only fair, the team's eight Canadian players get to fill their plates first. As others progress through the line, banter and laughter fill up the space between bites. After dinner, Levis compliments Muzerall's 8-year-old daughter on her self-applied makeup and pointedly jokes, "Dessert! Dessert! Eat as much as you want! Sugar! Sugar!"
Muzerall is in proud-mama mode, and not just because of her biological children. She beams while explaining that women's ice hockey has posted the best collective grade point average of any team at Ohio State for the past three semesters, even though they play the longest season of any sport, just over six months from opening day to the Frozen Four. Buckeyes of yore never made it that far into the postseason, but today's Ohio State team expects to be playing all the way into spring, largely thanks to a bond that extends off the ice and into their personal lives.
"This culture, the nucleus is family," Muzerall says. "[Almost] none of us are from here. We don't have family from Ohio. So we are each other's family. We don't have Mom and Dad we can just go home on the weekend and have dinner with, do laundry, shoot the breeze with, watch a football game. We have each other.
"And so, I think that's what's very empowering about our culture — they're not all going in different directions on the weekend. They stay together.
Follow the team
Find when the women's ice hockey team plays next, their season stats and more, such as videos proclaiming their honors. Included are their 2022 national championship and Sophie Jaques' Ohio State Athlete of the Year award.