Spirit & Sports
Ohio State coach Karen Dennis: A leader for all
A Buckeye to be proud of, this newly retired coach demonstrated throughout her career that women belong in leadership and, in doing so, she racked up win after win.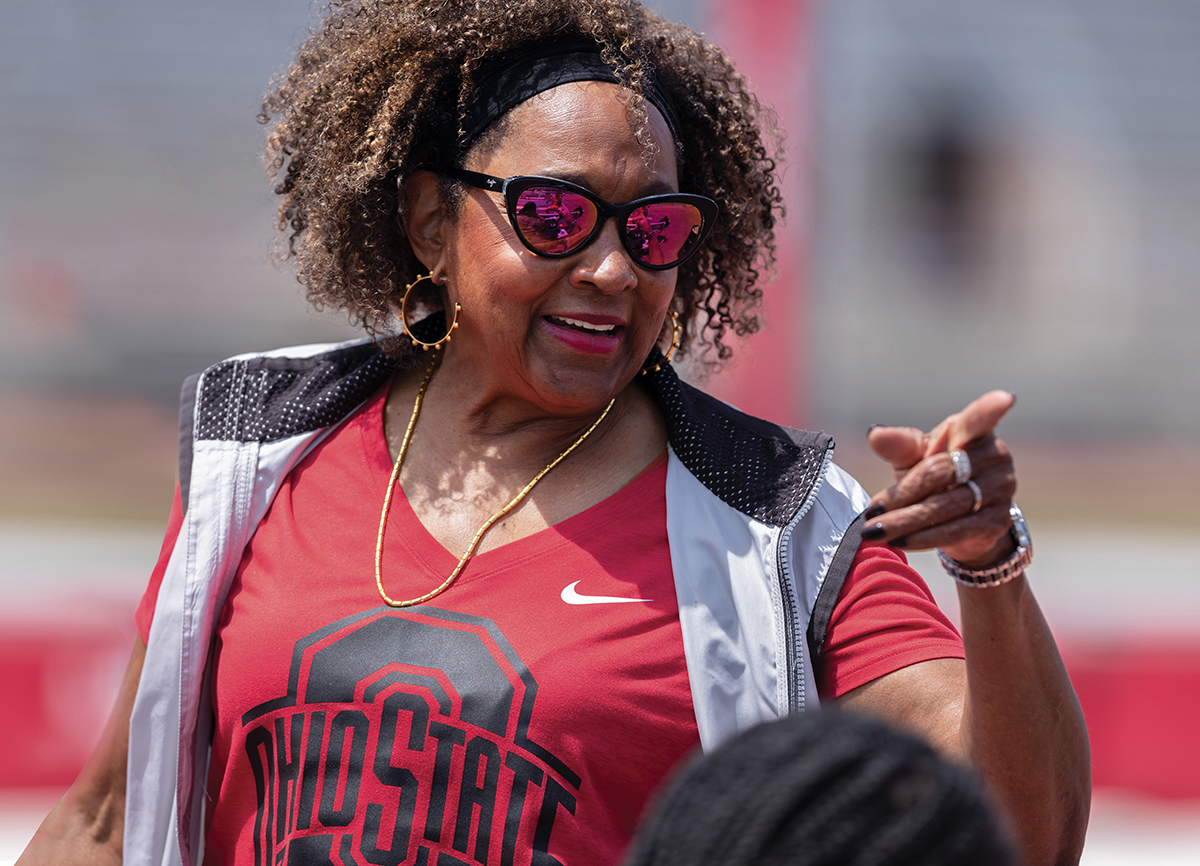 As track and field and cross country director, Karen Dennis collected more Big Ten titles than any other female coach in Ohio State history, and only two male coaches have more conference hardware. 
Her dozen conference titles in 20 years with the Buckeyes include outdoor honors for both the men's and women's teams this past season — the first time in a quarter century that has been accomplished in the Big Ten.
In mid-June, a month after that milestone, she announced her retirement.
"I want to congratulate Karen Dennis on a truly legendary career in coaching," says Gene Smith, senior vice president and Wolfe Foundation Endowed Athletics Director. "We have been incredibly fortunate to have her leading our programs."
Growing up, Dennis never intended to become a coach.
Her decorated athletic career started in the 1970s at Michigan State, where the sprinter and her relay team set a world record. She won a collegiate national championship in the 220-yard dash and twice earned All-American honors. Her goal was to become an administrator in athletics, helping to advance the role of women at the collegiate level. 
Instead, she accepted the role of MSU's women's track coach in 1981 when her mentor, Nell Jackson, who served as the Spartans' women's track coach and women's athletic director, left the university after refusing to take a subordinate role in the athletic department. This was an era when women's sports were being absorbed into the NCAA after years of operating independently within the Association for Intercollegiate Athletics for Women.
"The AIAW was a national governing body that was thriving — thriving with the leadership of women," Dennis recalls. "When the NCAA became the governing body of women's athletics, men assumed the leadership roles in administration and coaching. As a result, a lot of women lost their jobs to men."
Jackson's stand fueled Dennis' desire to prove her value regardless of gender. When prized recruit Odessa Smalls-Arthur of Brooklyn, New York, chose the University of Iowa over Michigan State, telling her, "I've never been coached by a woman," Dennis says she took it personally. 
"Kids didn't want to come to Michigan State because I was a woman?" Dennis says. "I'm like, 'This has got to change.'"
So she flew to New York, spoke to the sprinter and her mother and persuaded Smalls-Arthur to commit to MSU, where she went on to win 12 Big Ten individual titles.
"Hands down, Karen is one of the most competitive people I've met," says TJ Shelton, a former Ohio State associate athletic director and sport administrator over track and field. 
"She really elevated our track and field programs to a national level of respect," he says. "She can flat out coach, mentor and develop athletes in an elite program."
Dennis, a Detroit native, enjoyed successful stints coaching at MSU and the University of Nevada, Las Vegas and coached the U.S. women's team at the 2000 Summer Olympics. Two years later, she came to Columbus to expand her coaching repertoire as an assistant for the Buckeyes' men's and women's teams. 
"Ohio State had a combined program," Dennis says. "I could see the sport was changing and this would give me a chance to get my foot into a dual-gender model."
Dennis ran the women's track and cross country programs beginning in 2006. When the role of coaching the men's team opened up in 2012, her friends encouraged Dennis to speak with Smith about overseeing the men's and women's programs. 
Smith told her to write up a proposal, and a few weeks later he promoted Dennis to director of both teams, making her the only female coach in the Big Ten to run men's and women's programs. 
Several of the best male sprinters transferred to other schools. 
"I tried to talk them into staying, but I wasn't going to really press it because I knew their discontent would permeate the program," Dennis says. "I felt like I would rather see them leave, 'good bye, good luck,' and bring in some new athletes who were more accepting that there was a new sheriff in town, so to speak."
But that's not how the sprinters' story ends, says Shelton, who now works at Case Western Reserve University.
"Those young men called her during the season and wanted to come back because their experiences at other programs didn't turn out the way they thought," he says. "I'm sure they interacted with their old teammates and realized they made a grave decision because Coach Dennis knew what she was doing and she was starting to build a great culture."
Dennis' coaching and leadership positioned Ohio State as one of the top programs in the conference and nationally. Among the 12 Big Ten championships were women's indoor in 2011, 2015, 2019 and 2020 and outdoor in 2011, 2012, 2019, 2021 and 2022, as well as men's indoor and outdoor championships in 2018, their first in 25 years, and an outdoor crown in 2022.
At the 2020 Tokyo Olympic Games, five of Dennis' current or former athletes competed. (She has coached eight Olympians in all.)
Dennis has been honored as the Big Ten's track and field coach of the year 12 times, including eight honors in the past five years. She was named women's and men's outdoor coach of the year last month, becoming the first coach ever to achieve both honors at one championship. She was named to the U.S. Track & Field and Cross Country Coaches Association Coaches Hall of Fame in 2018 and to the Ohio State Athletics Hall of Fame in 2020. 
"I can't thank Karen Dennis enough for her friendship, her mentorship and the love she has for her student-athletes and Ohio State athletics," Smith says.
Former All-American sprinter Aaliyah Barnes says her coach pushed her as hard academically as she did athletically.
"I don't know where I would be without Coach Dennis," says Barnes, the inaugural recipient of the Miechelle Willis Academic Achievement Award in 2017. "I was not a good student coming out of high school, and Coach Dennis took a chance on me. And once I got here, she stayed on top of me all the time about my grades. 
"I couldn't have asked for a better support system."
When she retired in June, Dennis thanked the hundreds of student-athletes who shared their lives and careers with her, and she thanked their parents, too. 
"You know, I never really planned on coaching for too long. Forty years later, here I am," she says. "Back when I started, I felt like there had to be a change. I knew women could be great athletes just like the men. I also knew, if given the opportunity, they could develop into great coaches and administrators. 
"That's what is happening here at Ohio State. They are getting that opportunity and exposure, and with their success, the door becomes even wider to walk through."