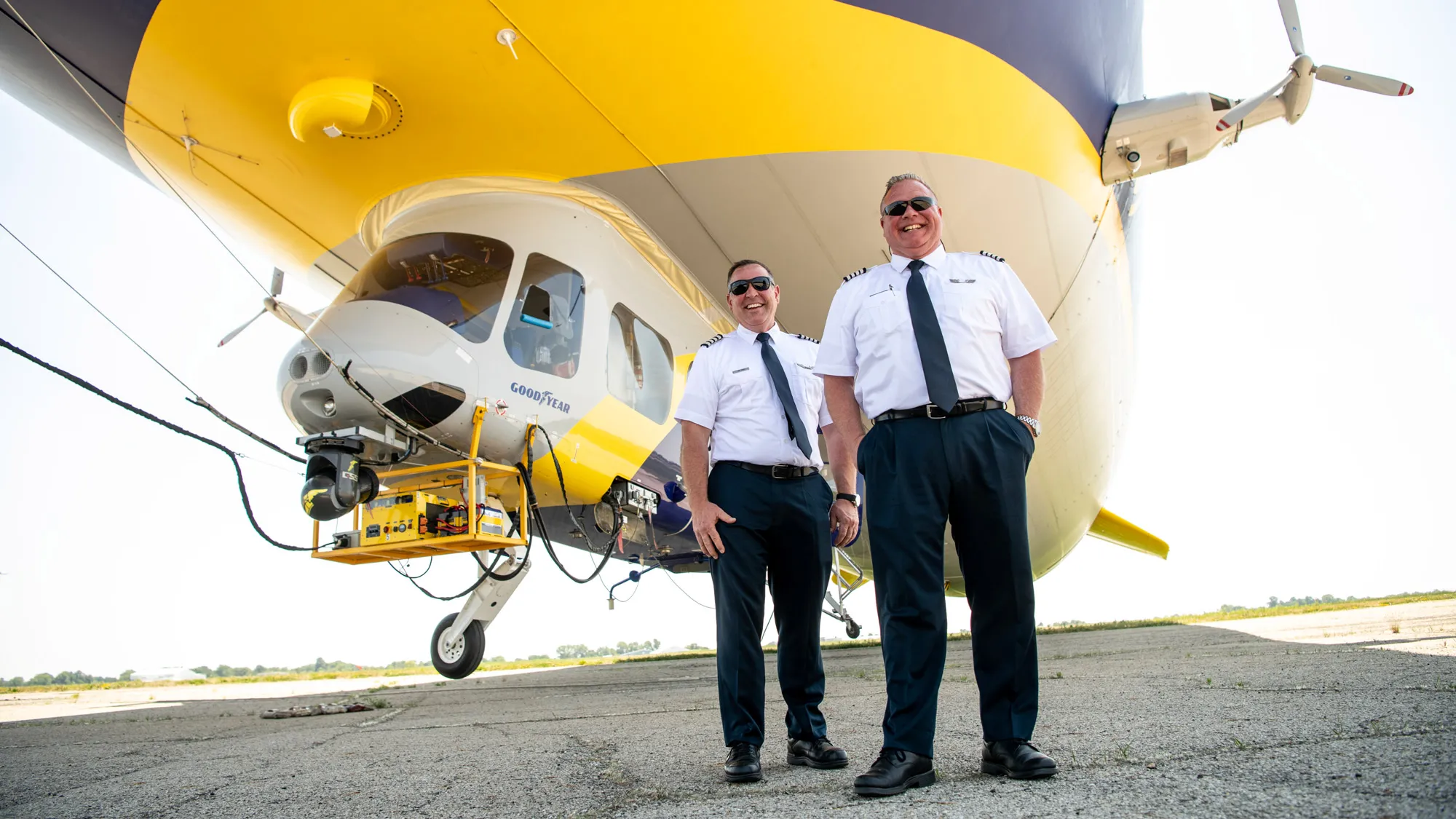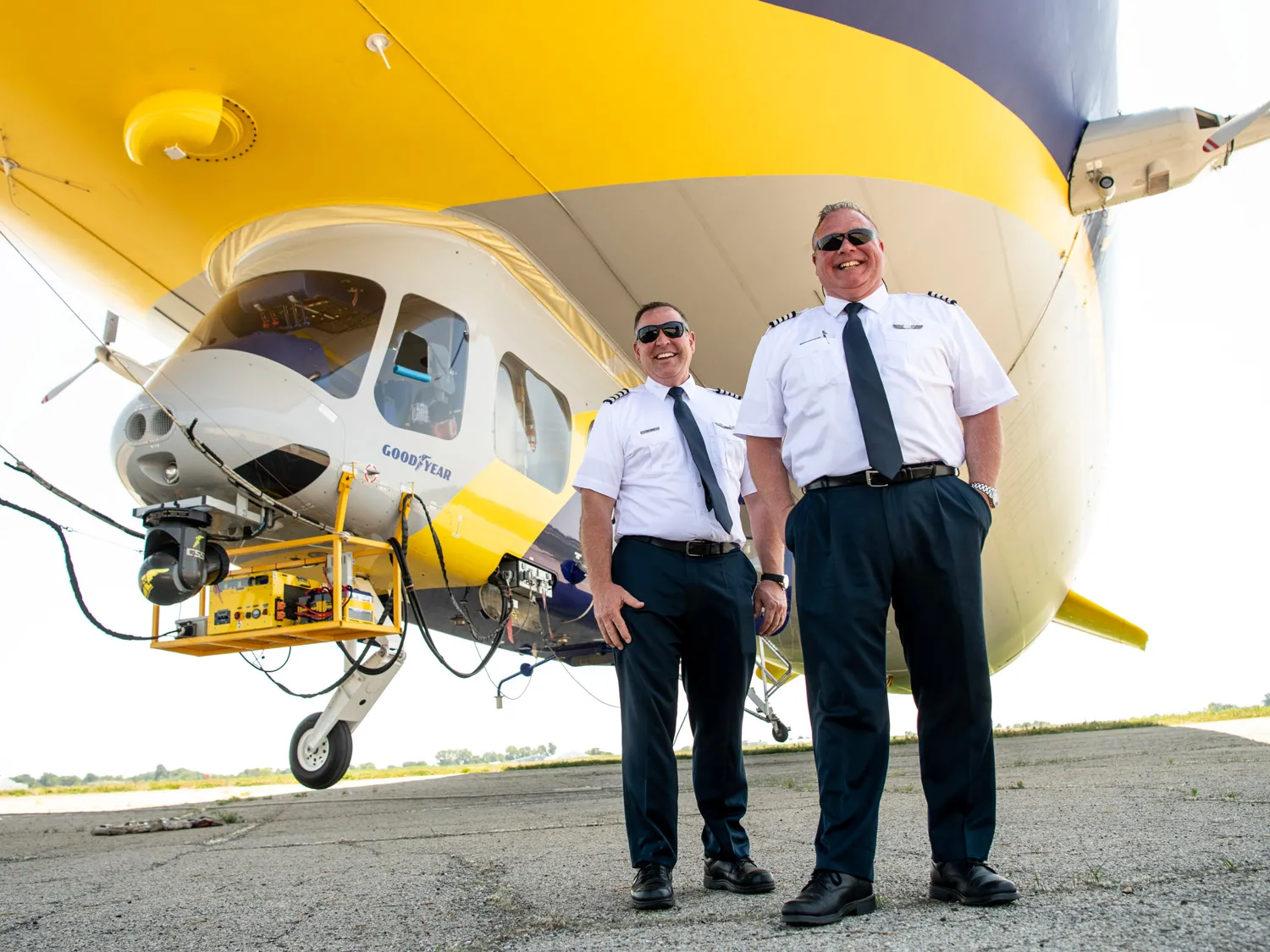 Our Alumni
Look! Up in the sky! It's the Goodyear blimp
Jerry Hissem '93 and Joe Erbs '91 — two of just 11 Goodyear blimp pilots — took us along on a ride, soaring over the university and sharing their favorite parts of the job. 
Jerry Hissem '93 has spent the past 24 years floating among the clouds, reveling in the intricacies of piloting a famous 246-foot helium-filled blimp. 
"Everything I learned at Ohio State, I use every day on my job," Hissem says. 
His job is chief pilot of the Goodyear airship, which taps into his background in math, science and physics — skills built while earning an Ohio State degree in aviation. Flying the blimp is challenging while also fulfilling, particularly when it comes to witnessing passengers' delight. 
"The smiles are the best part about doing this," Hissem says. "When people show up for a ride, they're happy, and I'm happy for them because it's special." 
"Flying on the blimp is like floating in a bubble or riding on a magic carpet."
Chief pilot Jerry Hissem '93
Hissem's co-pilot is Capt. Joe Erbs '91 — yes, there are two Buckeyes among only 11 blimp pilots for the Goodyear Tire & Rubber Co. A former cadet of Ohio State's Air Force ROTC detachment, Erbs shares the same appreciation whenever they lift off from the blimp's base in Suffield, Ohio, near Akron. 
"You see the look of awe and wonder in people's eyes," Erbs says. "You're giving somebody such a unique way to see the world go by. You're making them happy, and it really makes you feel like you're impacting people's lives."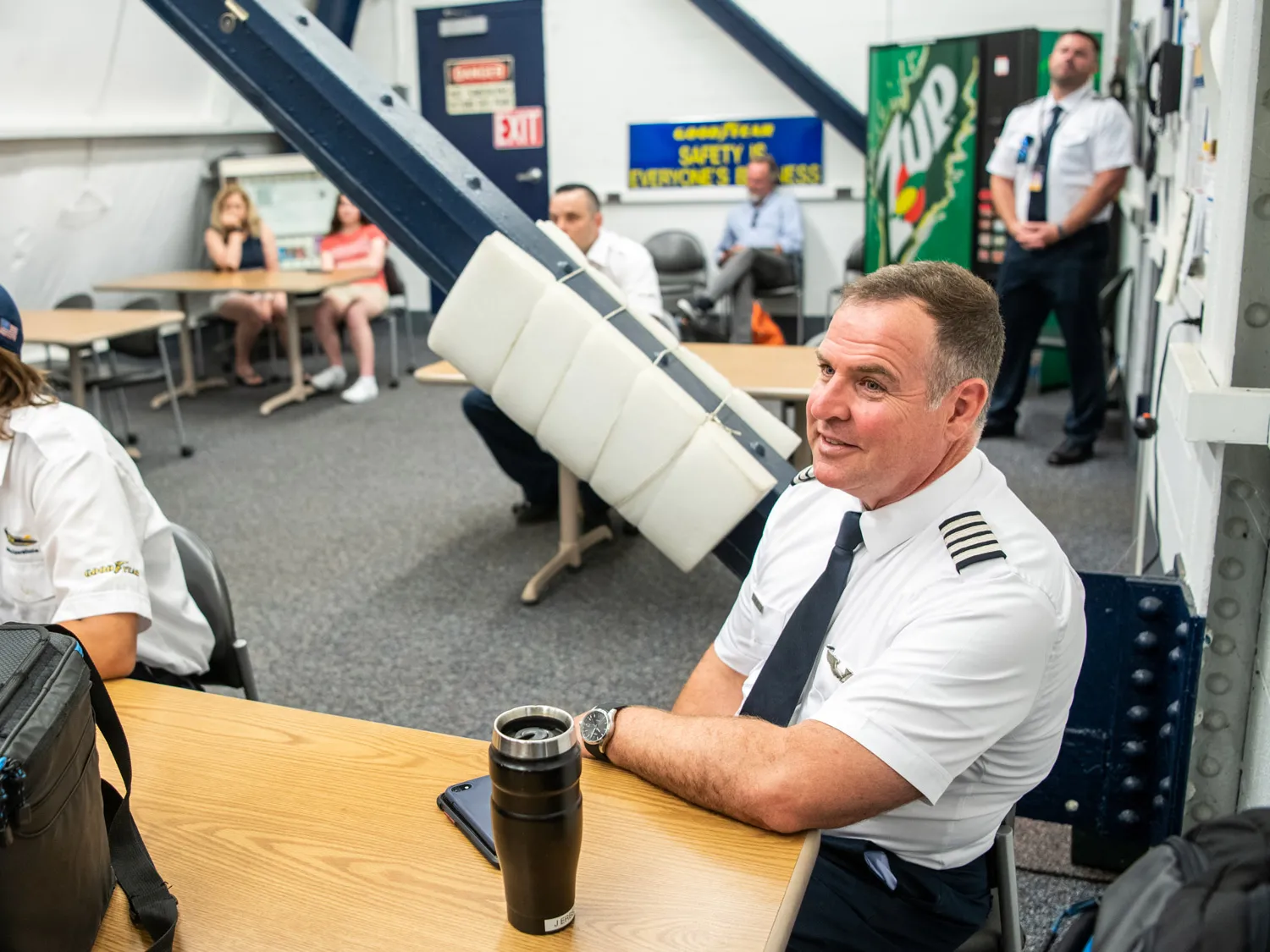 On this day, the pilots will fly the blimp south from its base to The Ohio State University Airport, the first stop whenever the team heads to Central Ohio. This hangar is 364,00 square feet — larger than six football fields laid side by side.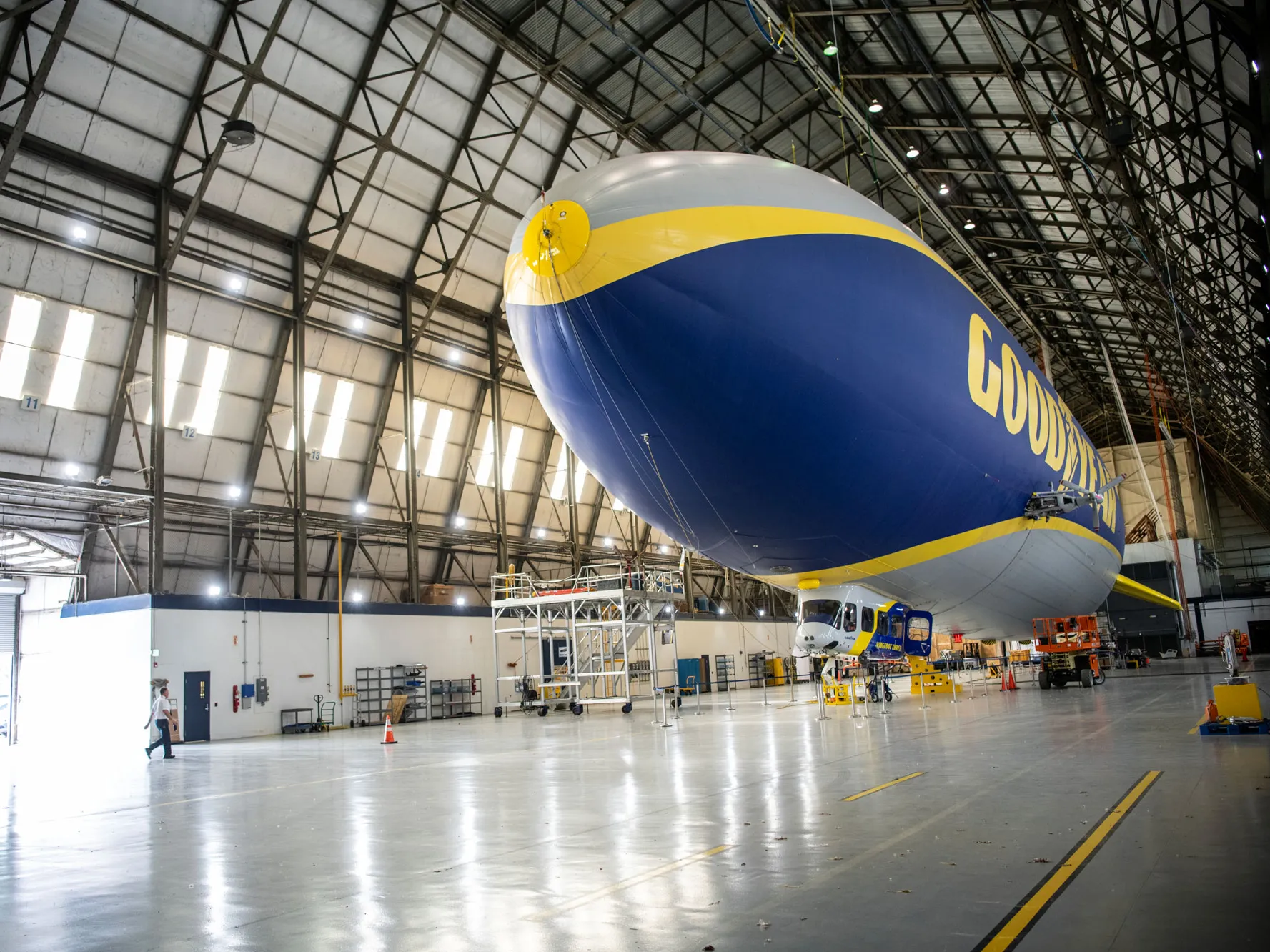 A crew of 20 not only prepare "Wingfoot One" for liftoff, they also trail the blimp's flight path from the ground, transporting support equipment and mechanics' tools.
"Our crew is like family," Hissem says. "It takes a big team to run the airship, and if we don't have any one of those people, it's not successful."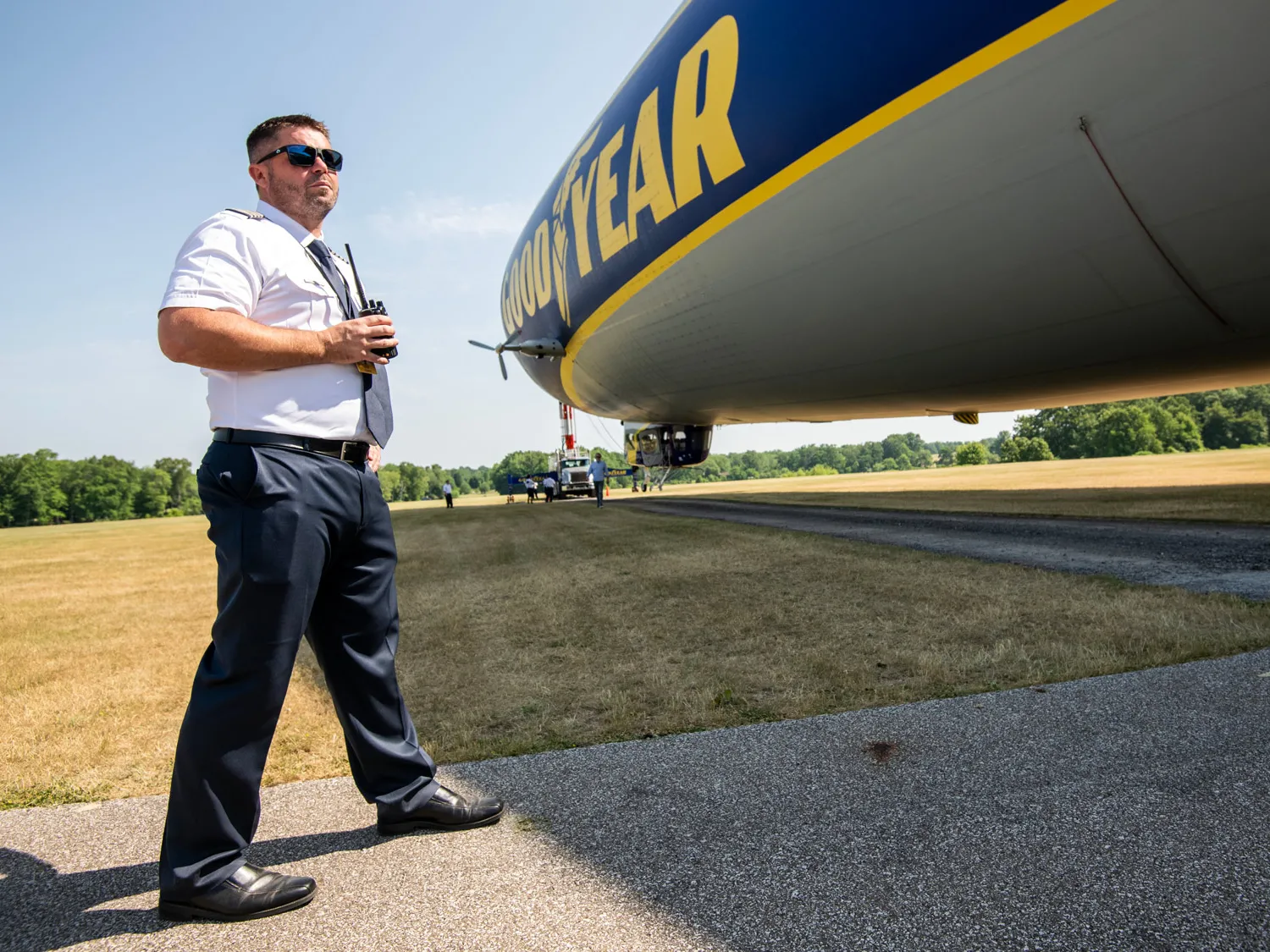 Erbs says of piloting the blimp with Hissem: "We love flying together because we have a shared history with Ohio State."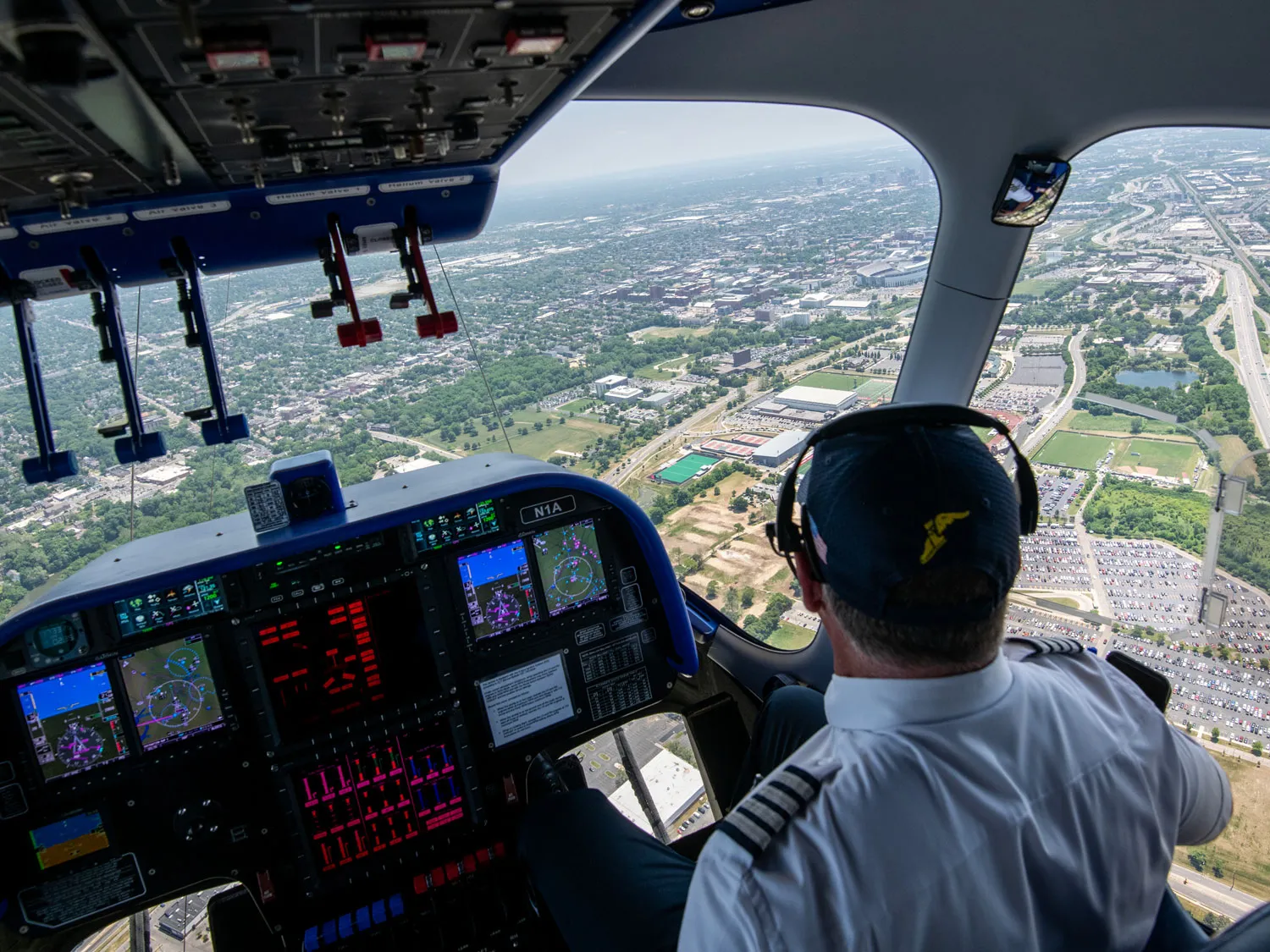 "When you fly over Ohio Stadium and see the name 'Buckeyes' in the end zone, that gives you chills."
Co-pilot Joe Erbs '91
Hissem flies 120 days a year and has logged more than 8,000 flight hours in his career. But with a job like flying the Goodyear blimp, he's still excited to go to work every day and experience the joy of his passengers. "This job is really about the people and the special connections we make," he says.
And he salutes the university.
"Ohio State gave me the basic skills and education to secure a great job like this."
See what it's like to fly over Ohio Stadium
In this short video, Jerry Hissem '93 and Joe Erbs '91 share how they love their job — especially flying over their alma mater.
Editor's note: Scout's honor! This is the most blue and maize you'll ever find on our pages.