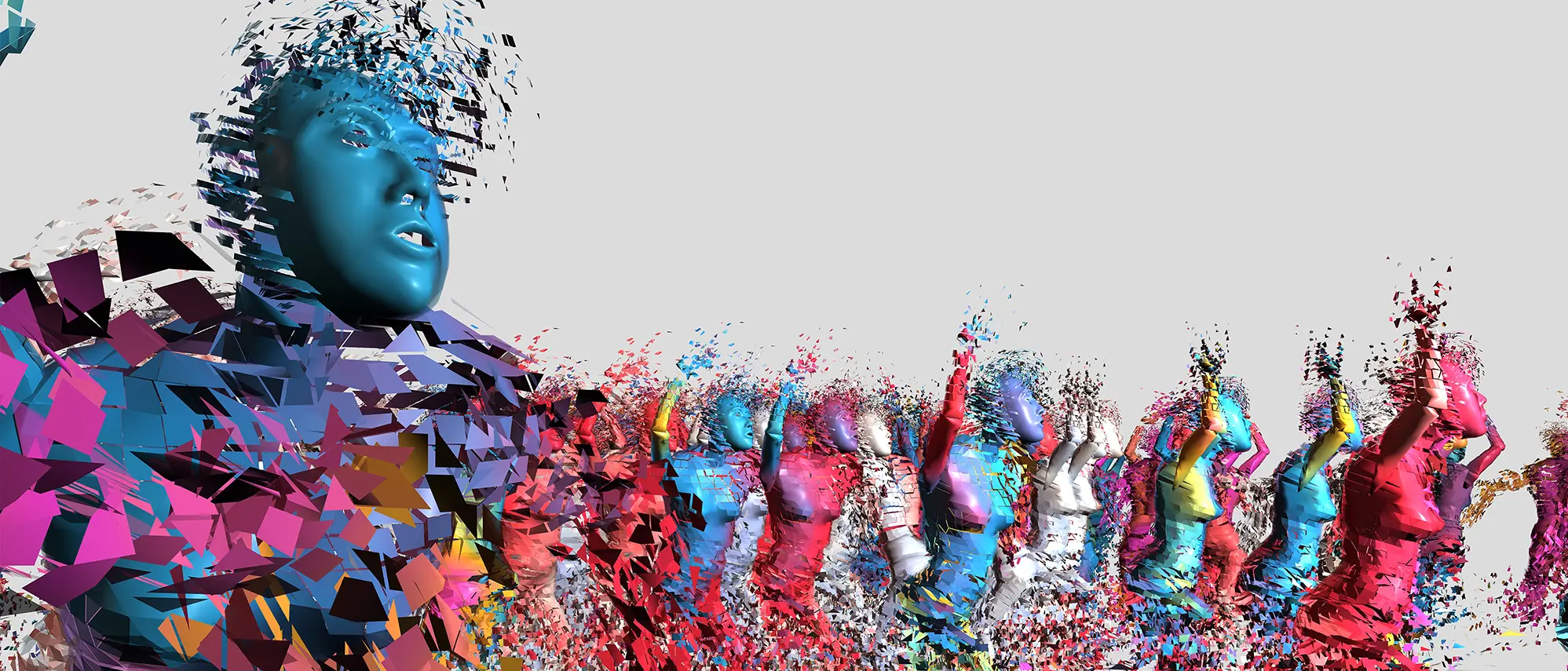 Arts & Culture
Chuck Csuri: Comfortable on the edge
Widely known as the father of digital art, Csuri and his innovations helped drive what we see in animated movies, TV graphics and so many more computer creations.
Widely known as the father of digital art, Csuri and his innovations helped drive what we see in animated movies, TV graphics and so many more computer creations.
Chuck Csuri's influence on digital art is hard to exaggerate.
His impact is felt in every animated film produced in the past 30 years. It surfaces in the animated graphics that appear during televised sporting events. And it comes through in the special effects of the latest summer blockbusters. Digital art, data visualization, flight simulators, computer-aided drafting — all that and more are rooted in Csuri's extensive and pioneering work that harmonized art and technology.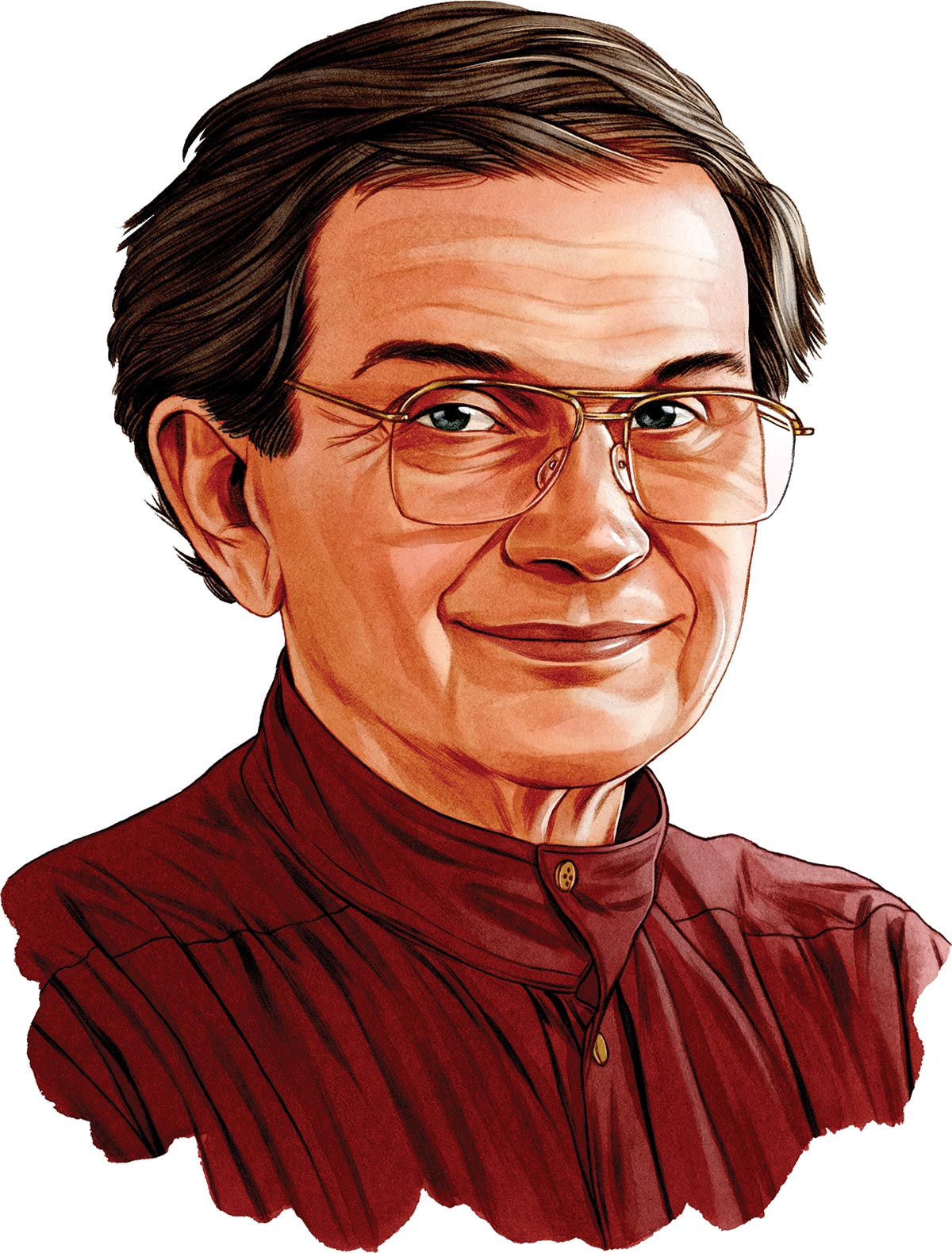 A Buckeye both as a student and on faculty, Csuri '47, '48 MA studied education as an undergrad. He was a star football player — "a perfect tackle," boasted legendary coach Paul Brown — who helped lead the team to its first national championship in 1942. For his part, Csuri earned the team's MVP award and All-American honors. Csuri was selected in the 1944 NFL Draft by the Chicago Cardinals, but he declined in order to serve in the Army during World War II. Heroism in the Battle of the Bulge led to him being honored with a Bronze Star in 1945.
Csuri resumed his studies after the war and, armed with a master's, joined the Department of Art faculty in 1949 to teach painting and drawing. He became a beloved instructor and mentor.
In the mid-1960s, Csuri began experimenting with computers to make art digitally, driven by intense curiosity and a stubborn need to push artistic and technological limits. His innovations triggered his founding of Ohio State's Computer Graphics Research Group (CGRG), which evolved into today's Advanced Computing Center for the Arts and Design (ACCAD). These two programs launched the careers of hundreds of alumni at animation studios such as Pixar, Disney, DreamWorks and Industrial Light and Magic.
On February 27, 2022, four months shy of what would have been his 100th birthday, Csuri died. He left a one-of-a-kind legacy that shines in the lives and work of the students he inspired.
Steve May '90,'92 MS, '98 PhD was an ACCAD research assistant while a graduate student in computer science. His office was next to Csuri's, and on Saturday mornings, the two often were the only people in the lab. "He was an ongoing source of inspiration," says May, now chief technology officer at Pixar. "I liked art, computers, math and science — he was the epitome of all that."
May's advisor, Wayne Carlson '75 MS, '82 PhD, was a CGRG graduate student under Csuri, a fellow faculty member in ACCAD and a colleague in Csuri's production company, Cranston/Csuri Productions. Carlson learned to walk into the office each day expecting the unexpected.
"He would come and say, 'You know, I thought about something, and I'd like to be able to do this. You think you can make that happen?'" Carlson recalls. "He brought that vision daily, always wanting to take things one step further. He had a way of interacting that led you to respect his intellect and his artistic vision."
In 1999, Janice Glowski '95 MA, '02 PhD, then director of special collections in Ohio State's College of the Arts, began collaborating with Csuri to curate his work. The pair dove into his archives — stacks of original plotter prints, artist sketchbooks, punch cards and films, including the original positives of Csuri's most iconic piece, "Random War." Their work led to an international exhibition, "Charles A. Csuri: Beyond Boundaries, 1963–present," and attention from other curators.
"Chuck knew and loved the history of art and its most transformative moments," Glowski says. "For him, the computer presented endless possibilities to contribute to that history."
ACCAD's director, Maria Palazzi '82, '87 MA, studied under and collaborated with Csuri. To her, he was a pioneer not only in bringing art and technology together, but in passing on that way of thinking. He encouraged exploring the unknown, limited only by the stretch of one's imagination.
"We were forming the field that became computer graphics and animation," Palazzi says. "It was empowering to be able to explore in that way, to open up possibilities."
Married for 70 years, Csuri and his wife, artist Lee Echols Csuri '51, had two children, Steven and Caroline '88, and two grandchildren, Hannah '22 and Emily Reagh. Lee and Steven preceded him.
Support his legacy
Chuck Csuri devoted much of his career to building a community for the digital arts at Ohio State. Your support is welcome, too.