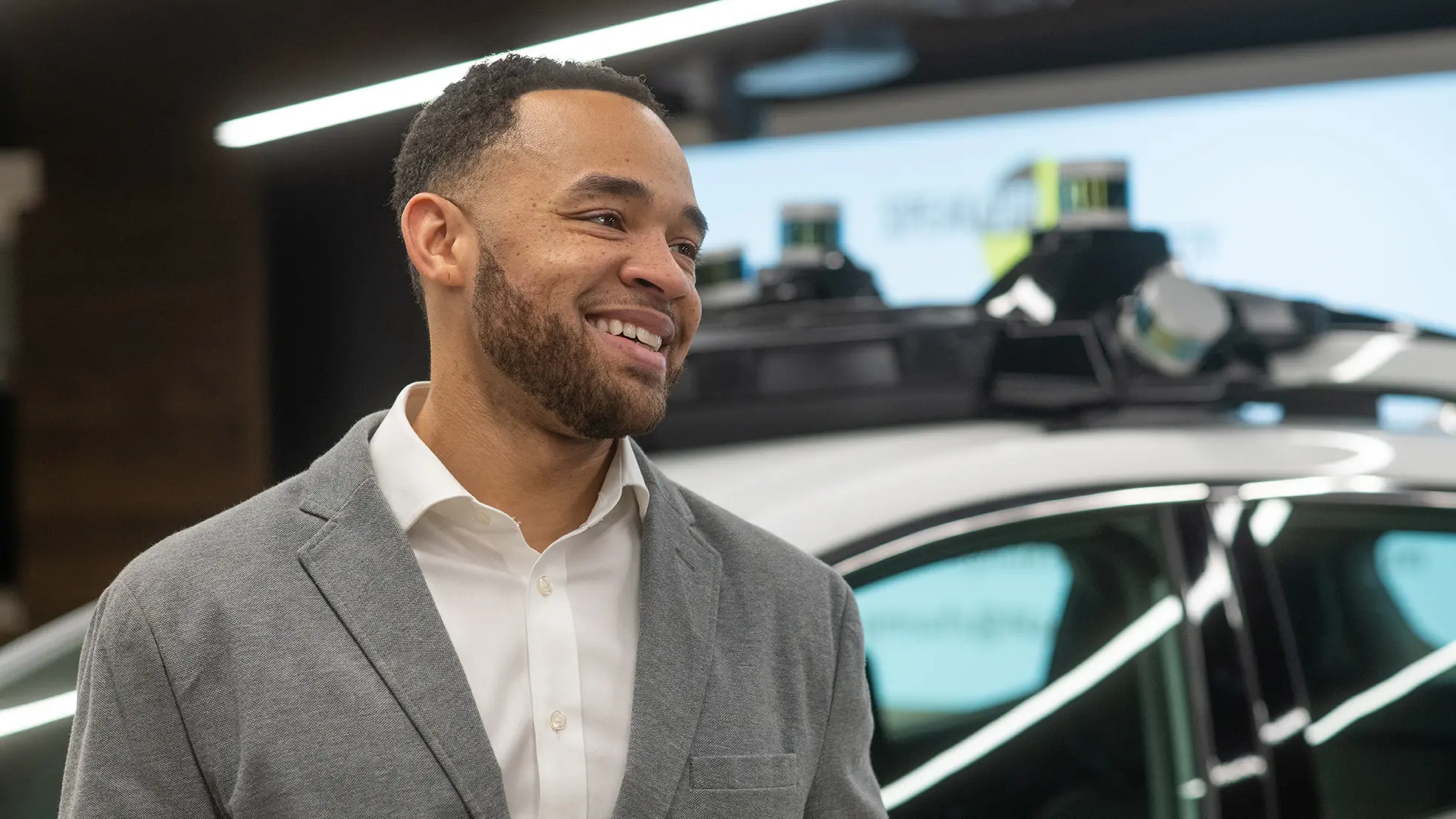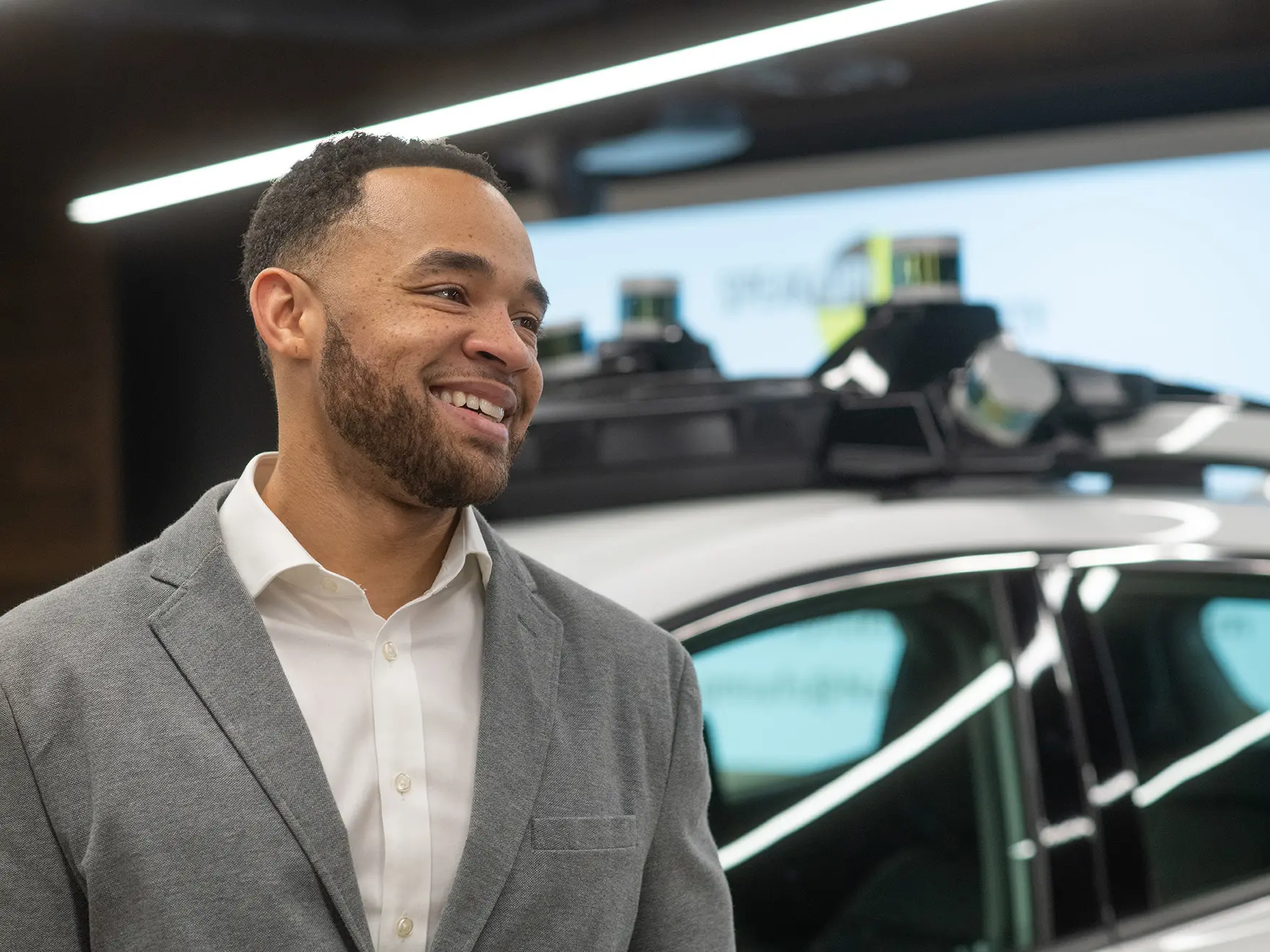 Our Alumni
The engineer building a transportation revolution
Charles Muse '13 is a rising star in automotive engineering and an embodiment of Ohio State's pay forward spirit. As he navigates his career at the forefront of electric vehicles, he's committed to uplifting the next generation of big thinkers.
The hood of his gleaming 1975 Chevrolet Corvette Stingray is propped up, and the eyes of Charles Muse are aglow with excitement. He's staring with ravish intent at the 350 cubic-sized engine, envisioning how he'll unleash more of its power by adding the mechanical advance distributor that arrived in today's mail.
Muse '13 doesn't normally drive this classic C3 coupe. Instead, his red relic of American muscle — its smooth fiberglass contours flowing to dual exhaust pipes — offers a hobby in the small garage behind his tidy house in Warren, Michigan, about 20 miles north of Detroit. Here, the self-described gearhead relaxes away from work and wedding plans by tinkering with tools. It's an escape routine dating to his childhood, when he peppered his father with questions while they restored a classic '66 Thunderbird.
"I love, love, love working on this," Muse says. "It's an old car; things break every day. The interesting thing is to get in and fix it. As you fix it, you get the bug and start upgrading certain things.
"I didn't grow up with carbureted engines or this style of car. I came up in the age of fuel injection and cars made out of composite materials. This is completely opposite of what I know. Working on it feeds my curiosity."
Drive two minutes from Muse's garage and you arrive at the General Motors Technical Center, where he's shaping the future of transportation. GM promoted him to program engineering manager for electric trucks in April, four months after pledging to stop making gasoline-powered passenger cars, vans and sport utility vehicles by 2035. The company has announced plans to deliver more than 1 million electric vehicles globally by 2025 and to make its factories and other facilities carbon neutral by 2040.
Muse's prior role also was future-focused. He was assistant program engineering manager in GM's autonomous vehicle division working in partnership with Honda and Cruise, a self-driving car innovator GM acquired in 2016. In January, Cruise unveiled a "production ready" fully electric and autonomous shuttle-like vehicle called Origin. Built for ride sharing, it has no steering wheel or pedals.
"I'm excited every day about going to work and making an impact," Muse says. "We are kind of blazing the trail. It isn't just about cranking out a car; it's about revolutionizing the way people move. This can set the precedent of how the future of society is going to be."
GM exemplifies the entire auto industry's shift away from internal combustion technology. Ford, Nissan and Volkswagen, among others, have publicly set spending and production goals for emissions-free, battery-powered vehicles. Tesla expects to sell about 800,000 electric cars globally this year. President Joe Biden's climate change agenda aims to transfer the nation's economy away from fossil fuels. In August, Biden issued an executive order calling for half of all vehicles sold in 2030 to be electric.
Driving habits are stubborn, though. Less than 4% of cars sold in the United States in June were electric, and skeptics see barriers in costs and logistical issues.
None of the doubts or unsolved problems deter the explorer's zeal in Muse.
"I'm optimistic because I believe in the technology," he says. "Even more so, I believe in the intentions of the people behind the technology. We intend to make society a better place and to revolutionize what we're doing to serve the greater good. I have a huge belief and faith in what we're doing."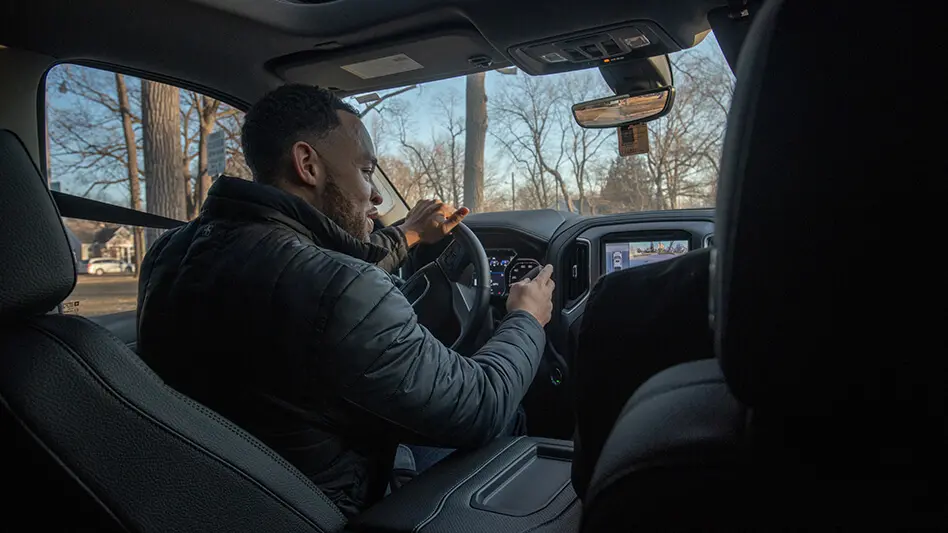 Muse's can-do spirit, together with his technical skills, has rapidly propelled the 30-year-old up the ranks of GM, where he has been employed for a decade since working there through two internships as an Ohio State undergraduate. The company compiled a 35-page document in nominating him for an award at this year's Becoming Everything You Are (BEYA) STEM Conference. He won that national honor — the BEYA Most Promising Engineering Award — in February, chosen from a pool of more than 100 candidates. That didn't surprise Waqar Hashim, who was chief engineer for GM's redesign of the 2019 Chevrolet Blazer, a four-year project for which Muse was the team's aerodynamics engineer.
"Charles is a very unique person; he puts energy into the room," says Hashim, now an engineering and program management executive for an electric vehicle startup in California. "He has an open-mindedness, foresight and an ability to assess and gauge a situation really well. He's very good at not just doing the mechanical work but also taking a moment to assess. Is it worthwhile? Is it productive? What can I change to make it better?
"He has this sort of innate talent to take a complicated situation and simplify it, organize it and then start prioritizing things. The thing that I like most about Charles is that no matter how bad or negative the situation, he is always positive and upbeat. That's very rare. He'd say, 'We can't do this, but we can do this — here are three other options we can work on.'"
Before seeing possibilities for others, Muse first had to see them for himself. Growing up, he dreamed of being a basketball player. He enrolled at Ohio State planning to be a pilot, and then expected a different career in the airline industry after switching his major to aeronautical and astronautical engineering. But along the way, Muse kept asking questions of others, kept learning. He discovered how his skills fit the automotive world. He found that roads open when you open your ears and mind.
"When I was younger, I wasn't a great listener," Muse says. "I was good at problem-solving and doing things my way. But that only gets you so far. When you don't know something and things get more complex, you need other people. You need other minds, other perspectives. You need to have an inclusive mindset."
Muse knows he can't travel alone on this unknown path — confronting how to change the future of transportation — as more uncertainty swirls from a worldwide pandemic.
"The only way we push through is by working together as a community," Muse says. "At least for me, as a Buckeye, I was already exposed to that idea."
A moderating influence
The General Motors Technical Center sits on what the company calls a campus, but really, it's more like a city within the city of Warren. The site in southeast Michigan has 38 buildings spread over 710 acres, all connected by 11 miles of road winding around two lakes. Pulling onto the grounds, deemed a National Historic Landmark, always reminds Muse he is part of something much bigger than himself.
"You think about at scale how many people actually work on a vehicle," Muse says. "It really takes several thousands of people to build one car. The only way to get to that is if you have some type of glue that brings a team together."
More than 21,000 GM employees typically work at the Tech Center, but Muse is among only a few here on this sweltering June day because of the company's COVID-19 restrictions. Still, he's not alone in the Sloan Engineering Center; he's in a virtual meeting with 57 other engineers assigned to various aspects of their electric truck project.
Muse, wearing a mask, spends most of the hour listening to the group's discussion of systemic issues. He's filtering feedback for the chief engineer, helping that leader more easily prioritize and make decisions.
"I don't know the right solution all the time, but the experts in the room do," Muse says. "It's a matter of me facilitating that — getting them to communicate and really championing the change to solve the issue. I'm still learning this process. I'm very new to this role and this level of responsibility."
Muse says he's overwhelmed at times, occasionally having to fend off imposter syndrome. Similar discomfort simmered in him as a freshman at Ohio State. He felt "inadequate and intimidated" at first, despite being selected to receive an academic scholarship from the Office of Diversity and Inclusion's Morrill Scholars Program.
He credits curiosity for easing that transition, and he has the same mindset now. It's his lifelong default mode. At age 4, he took apart his sister's toy car — parts scattered throughout the basement — because he wanted to know how it worked. Today, while driving in traffic, he peers at details of surrounding vehicles, noticing what other manufacturers are doing as a competitive benchmark. For Muse, not knowing isn't a weakness; it's a void to fill.
"He has a willingness to be open, to learn from his failure and mistakes," says Michael Barnes '13, an Ohio State roommate who will be best man in Muse's wedding this month. "He'll raise his hand and ask questions if he doesn't understand something or really wants to give more awareness. His openness really appeals to other people. It breathes into you. You want to be around his energy."
Muse arrived at Ohio State knowing no one, but he built a wide campus support group, which included faculty, staff and students at the Hale Black Cultural Center and the Todd Bell National Resource Center. He did so one person at a time, beginning with his assigned freshman roommate, Andrew Wharton '14, who is white. They bonded so well that they remained roommates all four years. Today, each considers the other part of his family. Muse calls Wharton's mom every Mother's Day.
"Race was never a hot button for us," Wharton says. "We both felt vulnerable and comfortable enough to explore it together. I am so grateful for Charles, and that we had that opportunity to break down the norms."
Muse is now breaking down problems for GM with the same open-minded approach. Each day, dozens of fellow engineers on his team discuss issues about the electric truck in development. Pieces of information fly at Muse as he focuses on the big puzzle — the project's budget for design, validation and manufacturing. He must absorb the team debates and, when appropriate, offer guidance and direction. This often calls for soft skills — such as moderating positive, productive discussions — to take priority over expressing his own sound opinion.
"We're making a complex vehicle with multiple aspects," Muse says. "In my role, you have to be able to establish rapport with a bunch of different engineers to get them to come together. You must be able to adapt to different personalities. It's not about me being right; it's about me being effective.
"As an engineer, I always want to be right, and I'm tempted to pound my fist on the table and say, 'This is the answer.' But in certain instances, that's not always the best solution. You weren't effective even if you were correct because you didn't get the team on the same page."
We're stronger together. His parents taught him that in their home on the South Side of Chicago, and Ohio State honed the belief.
"Being at Ohio State allowed me to really recognize what it means to create a team around you," Muse says. "The culture there is a magnet that draws you in and allows you to build not only a team, not only friendships, but a family."
Opportunities, not obstacles
Muse's office chair at GM has wheels. So does the wooden table he sits at. Two nearby whiteboards — filled with scribbled coding, writing and diagrams — also have wheels. He's surrounded by the possibility of movement, which suggests a metaphor for life. Things are always changing, in ways big and small. Sometimes in transition, problems and solutions bubble up unexpectedly.
In May, the Detroit venue Muse and his wife, Dezarae, had booked for their Sept. 4 wedding canceled all reservations, citing complications from the pandemic. The couple shook off initial shock. She says his cool demeanor calmed her down. They pulled together, and within a week found another local venue to host their reception on the same date. Problem solved.
"We can figure something out — that's just always my mentality," Muse says.
This resolute nature lingers in the mind of Shannon Gonzales-Miller '88, '99 MA, '20 PhD, who advised Muse as director for scholarships and grants in the Office of Diversity and Inclusion at Ohio State. He'd often stop by her office unannounced to chat, offer an academic update or express gratitude.
"There was an ease about Charles in terms of, whatever came his way wasn't going to be a problem," she says. "He was unusually determined, very sure and focused on what he wanted to do. He had a tenacity about him."
Gonzales-Miller first met Muse during his official campus visit. He was on crutches because he injured his knee playing basketball the night before. She remembers he was in pain — and also respectful and mature beyond his years — and he recalls how Ohio State faculty, staff and students responded to his plight.
"They didn't know me, but they were all coming together to help me," Muse says. "They put me on a golf cart, held my crutches, held my backpack. It was like, 'We're all Buckeyes here; we're all a family, and we'll treat you as such.' It all felt so small, close-knit. A light bulb went off for me — this school is different. I knew this was exactly where I needed to be."
The support reminded Muse of his own tight, loving family. His parents raised him and his sister to see opportunities, not obstacles, and that spirit led him to contact Ohio State last year about becoming a mentor. The Department of Mechanical and Aerospace Engineering put him in touch with two students. Muse met each individually by Zoom every two or three weeks — and kept in regular touch in other ways — throughout the academic year.
"It has been really great to go to him and have a younger perspective," says senior Zoe Karabinus, who plans to continue meeting with Muse for a second year. "He knows what it's like being young and in this field. He understands where I'm at. He has done a really great job of focusing on my worth for who I am, not what I look like to others or how I come across.
"I am immensely grateful for the opportunity to have this connection with Charles because of how much he's made an impact on my professional and academic career."
Muse says everyone has a "societal duty to pay forward," and his generosity goes beyond Ohio State.
Before the pandemic, he mentored youth in the Detroit Area Pre-College Engineering Program and through the Jack and Jill of America Foundation. He also rebuilt houses and cleaned parks and vacant lots through a GM volunteer program.
"I believe in the intentions of the people behind the technology. We intend to make society a better place and to revolutionize what we're doing to serve the greater good."
Charles Muse
In 2019, Muse spoke at the Urban Youth Racing School's Build a Dream ceremony and advised student journalists in Chevrolet's Discover the Unexpected program. Last year, GM's Electrifying Engineering STEM program for children ages 7 to 13 featured a video of Muse explaining how autonomous cars "see" the road. And he was a guest speaker in June on two panels aimed at STEM outreach.
"I have a huge desire to bring more diversity to STEM," Muse says. "Growing up, I never had a favorite scientist or engineer. I wish I did. I really want to show youth that, hey, I look like you and we come from similar backgrounds. You can idolize a lot of different people, not just entertainers, actors and athletes.
"Diversity is very important, particularly in STEM, because you bring different ideas and perspectives to the table. It would be amazing to be able to pull diverse talent into this pool. I have a stake in making sure that happens because STEM is what's going to sustain us with breakthroughs in medicine and technology."
Perhaps transportation will benefit from one of those breakthroughs.
Sales of electric vehicles in 2020 grew around the world while the rest of the car market struggled. The International Energy Agency projects that the number of battery-powered and hybrid vehicles could increase globally from about 5 million to nearly 140 million by 2030.
Of course, there is skepticism, and plenty of problems to solve. Paths forward are rarely clear.
At least one Buckeye, however, is welcoming everyone aboard for the ride. He sees open road.
"Anything is possible," Muse says.