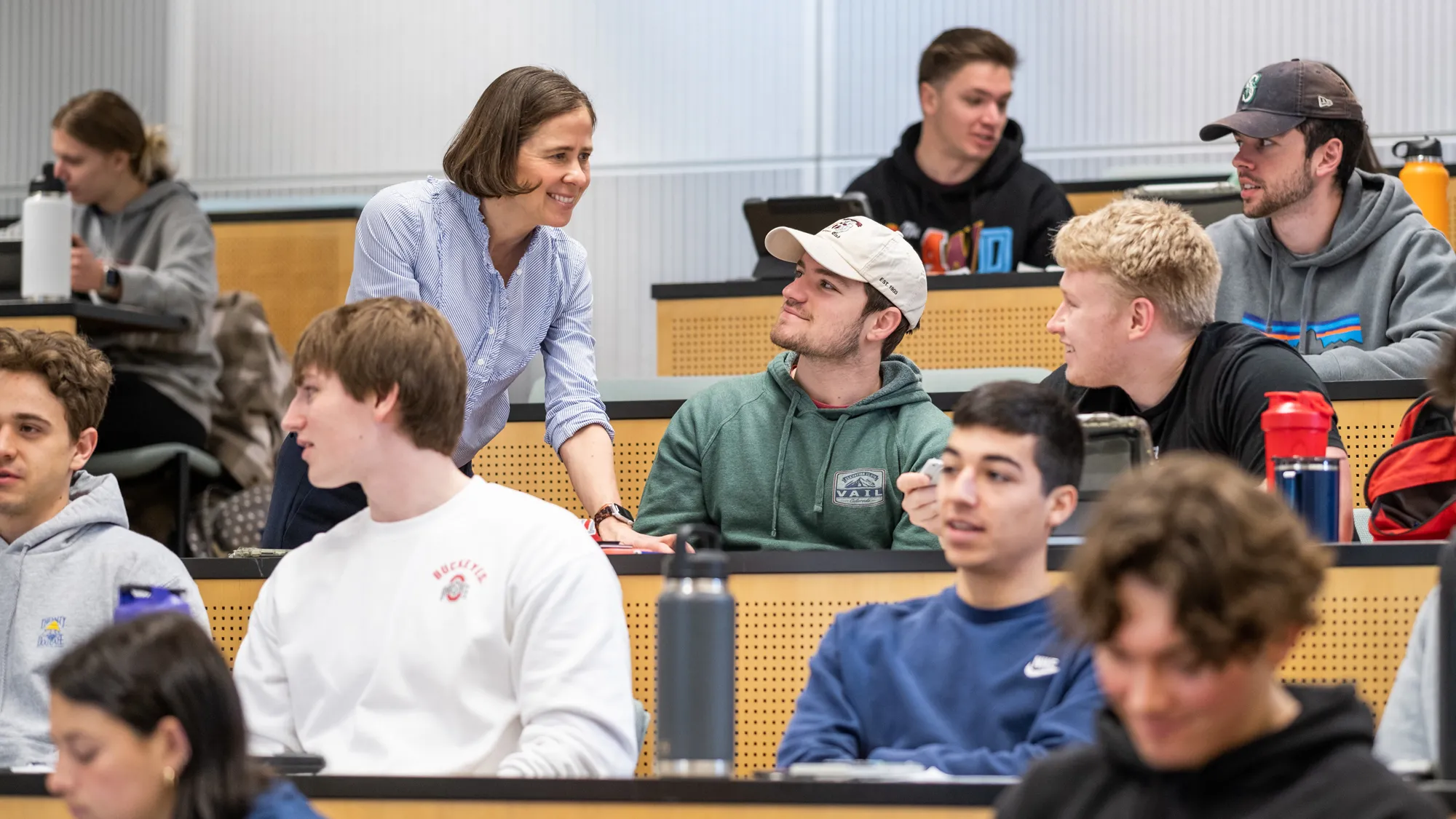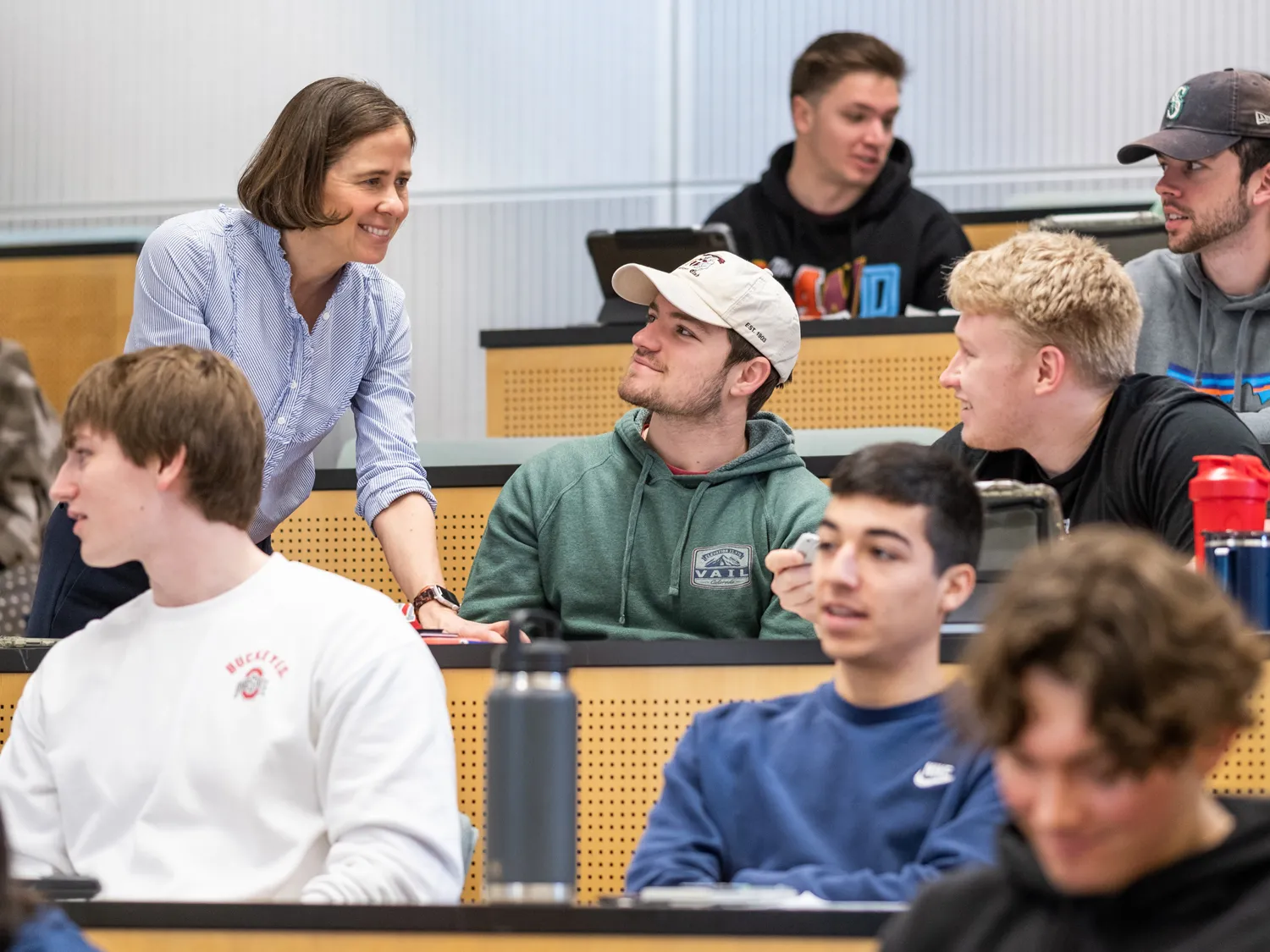 Research & Innovation
Carmen Swain: Mentor extraordinaire
This exercise scientist and married mother of four dedicates countless hours to helping students thrive. Working hand in hand, they complete research that helps humans lead healthier lives.
A personal investment  
Dujmovic is a first-generation American and a first-generation college student. His parents fled war-torn Croatia in the 1990s to give their children a better life. College was a part of that. But other than advice from his older sister, he didn't get much guidance on academics until he met Swain his junior year.  
His background, and willingness to dive into work headfirst, struck a chord with her. "If you identify with a student, you're invested," she says. "It's you five, 10, 20 years ago." 
Growing up in rural Licking County — 40 miles east of Columbus — Swain didn't know a soul who attended college. One of the top softball players in Ohio as a student at Licking Valley High School, she went on to pitch and play soccer at Otterbein, where she studied to be a physical therapist. 
After graduating, she got a job as a researcher at a factory tech center, work she enjoyed. However, one day playing softball with a friend from Ohio State, she learned about the university's graduate program in exercise physiology, an area of study that explores how physical activity improves people's health. 
"My friend said, 'It's really competitive,'" Swain recalls. "I'm a really competitive person. I didn't know anything about it, but I was like, 'I'm applying for it.'"
Hear from Carmen and Anthony
Carmen Swain and Anthony Dujmovic discuss how mentorship is at the heart of their research success in a recent edition of the Now at Ohio State podcast. 
She remembers two things about the interview: getting a speeding ticket on State Route 315 on the way and meeting Tim Kirby, an associate professor of exercise physiology. Kirby became her mentor.  
"We just clicked," she says. "We were both from rural areas; he had a farm near Buckeye Lake. He was a runner; I was a runner. Before I knew it, he was like, 'I'll take her as my [graduate assistant].' I didn't even know what a GA was. I thought, I get paid to go to school?"  Swain earned her master's degree and PhD as Kirby guided her and later named her program manager of his sport and exercise science lab. There, Kirby gave her the same responsibilities as full-fledged faculty members. She completed research projects, even became one of the youngest presidents of the American College of Sports Medicine's Midwest chapter.
As a researcher, Swain shined. Smart, a good writer and a people person, she took it all on: working with Columbus firefighters, offering cardiac programming for the university, studying with athletes. 
"She developed great relationships with everyone, even difficult personalities. Her attitude was never about promoting herself, and that's rare in research," says Kirby, now an emeritus faculty member. "Her interest has always been helping people live better lives. That sounds pie in the sky, but that's Carmen." 
After completing her PhD, Swain became a visiting assistant professor, typically a temporary post.  
"There were definitely opportunities for her outside of Ohio State, but she always said no" when other universities tried to lure her away, Kirby says. "It was because she's just so dedicated to students here, and there was no question our students had so much they could learn from Carmen."
The value of research 
Anyone walking through COSI, the popular Columbus science museum, from 2011 to 2013 inevitably came across three giant glass pods, each a hive of scientific activity with a fitness twist. 
Inside those pods? Swain, a graduate student and a swarm of undergraduates performing a slew of research studies.  
The equipment? Name it. A BodPod, which looks like a giant egg but analyzes body fat. Stationary bikes with VO2 max masks and tubes. Exercise video games. An array of state-of-the-art exercise testing apparatuses. 
Students wore microphones, recruiting participants and explaining to passersby what they were doing at these Labs in Life. 
"It blew my mind the first time I saw it," says Sarah Kessler '14, who conducted a barefoot running study as an undergraduate and Swain's mentee. "It was the coolest thing I had ever seen." 
Just after completing her PhD, Swain became program director and went to work designing the space and the program, which included giving numerous undergraduates opportunities to oversee their own studies under her guidance.   
"Labs in Life was everything I wanted," Swain says. "My mission was to show the community the value of research, and those students did phenomenal work. They landed so many awards and grants, it was awesome." Swain's students performed 14 studies in less than three years. That meant proposal writing, data curation and analysis, and presenting at events such as Ohio State's Denman Undergraduate Research Forum, where her students raked in honors. Swain was named the Denman Mentor of the Year for her efforts. Some of the studies were presented at national conferences and were published in academic journals, such as those from the American College of Sports Medicine.
"It was a unique space. You saw all these kids experiencing science for the first time," says Elan Lieber '12. "It was so much fun to see them light up." 
Lieber began at Labs in Life as a sophomore and became lab manager, worked with hundreds of participants, published two studies and won awards for research into obesity and lack of exercise in boys. He graduated with an exercise physiology degree, earned a master's in public health at UCLA and works as an entrepreneur and marketing professional in California. 
"I realized what I loved the most about the work I had done with Carmen was being able to make a significant impact on people's lives," Lieber says. "With her it was always, 'Yes, you really can do this.' She was incredible. We're still very close." 
Kessler says the experience not only helped her get into Ohio State's selective exercise science program but sparked her love for research, a path she continued at the University of Michigan, the University of Queensland in Australia and Harvard.  
Today, she's head athletic performance coach for the WNBA's Indiana Fever. 
"To find we can actually all do research was so influential. I found I enjoyed asking questions and seeking answers," says Kessler, who also helped Ohio State's rowing team win two national titles (in 2013 and 2014). "That's a time in your life when you're young, you're stressed, and Carmen was a port in the storm. She was so kind in helping you through all the stages of the research process.  
"Without a doubt that experience sent me down this path."  
Swain left Labs in Life in 2013, while pregnant with her third child; she and her husband, Tim, had four in less than five years. She was promoted to senior lecturer and took on the College of Education and Human Ecology's internship program. All of that halted her own research.  
 But in 2019, a student told her about his internship working with the marginalized IDD population at Valemee Fitness. His story stuck with her. Last year, she shared it with Dujmovic, who was eager to take on the challenge of a study for his senior thesis. His excitement propelled Swain to return to research.
Lifelong relationships 
Dujmovic shows up in a suit and tie holding a coffee. He proceeds to pin up his research poster detailing the VALID Study, as his work with Swain has been named. It's February, and he is one of more than 100 students presenting at the college's research festival. Only a handful are undergraduates. Within moments, the crowd around his presentation swells.  
Dujmovic explains how the study had nearly 100% participation, an incredible number, and how results showed increased fitness, independence and self-efficacy across the board. (It's validation Mills is using to spread her system to gyms across Central Ohio and, potentially, the nation.) Plus, Dujmovic adds, feedback points to participants continuing to engage in exercise and nutrition programs going forward. 
Standing at the edge of the crowd, Swain listens and watches, takes pictures to send to Dujmovic's mom, chats with others in attendance. She invited a lengthy list of people to see her student speak, including faculty leaders such as John Buford, director of Ohio State's Department of Physical Therapy, and her other students.  
"Everything he's done, it's exceptional," says Buford, who accepted Dujmovic into the highly regarded Doctor of Physical Therapy/PhD program in December.  
"No undergraduate could do a project like this, so the mentorship aspect was crucial. The bond formed between a mentor and a student through a project like this becomes incredible."
"I love working with students, and something that lights me up is research. When you combine those, something amazing happens. Students find what they were meant to do." 
Carmen Swain '97 MA, '07 PhD
Standing with Swain is Julia Grzesik, a junior exercise science major, also here to see Dujmovic. Inspired by his work, Grzesik will begin her own research project this summer under Swain. A first-generation American whose parents are from Poland, she hopes to go into pediatrics. 
"Anthony absolutely killed it with this, and his work really sparked me," Grzesik says. "I honestly didn't think I could do research until Dr. Swain told me about this. She wants to see her students thrive. You can tell she pushed Anthony to do great work." 
Swain continues to mentor Dujmovic through the manuscript writing process with the goal of publishing the study in an academic journal, preferably one focused on the IDD community.  
"I've come to expect so much from myself, and a lot of that is because of Carmen," Dujmovic says. "Because of her, I felt like I had a place [within the College of Education and Human Ecology]. I knew I'd be doing my best work with her. She's so motivational.  
"She could easily just lecture and get a paycheck," he says. "But she's so invested in students, always trying to do more. That really resonates with me." 
With her children now in school, Swain is accelerating her research. She has been invited to national conferences this summer to speak about the VALID Study, and Grzesik and three other students will partner with her during summer semester.  
Students and research will always be a passion for Swain. 
"Everybody wants meaning in their life," she says. "I love my family, they're my top priority, and I love working with students. And something that lights me up is research. When you combine those, something amazing happens. Students find what they were meant to do. 
"All of the students I've worked with through the years have gone on to do great things. I don't have to look them up to know that, they tell me. They keep in touch with me. They have dinner with my family," she says. "And those relationships are what drive me. That's what I care about." 
Want to be or find a mentor?
Students and alumni alike benefit from mentoring relationships. To express your interest, join the AlumniFire community and add mentoring to your profile. More is in the works for alumni mentors, too, so stay tuned.