Our Alumni
Avishar Barua is cooking up joy on a daily basis
A psychology and biology major, he fell in love with a surprise career. Now the "Top Chef" alum is launching two new restaurants.
When he graduated from Ohio State in 2009, Avishar Barua intended to follow the path his parents had laid out for him — medical school and then a career as a doctor, just like his father.
But instead, Barua has used his biology and psychology degrees in an unexpected place — the kitchen, where his innovative cuisine has earned him devoted fans, rave reviews from restaurant critics and a coveted spot on "Top Chef," a popular televised cooking competition.
"Cooking is where it all came together for me," says Barua, the son of immigrant parents from Bangladesh who acknowledges his path as a chef was unlikely. As a child, he had little interest in food. It was at Ohio State that he picked up a new pursuit, cooking for friends. He gradually realized he had far more passion for cooking than medicine.
Barua broke the news to his folks who, after recovering from their shock, encouraged him to go to culinary school. He did, and then worked his way up from a tiny local kitchen in Delaware, Ohio, to grueling internships in New York to executive chef at Service Bar in Columbus, where he created his signature dish, the cheesy brisket crunch. It drew praise from Food & Wine magazine and interest from "Top Chef."
While he didn't win the competition, Barua returned home determined to try new things. In September, he opened his first restaurant, Joya's Café, a Bengali American restaurant in Worthington. He named Joya's after his mother, an excellent cook herself. In December, he plans to open Agni, a barbecue restaurant in the Brewery District.

Video: Cooking up joy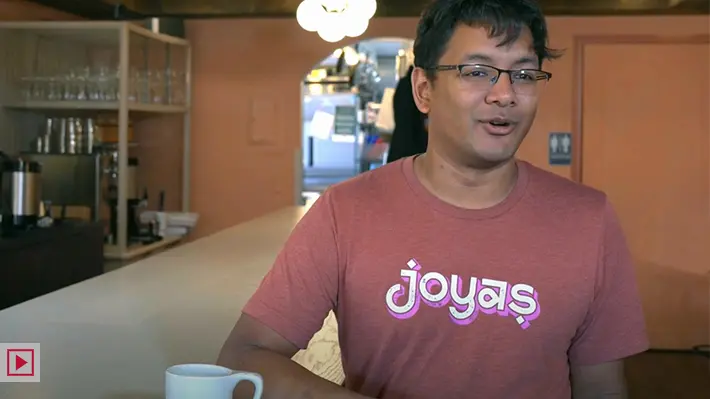 Here's how this busy chef and restaurateur recently spent a day: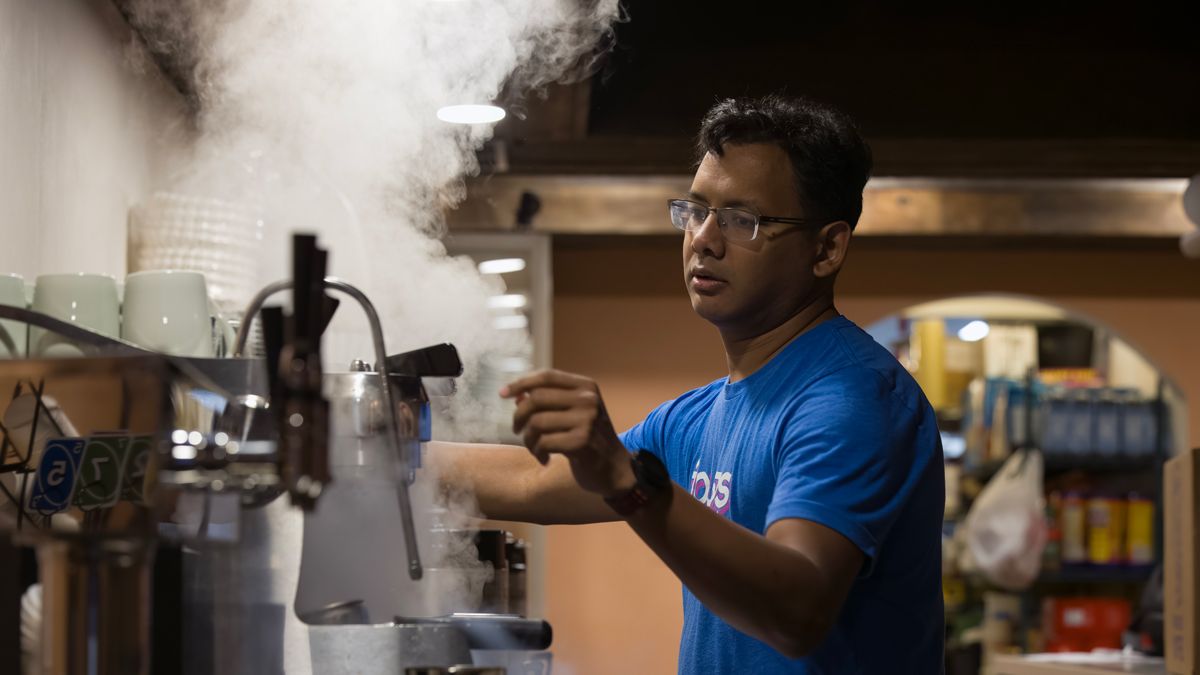 6:30 a.m.
I get to Joya's, where doors will open at 8, and head to the espresso machine to make beverages for the staff. I know what each person likes, whether it's a sweetened latte or a cortado [a Cuban espresso]. It's important that we take care of our staff first.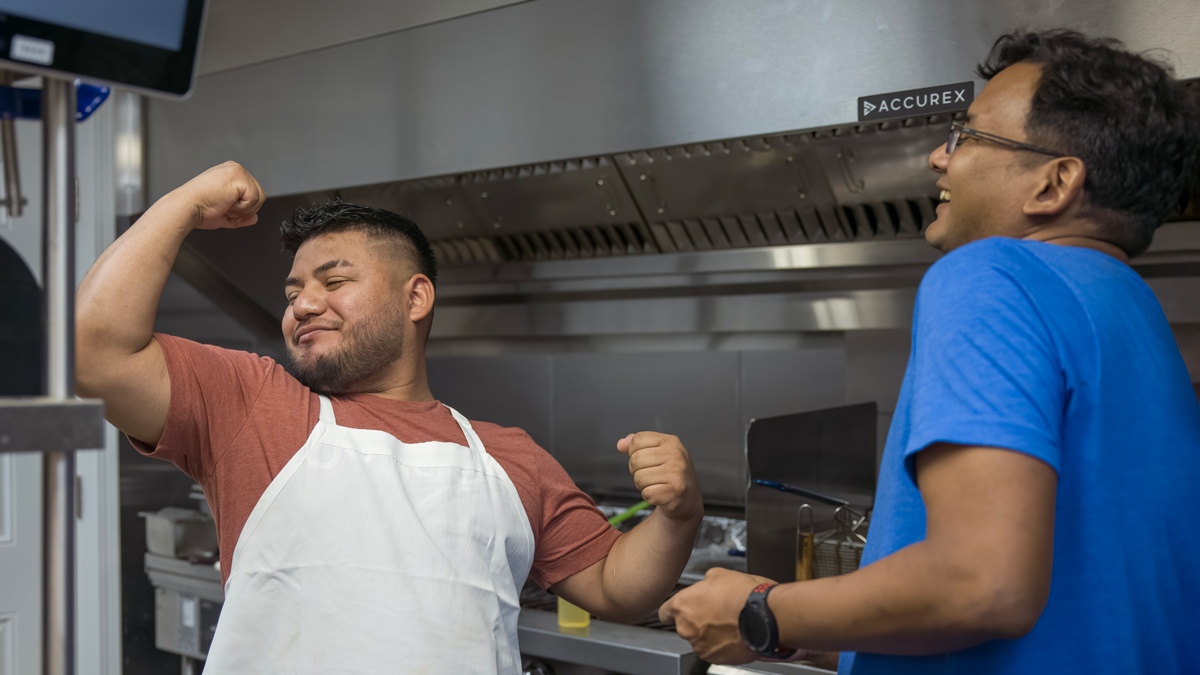 8:30 a.m.
Our cook, Erik Lopez, and I try some ginseng shots I found at Saraga International Grocery in Columbus. They're an energy boost.
8:45 a.m.
I work the line, making food for guests, like our cheesy double crunch tacos [shown in the photo at the top of this story]. I like the hustle bustle of the line; it's my favorite thing to do.
10 a.m.
I start a lot of different things: serving guests, meeting suppliers, checking recipes, tasting food and looking online for the perfect napkins.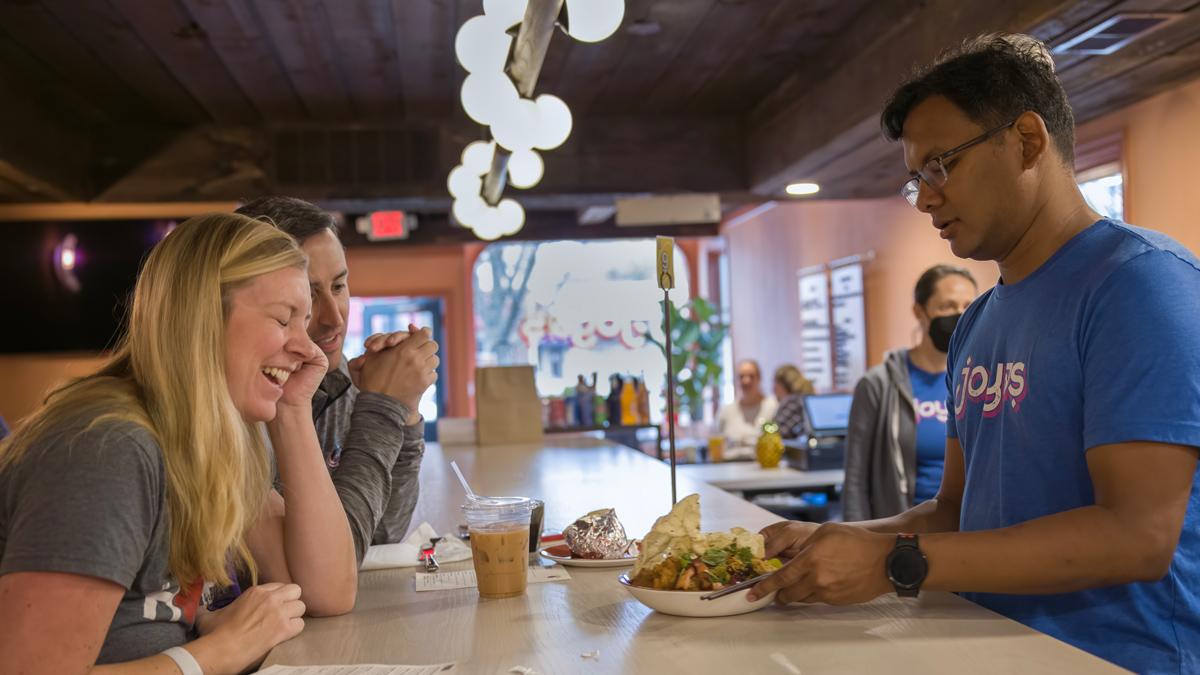 10:30 a.m.
My friend Jesse Jones visits with her husband, Scott. It's always nice to see a familiar face. Jesse had the fried rice and Scott, the breakfast sandwich. It took us four months to perfect that. We bake our own bread, inspired by Indian pav and a potato roll. We use two kinds of poppyseeds, eggs, two types of bacon — candied and peppered — a special sauce and American pepperjack cheese. It all creates a balanced profile that's herby, spicy and sweet.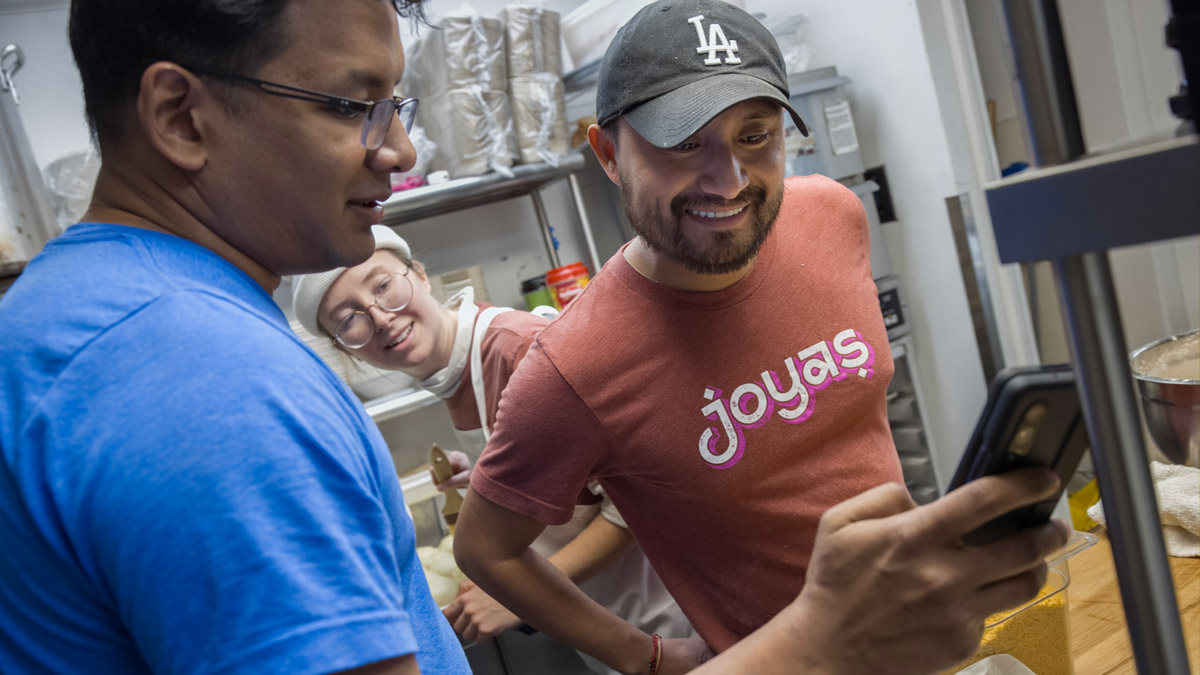 11 a.m.
I share funny memes with our chef, Miguel Bautista, and prep cook, Nicole Velkov. I like to keep the mood light. We take our job seriously, but we don't take ourselves seriously.
11:30 a.m.
Blaine Smith, our director of operations, and I head over to Agni, my other restaurant, to check out our new live-fire grill. I bought the best available, a Grillworks, because I want the best for my staff. Agni's is named after the Hindu god of fire and is inspired by backyard barbecues.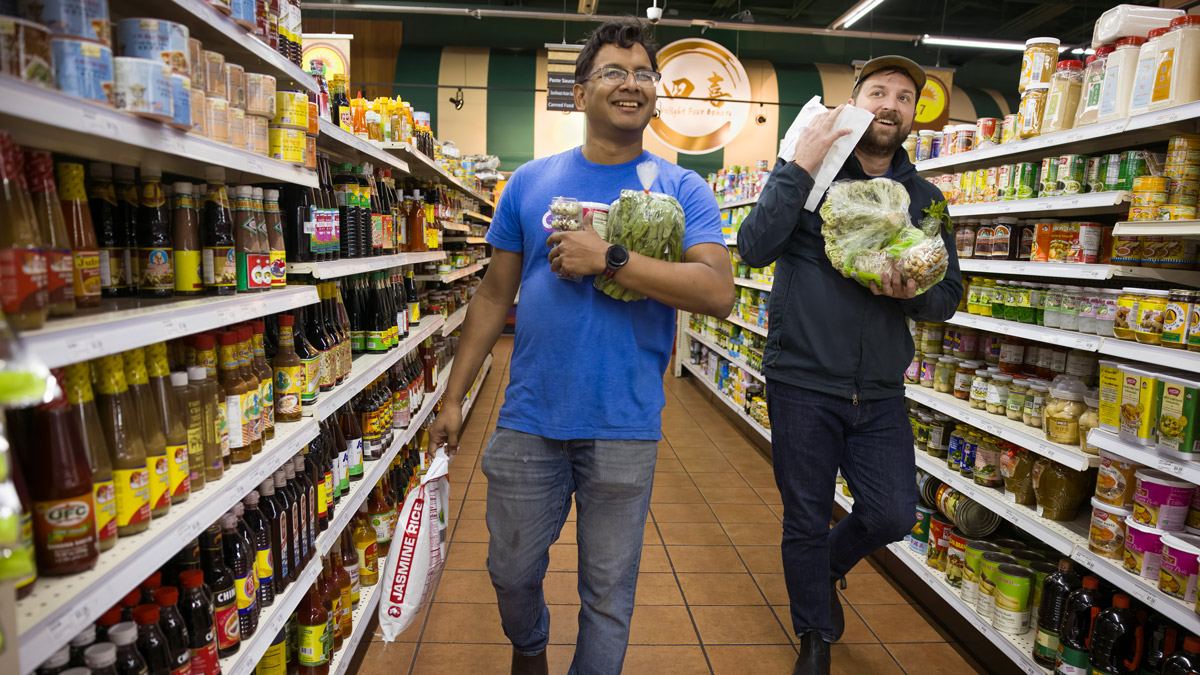 2:20 p.m.
Blaine and I shop at Sunrise Market for a private party we'll host. We like to do pop-ups and these parties. They remind me of Mom's dinner parties.
3:30 p.m.
We hit Taco Bell for lunch, and I get the cheesy gordita crunch. It inspired my own double crunch taco. For my version, I smoke the brisket and braise it with Bengali-Mexican spices.
4 p.m.
Back to Joya's, where I help with prep and meet with my staff. I have a great group of people, and I tell them to ask why, to question everything, because it's good to have dialogue. It helps us make better food.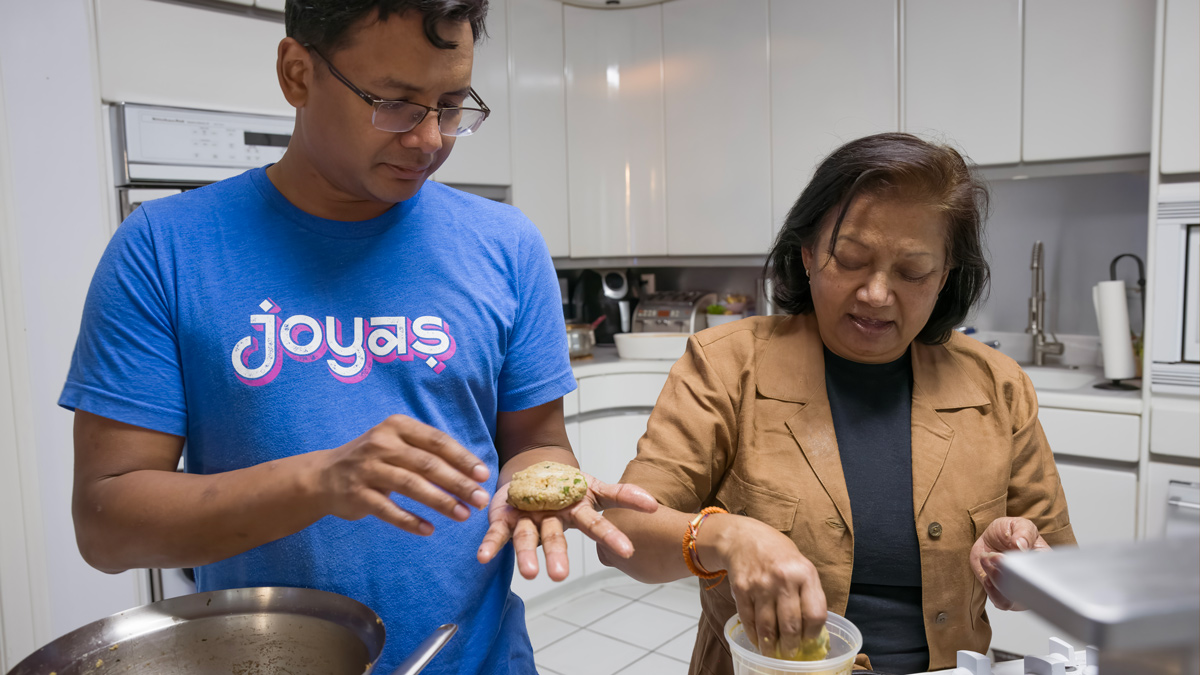 5:45 p.m.
I go to my parents' house for dinner, then test recipes with my mom. It's difficult because she doesn't measure anything, and she uses like 40 spices. Sometimes I videotape her and watch it over and over to get it right.
8 p.m.
I go back to Joya's for more prep.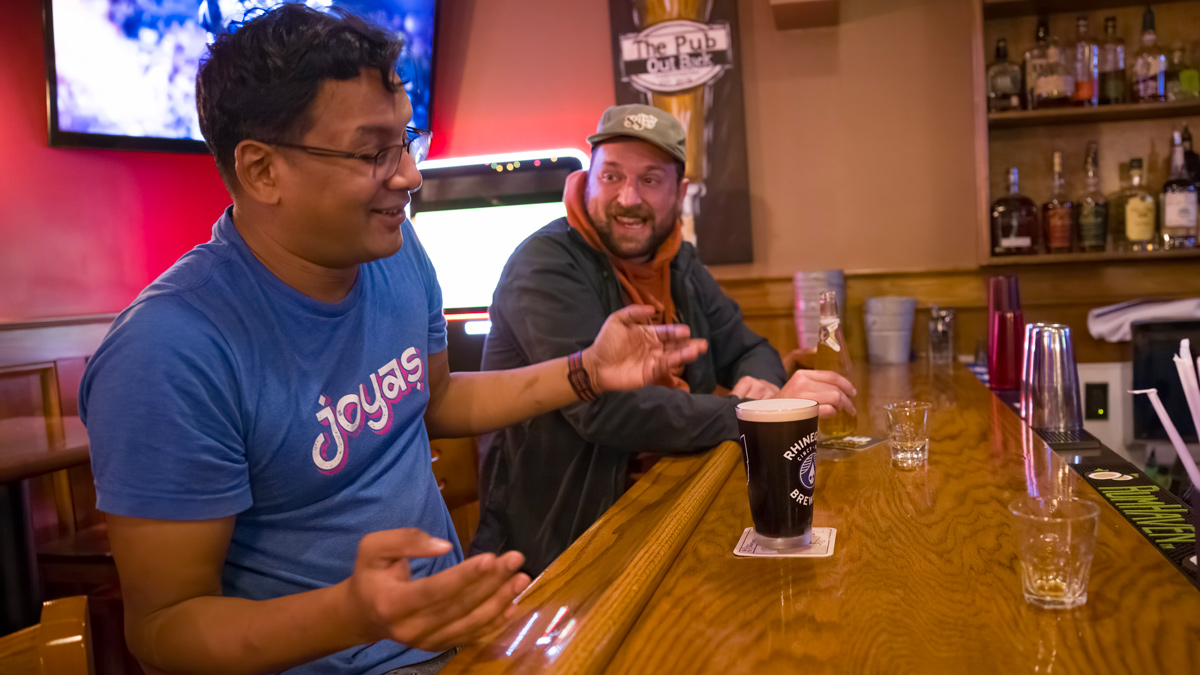 9:30 p.m.
I have a nightcap with Blaine. We've been working nonstop, so it's important to take time to reflect and unwind. You have to enjoy the moments.
11 p.m.
I go home and get to bed about 1 a.m. Cooking is hard work, but I never get tired of it. You make something and then you give it to somebody. It's not for you; it's for someone else.