Our Students
5 Buckeyes from China: New to campus and country
A graduating senior who hails from Ohio comes away impressed and surprised after meeting with five first years attending college far away from home.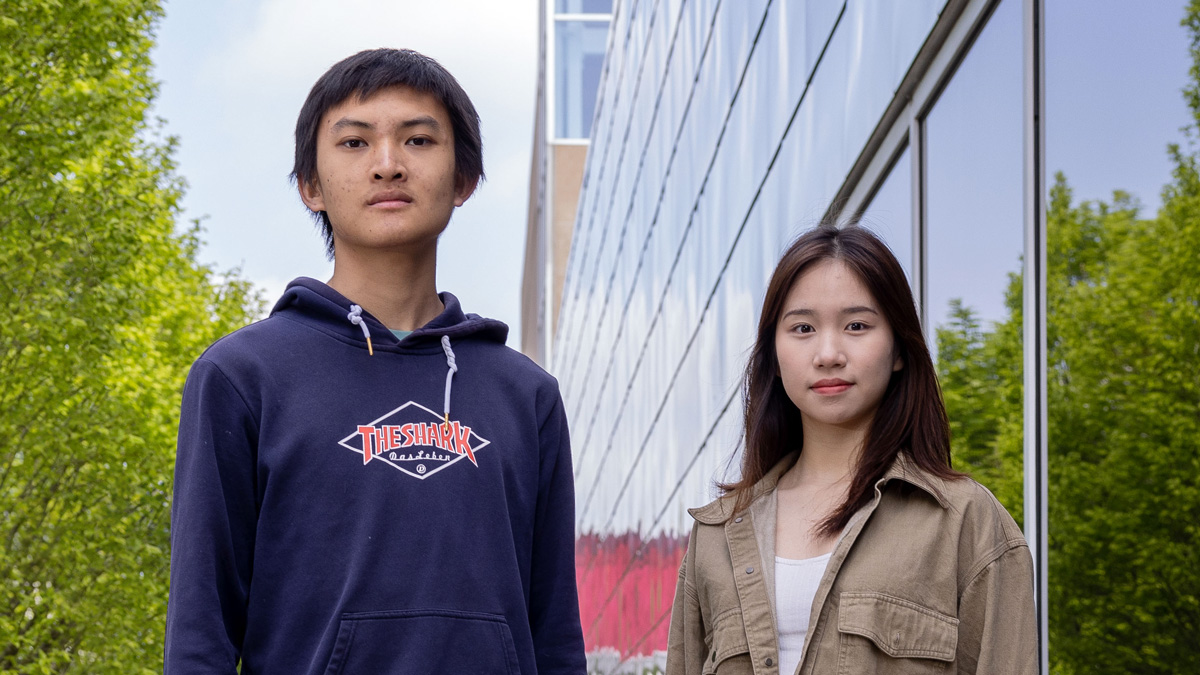 This spring I zipped my undergrad backpack closed for the last time.
My Ohio State journey began on the Mansfield campus five years ago. Months after I transitioned to Columbus the next year, the pandemic upended my college experience, which didn't return to "normal" until the start of this past academic year. Before I knew it, May brought commencement.
But just before graduation, I was able to meet five students who zipped their backpacks open for the first time as undergrads.
Ohio State welcomed its largest group of first-year students from China last August, and I had the privilege to learn about some of their experiences. 
In talking with students interviewed twice for this story, first by their high school guidance counselors before they left home and then by me this spring, I was struck by their courage and apparent ease in adapting not only to a new school, but to a new country. 
Weichuan Shi was the first student I met, and I was surprised by what he had looked forward to most in becoming a Buckeye.
"Before leaving China," he said, "I was most excited to shout 'O-H!' and hear an 'I-O!' response back." His wish came true at Disney World during a spring break trip with friends. They belted out "O-H" and got an equally enthusiastic response. I appreciate how the simple tradition known by Buckeyes everywhere demonstrates the unity and support of our community.
Video: POV: A senior's first football game
That community has been welcoming and helpful in guiding Weichuan to succeed as a business major. "I am specializing in economics, and I felt that Ohio State would give me a chance to cultivate my potential skills in a practical environment with good professors," he said. 
I am hopeful Weichuan finds the kind of classroom experience that benefited me. My senior year, I took a media law class taught by a professor whose guidance and genuine love for teaching inspired me to consider a career in law. 
As Eva Zhu also found, professors often influence a student's trajectory.
"Communications was very difficult with all of the writing that we had to do," Eva told me. "I stayed behind one day to ask my Stats 1350 professor some questions and ended up leaving the classroom convinced to change my major."
Any major can be a challenge, but Eva has enjoyed her classes and is happy to have met such a positive professor.
Mechanical engineering major Haoxi Deng found his way to Ohio State through his teachers in China, who shared what the university has to offer.
"I would like to focus on robotics and robot design as a part of my studies," he said. He also joined the cycling club and an automotive research group.
"I have had a lot of fun doing group rides with my club friends. It is nice to join things that go with what I study as well as physical activities." Ohio State, I've now learned, is a magnet for prospective engineers because of the strength of its programs and the university's proximity to top corporations for work experiences.
Boyuan Zhang, also studying mechanical engineering, shares Haoxi's love for physical activity. 
"There were so many things I loved about Ohio State when I first chose it," he said. "I love the infrastructure and the RPAC the most. Having a big gym was one of the things I was most excited about when I explored the school and came to attend." 
Back home, it was difficult for Boyuan to find a public gym to play badminton, his favorite sport. Now he uses RPAC every day to compete against his badminton club friends. Win or lose, he said, he loves meeting new people. 
Still, there are downsides to leaving home. "What I'll miss most are my father's fennel pies," he said. "Because the ingredients are difficult to find in America, I don't think I'll be able to have a real fennel pie when I'm here." 
Education major Lilia Qi has gotten involved with a club organizing events for Chinese students to connect with friends new and old while celebrating traditions, festivals and holidays.
The transition to college is full of change and newfound freedom. 
As my undergrad years end, I wish these and other international students success. I hope when it is their turn to move forward, they have lessons and memories of life-changing experiences to take with them wherever they go.
Special thanks to our colleagues with Ohio State's China Gateway for their assistance with this story.