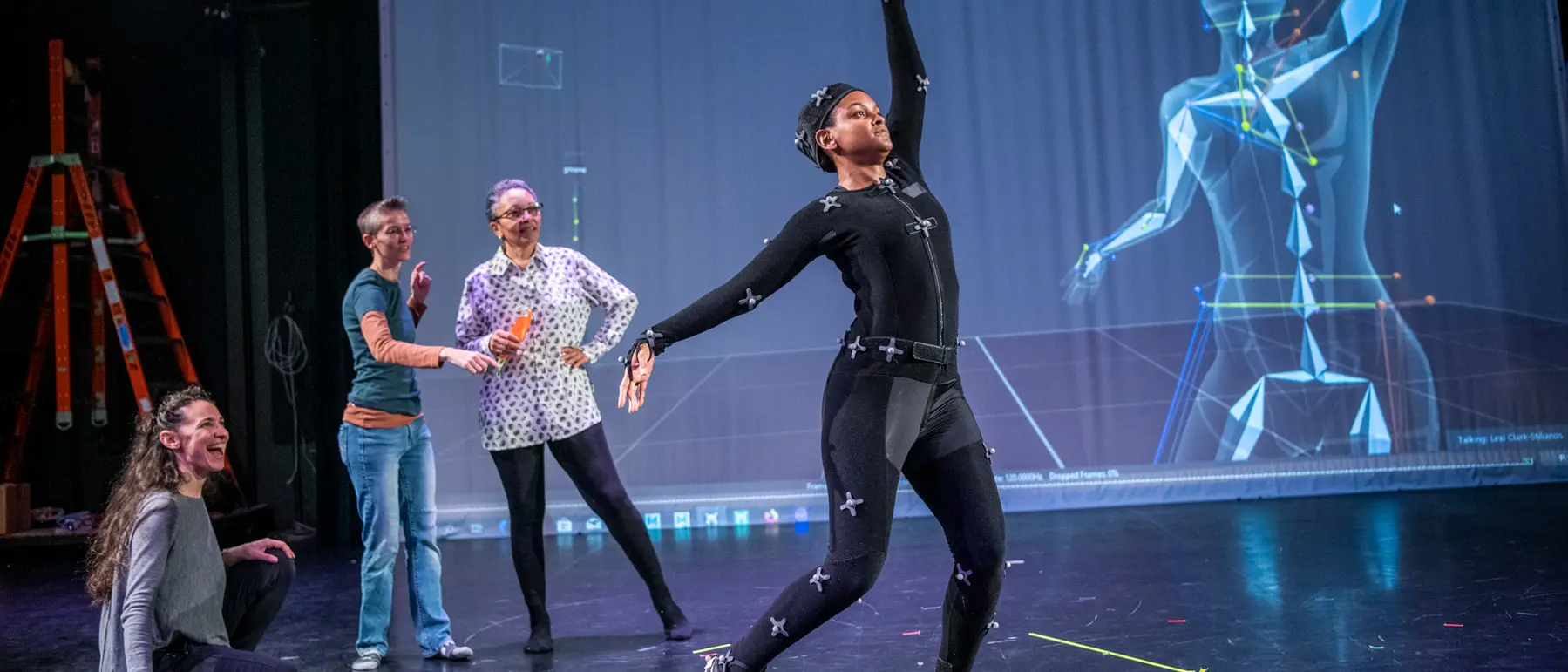 Campus & Community
Where Buckeyes grow
In Ohio State's modern classrooms, collaboration and innovation are the norm and students get the opportunity to explore, practice and play.
In Ohio State's modern classrooms, collaboration and innovation are the norm and students get the opportunity to explore, practice and play.
Research scientist Madison Kackley '18 MS, '21 PhD works in the basement of the Physical Activity and Education Services (PAES) building, and she wouldn't have it any other way.
Located southeast of Ohio Stadium, the building is packed with state-of-the-art spaces to study exercise physiology, behavioral medicine, fitness training and more. Tools on hand include exercise machines and free weights, a sensory deprivation tank and full-body scanners that measure bone density and fat percentage.
"Sometimes listening to a lecture, you don't take everything in," says Kackley, who has worked in PAES since starting her master's studies in kinesiology in 2016. "But with the hands-on experience where you're in the trenches, you can create conceptual thoughts on your own and expand, not just your academic knowledge, but the applied aspect of your future career.
"That is what Ohio State is really, really good about," she says.
Modern learning spaces challenge students to engage, think and explore at the cutting edge of their fields, and such classrooms can be found all over Ohio State's campuses. Take, for example, the 2015 Chemical and Biomolecular Engineering and Chemistry building. Better known as CBEC, the 237,000-square-foot structure sits on Woodruff Avenue midway between Ohio Stadium and High Street. From the lobby, you can peer down into The James and Patricia Dietz Unit Operations Laboratory, a two-story classroom filled with big equipment, metal framework and work tables.
"You name it, there's pretty much all disciplines of chemical engineering within this laboratory," says fourth-year Cole Pinkerman. His class conducts chemical transformation experiments on fixtures such as distillation and fluidization columns taller than he is.
The point of Unit Ops is to help students gain confidence working with the real-world equipment they'll use in co-ops, internships and future jobs.
"Continuous improvement is engineering," says Assistant Professor Andy Maxson '15 MS, '17 PhD, who supervises Unit Ops. "If you don't change anything, you can't get better."
That applies widely on a campus rich with tradition and grand old buildings, where marrying the modern with the historic creates new opportunities for innovation and community-building. Consider the stately Sullivant Hall, sandwiched between High Street and the Oval and almost a decade older than the 'Shoe, which hit its centennial last year. Inside, reinvented "classrooms" make room for Department of Dance classes, the Advanced Computing Center for the Arts and Design (ACCAD) and its Motion Lab, a multiuse space with intelligent-stage and motion-capture capabilities.
"It actually can be kind of hard to find spaces where you can train deeply in interdisciplinary and collaborative ways," says Associate Professor of Dance Harmony Bench. "But that's one of the things this space provides."
Fourth-year student Sophie Kussman, who majors in dance and art history, takes a West African Movement class in Sullivant Hall.
"Being able to step into a space where all the information is so unknown to me and really delve into a culture that is not my own in the most respectful way possible, that has been so unique," she says. "I saw this space when visiting Ohio State and it was huge in making me want to come here."
Lauren Van Niel '23 and third-year Varad Raigaonkar are journalism majors and student interns at Ohio State Alumni Magazine.