Our Alumni
Where I Live: Welcome to São Paulo, Brazil!
The alumni club and Ohio State Gateway bring the Buckeye spirit to Brazil's biggest city, which offers a wealth of great places to eat and experience.
Touching down in São Paulo, it would be natural to feel like you'd landed at the hub of the universe. Not only is this city in southeastern Brazil one of the five largest in the world, it's also the country's commercial and technology center and home to more descendants of Italy, Japan and Lebanon than anywhere other than their home countries. So when visiting São Paulo, why not start in the heart of it all, Paulista Avenue?
"The buildings are something to appreciate, and the headquarters of many great industries are located there," says Ana Lúcia Kazan '96 MS, 
'99 PhD. "Plus, there are street shows and artists, the São Paulo Museum of Art and the Trianon Park."
At 1.7 miles long, Paulista is the city's main thoroughfare, connecting southern and western neighborhoods with the old city center. Among its towering steel and glass skyscrapers are examples of 19th and 20th century Brazilian architecture. Trianon Park offers an oasis if the cars and trucks on Paulista get to be too much. Or you could just wait until Sunday, when the street is closed to vehicles.
"The big avenue becomes a huge walking park with lots of street artists and vendors fighting for attention," says Fernando Morato '19 PhD. 
The centerpiece is the São Paulo Museum of Art, an architectural landmark. The museum is suspended above the street by four giant red pillars. Its collection of European and Brazilian art "is precious, and the display of artworks 'suspended in the air' with glass holders is also something to be seen," Morato says.
"The surroundings of Avenida Paulista offer a myriad of restaurants, snack bars and shops of all price ranges," he adds.
Kazan recommends three restaurants, each less than a 20-minute drive from Paulista — though São Paulo traffic is notorious. They represent the diversity that flourishes in the city. 
For Middle Eastern fare, Kazan likes Farabbud Moema, which features Arabic, Lebanese and Turkish cuisine. She recommends Aoyama Jardins if you're in the mood for Japanese fare. And for Italian food, Pizzaria Camelo. "With a large Italian descent population, São Paulo is proud of having the best pizza in the world," she boasts.
About a half hour west of Paulista, says Gustavo Rafael '19 MBA, sits his favorite restaurant for Brazilian food, Consulado da Bahia. "They serve the best moqueca — a traditional seafood stew — in town, in my opinion," he says. 
Traveling just about the same distance northeast of Paulista will land you at the Municipal Market, where Rafael says visitors "can try all kinds of fruits and enjoy some traditional sandwiches — mortadella sandwiches — with draft beer." 
Cachaçaria Do Rancho is Morato's favorite for Brazilian food. "After lunch at Cachaçaria Do Rancho, you can cross Avenida Sao Luis and have a coffee at Livraria Megafauna, a marvelous bookstore," he suggests.
Another must-see in Rafael's view is Ibirapuera Park, which he describes as akin to New York's Central Park. "It's a perfect place to enjoy nature in São Paulo, walk around and drink some cold coconut water." The 390-acre park is home to the museums of modern and contemporary art, Museu Afro Brasil and Ibirapuera Auditorium. 
Ibirapuera Park's green spaces draw in Aline Gabbardo '19 PhD. On Sundays, the city designates some traffic lanes exclusively for bicycles. "You can bike to most of the parks using these lanes," Gabbardo says. "I like to bike from Ibirapuera Park to Do Povo Park, then the University of São Paulo, then Villa-Lobos Park. You can easily rent bikes near these parks." And when you get tired of pedaling, she recommends a picnic at the Botanical Garden. 
If Rafael were showing guests around São Paulo, he would end the day in the Vila Madalena district, "visiting the Batman Alley and having drinks and appetizers in some of the many bars in that neighborhood." 
Batman Alley is so named because its art display began in the 1980s with a single drawing of the comic book hero on a wall. Today it is a vibrant center for São Paulo's famous urban art. 
Morato describes Vila Madalena as "lively and young. It is a center of night clubs as well as of cultural venues." Visitors can find shops of crafts and artisan clothing along with art spaces and theatres. One of Morato's favorite shops is Loja Monstra, which sells the work of independent Brazilian authors.
Suffice to say, there is plenty to see and do in this nearly 500-year-old metropolis.
Brazil Gateway at the heart of connections
Shifting gears is a specialty of Jane Aparecido '15 LLM. As director of the Brazil Gateway, Ohio State's liaison office in São Paulo, she serves as the on-the-ground ambassador to help drive student recruitment, facilitate education abroad programs, develop and sustain corporate partnerships, advance research collaborations and support alumni. 
The Brazil Gateway, established in 2014, is one of three Ohio State Global Gateways. The others, in Shanghai and Mumbai, were established in 2010 and 2012, respectively. All are multifaceted centers that enhance the university's teaching, research and engagement.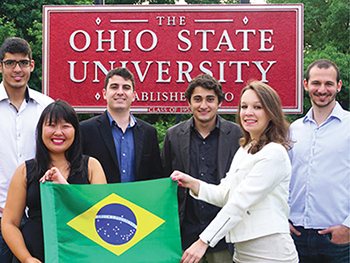 "It's very dynamic," Aparecido says of her work. "I have initiatives in each of the four key focus areas, but my interactions and types of engagements with students, faculty and alumni are always different. It's very rewarding."
One day she might be helping a prospective student navigate the application process. Another might find her coordinating a research webinar for PhD students and visiting scholars. And the next week, she might be finalizing arrangements for an education abroad program and organizing a virtual career fair.
Ohio State currently has 59 students and 55 scholars from Brazil, a fully engaged Brazilian student organization on campus and an alumni club in São Paulo. Connections continue to grow. 
Aparecido says Brazilians are more familiar with Ivy League schools than public universities in the United States, but having a presence in São Paulo makes it much easier to increase awareness about the Buckeye community. 
"There is a lot of potential for growth with the Gateways," she says. "We hope to become Ohio State's hub for all Latin American countries."