News You Can Use
Where I Live: Clevelanders' favorite city rocks anew
New restaurants, retail and other points of interest make Cleveland an enticing stop for travelers ready to shake off the dust of pandemic-forced cabin fever.
Make no mistake, Cleveland is not your father's city on the lake.
Today it is a kaleidoscope of neighborhoods reimagining themselves. "In the last 25 years, Cleveland has really gone through this renaissance," says Mike Littlejohn '01.
Compared to when Katy Goetz '15, '19 MS was a child, "there is so much more life to Cleveland, niches to explore."
When she guides visitors on that exploration, Goetz likes to start in the Detroit Shoreway neighborhood on the city's west side, at a Cleveland creation called Brewnuts Donuts & Beer. Here you can savor craft beer-based doughnuts — yes, beer doughnuts. The house specialties feature filled varieties and old-fashioned "frycakes" on a menu that changes weekly.
Mallory Kanwal '13, '17 DVM also enjoys Detroit Shoreway. "It's a great spot because there's a strip of bars, restaurants … a half mile from the lake." One spot she and her partner, Ben Adams '14, frequent is Astoria, a Mediterranean restaurant and market on Detroit Avenue. The cafe sports an "awesome brunch and a great patio for the summer months," Adams says.
Another of his Detroit Shoreway discoveries is Il Rione Pizzeria. "It's a cozy little place with wine and just a cool spot." Adams recommends simply meandering through neighborhoods on the near west side. "You can't go wrong if you just take a walk and wander around."
During COVID-19 times, Adams says, he and Kanwal have taken advantage of the expanded outdoor dining some places have created. "One of the better new spots that came around during this time is Saucy Brew Works' Vibe Garden," Adams says.
Hingetown, the neighborhood home of Saucy Brew Works, was so named because it connects Detroit Shoreway with Ohio City, one of Cleveland's oldest neighborhoods. Hingetown offers fun shopping, Kanwal says, including vintage shops such as Avalon Exchange and the Fount leather shop's "pricey but excellent" bags and wallets.
Heading toward downtown, pedestrian explorers next reach Ohio City, another popular, rejuvenated area on the near west side. One can't-miss spot is West Side Market, the city's oldest publicly owned market. (Just look for the 137-foot clock tower.) Drawn in by more than 100 vendors of ethnically diverse foods, Kanwal and Adams visit the market at least a couple of times a month. "We can't leave without apple fritters," Kanwal says.
While Ohio City is further along in terms of commercial redevelopment and draws a young professional crowd, Adams says nearby Tremont features artsy, newer restaurants and a "hipster vibe" alongside neighborhood staples such as Edison's Pizza Kitchen. Its live-music dive bars make for great date nights, he says.
Steve Rambo '07, '12 MBA, president-elect of the Alumni Club of Greater Cleveland, attends as many as 20 Browns, Cavaliers and Indians — now Guardians — games a year and loves to end the day with dinner in Ohio City or Tremont. He dresses up, however, for his favorite Tremont restaurant, Fahrenheit, which serves "nicer American fare."
Another of Rambo's favorite dining spots is even closer to the downtown sporting venues: Mabel's BBQ, "Cleveland's spin on barbecue." Mabel's is the creation of Michael Symon, the city's favorite culinary son and a regular on Food Network.
After a dinner at Mabel's on East Fourth Street, bars right and left make for a nice stop for a nightcap. Directly off Fourth sits another Rambo recommendation: House of Blues, one of many destinations throughout the city for live music.
Follow the tunes a half-mile east and you'll find what Cleveland boasts to be the largest theatre district outside of New York City, Playhouse Square. Count them: seven theatres. This spring, arts fans and the curious can take in the Cleveland International Film Festival (through April 9); To Kill a Mockingbird, part of the Broadway series; and The Three Musketeers, produced by the Cleveland Play House, which touts itself as the country's first professional regional theatre. Those are just a few events on the calendar.
The arts also are at home just a little farther east, in the University Circle neighborhood. Museums abound here, from The Cleveland Museum of Art and the Museum of Contemporary Art to the Cleveland Museum of Natural History, not to mention The Cleveland Orchestra's Severance Hall. Of the Museum of Art, Littlejohn says, "It's free. It's huge. And it's amazing. I never get bored. I may get lost."
This native Clevelander says he hadn't planned on moving back, but "it turned out to be an amazing mistake."
The natural side of 'Believeland'
For nature lovers such as Mallory Kanwal and Ben Adams, Cleveland has a sprawling park system and the only national park in Ohio.
"I have to spend part of every single weekend outdoors or I'd go crazy," Kanwal says. Adds Adams, "You don't think of Cleveland as a place of natural beauty, but it kind of is."
The Cleveland Metroparks system consists of 18 parks, or "reservations," many of which have water features, from Tinker Creek to Lake Erie, and together make up the well-loved Emerald Necklace. Cleveland Metroparks Zoo and eight golf courses are among the gems. Wherever you stay, you're not more than 10 minutes from a park, Mike Littlejohn says. He attributes Cleveland's inviting hiking options to the city's location "in the foothills of the foothills of the foothills of the mountains."
Kanwal and Adams enjoy biking on the 20-mile Ohio and Erie Canal Towpath Trail through Cuyahoga Valley National Park. Steve Rambo likes to walk there with his children and dogs. The "neat waterfalls" are a draw.
Rambo lives in the southern suburb of Brecksville and from there can kayak on the Cuyahoga River all the way to downtown. Don't have your own kayak? You can rent one at Rocky River Reservation and paddle onto Lake Erie and around the Flats' array of restaurants and bars.
"I like taking people to Edgewater Park because it's a really accessible way to get lake views," Kanwal says. (And it has a dog beach!)
Andrea Cronig Mindell '83 puts it simply and best: "The Metroparks system is a crown jewel."
More top picks from Buckeyes
We asked members of the Alumni Club of Greater Cleveland to share more of their favorite places in their favorite city.
Heinen's grocery in downtown Cleveland
900 Euclid Ave.
"The Heinen's grocery store in downtown Cleveland is a great place to shop or grab a bite. Located in the former Cleveland Trust Co. bank building, the rotunda features a large stained-glass dome. Below it are 13 murals painted by Francis Millet that depict the exploration and settlement of the Great Lakes region. Even if you don't buy anything, it's worth checking out the historic architecture." — Dawn Plante '88
Edgewater Park
2 miles west of downtown off Cleveland Memorial Shoreway
"Edgewater Park is special because it is peaceful, engaging and reminds me of family. Our alumni club family is awesome! We are dedicated to serving the needs of Greater Cleveland and supporting scholarships for students attending The Ohio State University." — Chris Mignogna '86 MSW
Lake View Cemetery
12316 Euclid Ave.
"At first glance, a cemetery may seem like an odd choice for the living to spend quality time. But this nationally recognized landmark, founded in 1869, is no ordinary resting place. Walking trails, tours and monuments curated throughout dramatic natural landscapes honor the lives of Clevelanders who built this city, including some of its most famous residents: President James A. Garfield, John D. Rockefeller, Eliot Ness, Harvey Pekar and Alan Freed. Its prime location — nestled between the cultural institutions of University Circle, Little Italy neighborhood and Coventry Village — offers visitors a fulfilling Cleveland experience." — Jeremy Levine '96
"Tours available on weekends range from 'Millionaires Row' to 'Cops and Robbers.' Springtime brings out the daffodils around the area." — Andrew Bemer '70
(Rock & Roll Hall of Fame)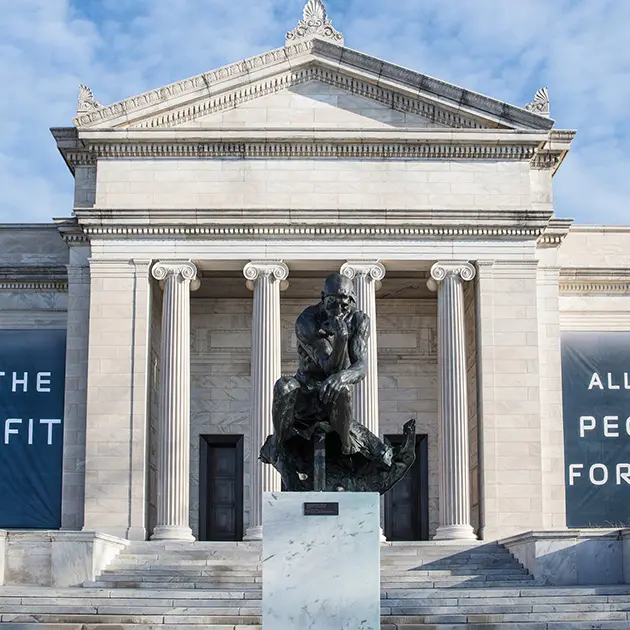 (Cleveland Museum of Art)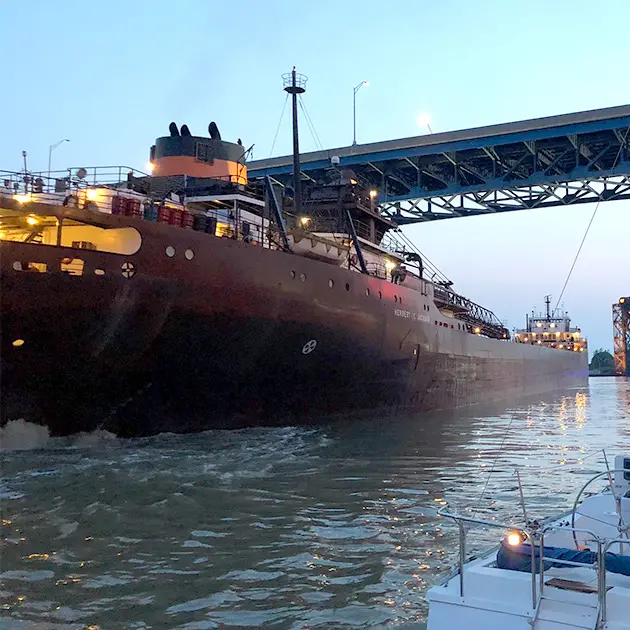 Cleveland's live music venues
Various locations
"From Severance Hall to The Bop Stop, the history of music in Cleveland runs deep. Rock, jazz and classical performances can be found across town on any given night. Visitors should check out Severance Hall, The Bop Stop, House of Blues, The Rock & Roll Hall of Fame, Blu Jazz (in Akron), House of Blues, Jacobs Pavilion, Nighttown, Beachland Ballroom, Blossom Music Center, The Odeon and more." — Brad Wise '12, '12
The Cleveland Museum of Art
11150 East Blvd.
"My favorite place to take guests visiting Cleveland is The Cleveland Museum of Art. The collection is exceptional, and it is open to the public free of charge. The museum is located in beautiful University Circle. Guests can visit the other nearby museums or grab lunch in nearby Little Italy." — Meghan Shelby '91
Collision Bend Brewing Company
1250 Old River Road
"The photo is from the back porch of Collision Bend Brewing Company, located on the Cuyahoga River in the Flats district of downtown Cleveland. Collision Bend is a great place for a drink and bite to eat, with an outstanding view." — Steve Rambo '07, '12 MBA