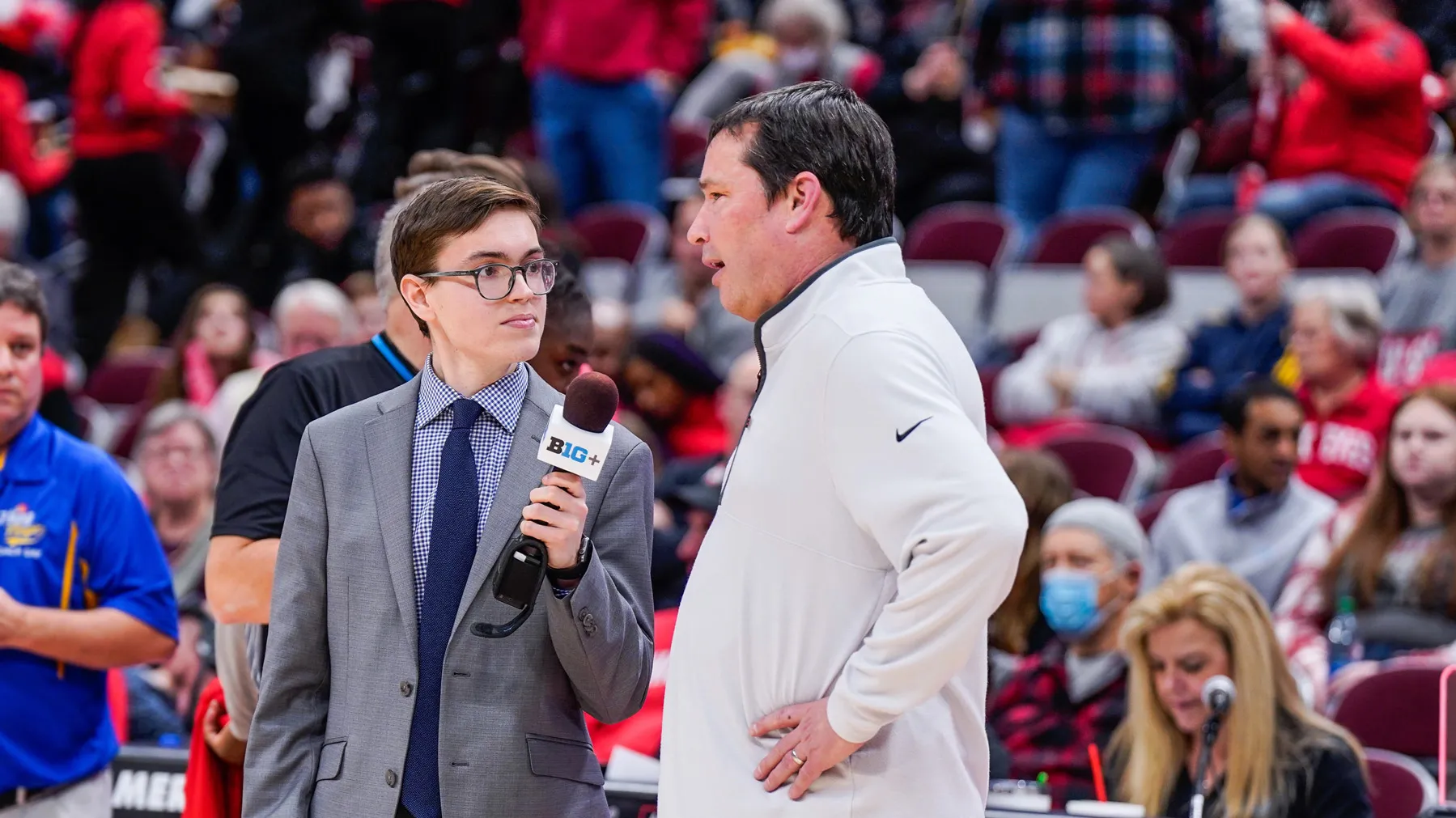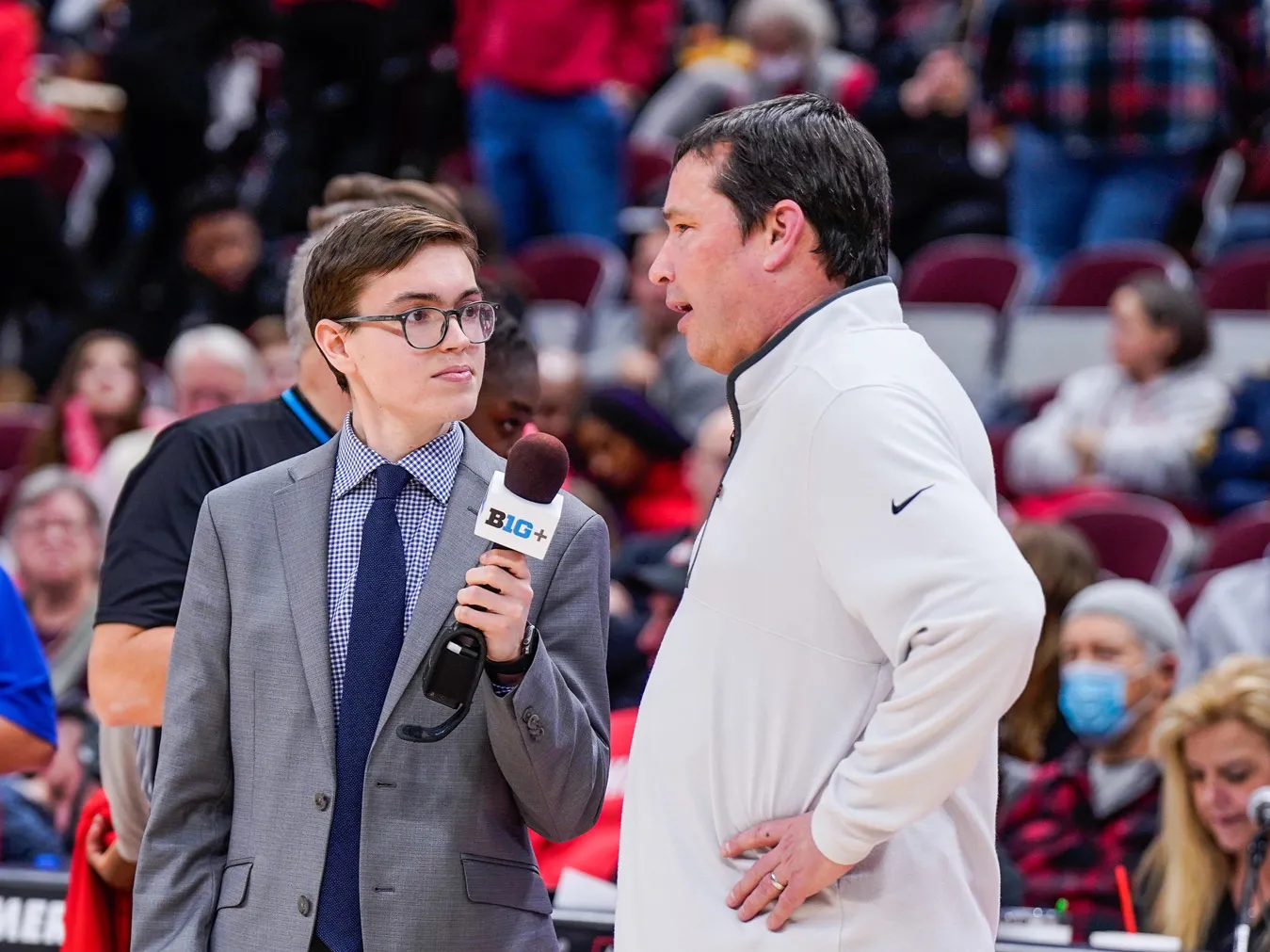 Our Students
'It's almost been an escape for me'
You'd never know play-by-play announcer Tyler Danburg, a junior journalism major, has Tourette syndrome, and that's thanks to hard work and big dreams.
---
No diet or exercise regimen helped Tyler as much as getting behind a microphone.  
"It's almost been an escape for me," Tyler said. "When you throw on the headset, everything goes out the window. It's just you, your voice, the broadcast, and the canvas that's in front of you: the game." 
Perhaps that's because of the confidence that comes from fulfilling a lifelong goal. 
Tyler attended his first Major League Baseball game when he was only 5 weeks old. Having grown up in press boxes with his father, he has long known he wanted to become a broadcaster.  
For his third Christmas, he was given an ESPN microphone and headset. At the family party that year, Tyler could be found toddling around interviewing everyone. 
"Having that exposure early on, you never know if that will open a door to a love of the game," Curtis says. "Certainly for him, he's been passionate since day one."
"He's always had this passion, he's always had this dream, and he's always had this challenge that he didn't let consume him." 
Curtis Danburg
In fact, the Cleveland native says he was drawn to Ohio State because of the wealth of opportunities for aspiring broadcasters. He immediately got started with Scarlet and Gray Sports Radio and Big Ten Plus, and now calls events on both platforms across 13 sports.  
"We not only have the chance to broadcast 36 varsity sports, but the chance to do it from the first day of freshman year," Tyler says. "I think that's what compelled me to attend Ohio State the most."  
During his first few weeks on campus, in 2021, he called a women's soccer game against TCU for Scarlet and Gray Sports Radio. Then, that November, he manned the mic for Big Ten Plus for the first time, calling a women's volleyball game against Iowa.  
Production Manager Marco Fragale of Big Ten Plus has worked alongside Tyler since the student broadcaster's first semester on campus. Fragale says Tyler's commitment to the craft wowed him from the start.  
"Hearing him for the first time shocked me — in a good way," Fragale says. "His professionalism blew me away."  
Fragale, who has heard Tyler on the air many times, wasn't aware of his Tourette syndrome until interviewed for this story.  "Knowing that now, listening to the way he talks and the cadence in his voice, I think that's just a testament to how hard he has worked for this," Fragale says.
---
Tyler's efforts haven't gone unnoticed. During his first two years at Ohio State, he was named a Second-Team STAA All-American by the Sportscasters Talent Agency of America, which recognizes the nation's top collegiate sports broadcasters. As a junior, he is serving as vice president for Scarlet and Gray Sports Radio.  
"He's always had this passion, he's always had this dream, and he's always had this challenge that he didn't let consume him," Curtis says. "He fought through it, and now we're seeing him live out his dream." 
Tyler's ultimate goal is to be both a radio broadcaster for a professional sports team and a play-by-play announcer for a national network — a feat that may seem daunting. But he's putting in the work and grasping every opportunity he can to get there. 
What started as a mere ambition for a 6-year-old kid has turned into a successful reality for Tyler. At Ohio State, he has called more than 200 games across 16 different sports — and counting.  
And, though his journey hasn't been an easy one, he is still finding ways to soar.  
"If you can rise above and rise against and do what you love, regardless of whatever condition you might have, you just go out and do it," he says. "Don't let it prevent you from doing whatever you want to do for the rest of your life."