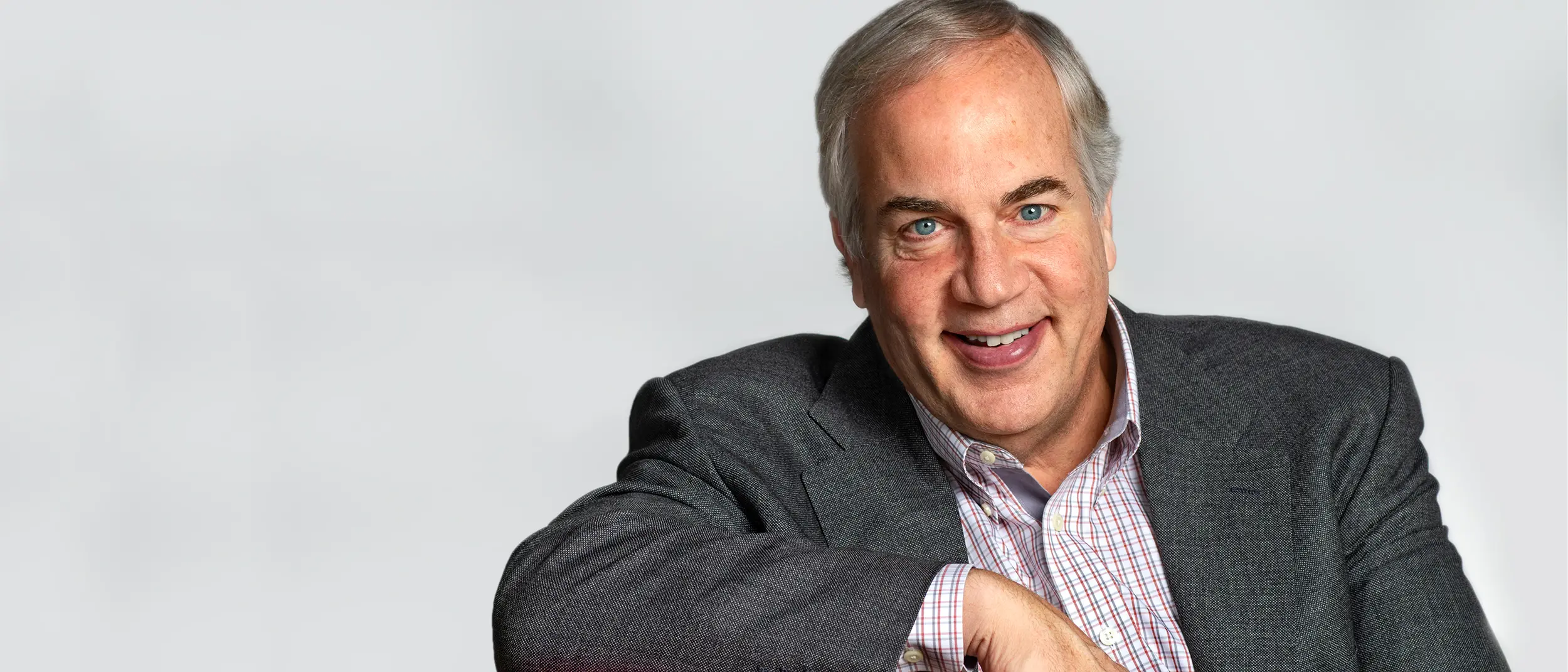 This generous leader brings others along
From the forefront of the global wireless industry, Matt Desch '80 offers his attention and a world of opportunity to each year's new cohort of Buckeye Leadership Fellows. That's because giving undergrads a leading edge is his way of thanking those who enriched his own college days.
From the forefront of the global wireless industry, Matt Desch '80 offers his attention and a world of opportunity to each year's new cohort of Buckeye Leadership Fellows. That's because giving undergrads a leading edge is his way of thanking those who enriched his own college days.
Desch's love for flying — he earned his pilot's license at age 18 while growing up in a working-class family of six children — is on par with his affection for his alma mater.
"I had an amazing Ohio State experience, and I took full advantage of it," says Desch, who earned multiple awards for campus leadership, including Outstanding Senior in 1980. "I really did major in about every activity you could do. Ohio State has a special place in my heart for everything it has done
for me."
Gratitude leads Desch to remain active at Ohio State in many ways, most notably as founder and steward of Buckeye Leadership Fellows (BLF), now in its 10th year. The four-semester program, run by Student Life, pairs 25 to 30 students a year with alumni and companies, including Iridium, to give students transformative experiences that challenge them to develop character, strengthen confidence, build capacity and refine purpose.
Desch has served as chair of the BLF advisory board and mentored fellows since the program began. Throughout, students inevitably ask him: How did you get where you are?
"I tell them it was a process," says Desch, whom President Obama appointed to the National Security Telecommunications Advisory Committee in 2011. "They might look at me and say, 'Wow, you're successful,' but it didn't happen at once."
BLF aims to reinforce this message to students accustomed to the clarity of academic grades. "This program is about ambiguity," he says. "Life is ambiguous."
The sky is crystal clear on this fall day as his plane lifts off a runway at The Ohio State University Airport, but clouds and turbulence could lie ahead. Career paths are no different. Plan, adjust, navigate, find your destination.
"You can get there in so many different ways," Desch says, "and sometimes you get to a place you didn't realize you could go."
Out of this world
Like many of us, Desch has been working from home since mid-March when COVID-19 roared into American life, disrupting everything. He realized at the pandemic's outset that he needed to keep Iridium's 500 employees connected to maintain morale, efficiency and productivity. That's why all of them are invited to join his weekly virtual talks of 15 minutes or less.
Those chats made a lasting impression on Max Clowdus, a Buckeye Leadership Fellow who expects to graduate in May with a bachelor's degree in computer science and engineering. He was a software engineering intern for Iridium, also based in McLean, and participated in those meetings from his Columbus apartment over the summer.
"He'd talk about different things going on in the world and in the company," Clowdus says. "They were very casual. It felt like he was part of the community, and that was something I respected. It wasn't like he was way up there and we were all down here. Matt was very much part of everyday life."
Desch's leadership has steered Iridium to become the only communications company to provide voice and data connectivity — from satellite phones to broadband — anywhere in the world. No matter how remote the area, Iridium makes staying in contact an option, whether for first responders during a natural disaster, military in the field or anyone off the grid. (Cell phones don't work on at least 85% of the planet, the company estimates.)
The global reach for Iridium's growing base of 1.4 million subscribers is made possible by the company's 66 low-orbiting satellites. Desch partnered with SpaceX to upgrade that constellation in a $3 billion launch campaign completed last year. He also moved the company into a new global market, providing a way for trucks, trains, ocean buoys and hundreds of other things to connect to the internet and be tracked even when there isn't cell phone service.
Iridium looked a lot different, six years removed from bankruptcy, when Desch came aboard as
CEO in 2006. The company now has a market capitalization value of more than $4 billion and, even in a pandemic, saw earnings and cash flow rise significantly in 2020. This kind of success led Global Telecom Business magazine, a few years ago, to name Desch one of the 100 most powerful people in telecommunications.
"It was common wisdom that Iridium would be disappearing," says Tom Wheeler '68, chair of the Federal Communications Commission from 2013 to 2017. "Matt turned the company around. He successfully refinanced, built and launched a whole new constellation of satellites. And now they're offering cutting-edge services.
"That's why Matt is respected — because of his proven track record of making things happen, even when people believe maybe you can't make that happen. He's the real deal."
BLF students experience that acumen firsthand with Desch, who gives each fellow his cell number and email address. His prompt responses are legendary.
"He was always accessible," says Hafsa Khan '14, an immigration and global mobility specialist for JPMorgan Chase & Co. "And Matt always spoke with you as if you were an equal and somebody he could take knowledge from and use it. That's really important to a college student."
Relationships like these lie at the core of BLF, which connects fellows with companies for group and individual projects, internships and networking.
"We're taking students who want to lead, want to make an impact, want to be great," Desch says. "We're saying to them, 'We'll give you more of the tools, and we'll inspire you to get out there in your careers — and get along — faster. And, by the way, we're going to challenge you. It's going to be scary, and you're going to have to step up and do things way out of your comfort zone. But if you're up to that, you're going to come out of this a lot stronger.'"
This desire to shepherd students stems from Desch's own experiences at Ohio State, which he attended on a Chick Evans Caddie Scholarship that provided full tuition and housing for four years, earned through his high school job as a caddie at Dayton Country Club. Once in Columbus, Desch jumped into a sea of opportunities, including Student Alumni Council (which he helped found) and the Ohio Union Activity Association. He served as president of the Sphinx Senior Honorary and was named Homecoming king as a junior.
"My personality expanded there," Desch says of Ohio State. "My confidence built up."
He attributes his personal growth to working alongside other student leaders and, more importantly, being guided by a committed and caring Student Life staff. As he worked toward his computer science degree, the classroom was only one of many venues for his education.
"I knew every nook and cranny of the old Union, where I had a lot of adult interaction from good leaders giving me feedback," he says. "When they said they were going to tear it down, I was worried that maybe I'd have no connection to Ohio State."
Stuck didn't want to see that link broken either. She spoke with Desch in 2005 when the university was raising funds to build the new Ohio Union, and he responded with an idea that went beyond bricks and mortar: a leadership program that would be open to students of any discipline.
"Diversity in majors, geography and race is a highlight of the program," Desch says. "These kinds of interactions are more like real life because of the multidisciplinary nature of companies."
Another linchpin of Desch's vision: "He was super adamant that this program had to be a challenging leadership experience," Stuck says. "It couldn't be easy."
BLF is designed specifically for students to encounter obstacles — including failure — in real time, just as they will throughout their lives. Desch believes these experiences will help them develop their own distinct leadership voices. Having lost two jobs, he knows firsthand that hardship and disappointment can be channeled into resilience.
"I have found that a lot of learning and growth happen when you're most uncomfortable and going through stress and challenges. That's when you're most open to input and new ideas. That's when leaders emerge."
Matt Desch, founder and steward of Buckeye Leadership Fellows at Ohio State, CEO of Iridium Communications
Given that view, it's logical Desch would turn his attention to the program's current fellows when everyone was scrambling in the initial days of the COVID-19 outbreak. Students appreciated his focus.
"Everyone was very confused at that time," says Tabitha Willis, a first-year fellow. "Our next cohort meeting had been canceled. I was kind of nervous because we had all worked so hard to get into BLF, and now we were like, 'What's going to happen?'"
Desch asked Buckeye Leadership Fellows Director Rob Jech '03 MA and Assistant Director Beth Johnson to invite current fellows and any interested alumni to a virtual town hall meeting. During that call in late March, Desch fielded questions and offered advice for 90 minutes. He urged everyone to contact him anytime for help, and he assured them BLF would continue.
"It was a godsend," Willis says. "He calmed the waters. He's such a chill guy, very humble and so willing to help people. That chat was a really great moment."
Willis is still thinking about one particular message Desch sent that day. "He instilled in us that we shouldn't let this be a moment to stop us, but that we should grind on," Willis says.
 
Leadership building leadership
In 2011, fellows in the program brought up Instagram during a discussion with Desch. He was intrigued, and soon the pupils were teaching the mentor about the power of an emerging social media platform.
A couple months later, Desch pulled Khan aside during another BLF meeting. "Hey, I noticed that you're posting some of your art on Instagram. It's really cool," he told her. "You should keep doing it."
Khan had about 10 followers at the time.
"I remember that being such an important moment to me," Khan says. "This was somebody who I looked up to in a professional setting that is really consuming, and he's viewing my work. He went out of his way to specifically bring that up. It made me want to continue doing it." She did, and now she has 52,000 Instagram followers and sells her art online.
"We're all looking for stunning or bold moments in our lives," says Khan, who studied international relations and Arabic. "But you never know when those moments are happening. Sometimes it's a small thing that somebody says or does or acknowledges."
The same value applies to BLF, which grew from Desch's idea into a program that in 10 years has produced 158 Ohio State graduates now applying their leadership skills and making their marks in business, government, sustainability, education, medicine, law and other areas. Among those alumni and 54 current fellows are two Rhodes scholars, three student members of Ohio State's Board of Trustees and associates at all levels of business, including Fortune 500 companies.
"I get pride from looking back at the students who've been through BLF," Desch says. "I think about the relationships we've created, the careers some of them are having and how they're reaching back to me and Ohio State. It's awesome."
Desch calls the program's successes a team effort, and he credits the students, alumni — advisory board members and more than 500 individuals from participating companies — and past and present leadership in Student Life. Their dedication and commitment fuel BLF, he says.
Still, Desch is the program's pilot — and he's not one to idle on a runway. There are new places to go, new heights to reach. BLF's propeller spins unceasingly.
"Matt is always about moving things forward incrementally. There's not much time to celebrate your wins, which I think is good. He's really strategic about how you build things, what the process looks like and how you sustain success."
Rob Jech, Buckeye Leadership Fellows director
Desch envisions BLF as seed for shaping a broader approach to leadership education across the university in the years to come. Widespread collaboration could provide all students with access to academic and experiential opportunities to develop their own leadership style, creating even more benefits beyond the borders of Ohio State.
"I hope we can bring in more people, more resources, more dollars, more alumni who want to be involved," Desch says. "We have one or two more steps to take it to the next level — keep the quality high, but actually expand the influence of the group. I want BLF to be a catalyst to say, 'Let's create a leadership coalition at Ohio State,' because leadership is important."
The importance of preparing today's students to be tomorrow's leaders is heightened by the pandemic. Communal stress and uncertainty are palpable. However, Desch is confident about the future, in part because of his close ties with BLF fellows.
"I'm energized by these incredible Ohio State students," he says. "You can't help but be impressed, encouraged and inspired by these high-performing, fantastically smart, great kids who are way ahead of where you remember yourself being at their age."
On this fall day, his optimism reflects the gorgeous weather.
There are no clouds as Desch's plane zips at 250 miles per hour, 6,500 feet above Columbus, back to the university airport. From the cockpit window, Earth's horizon beckons in a breathtaking blue.
Says pilot Matt Desch: "You see infinite possibilities."
Get Involved
The Buckeye Leadership Fellows program welcomes alumni interested in being part of students' experiences. Learn how to serve as a mentor or support the education of tomorrow's leaders with a gift.