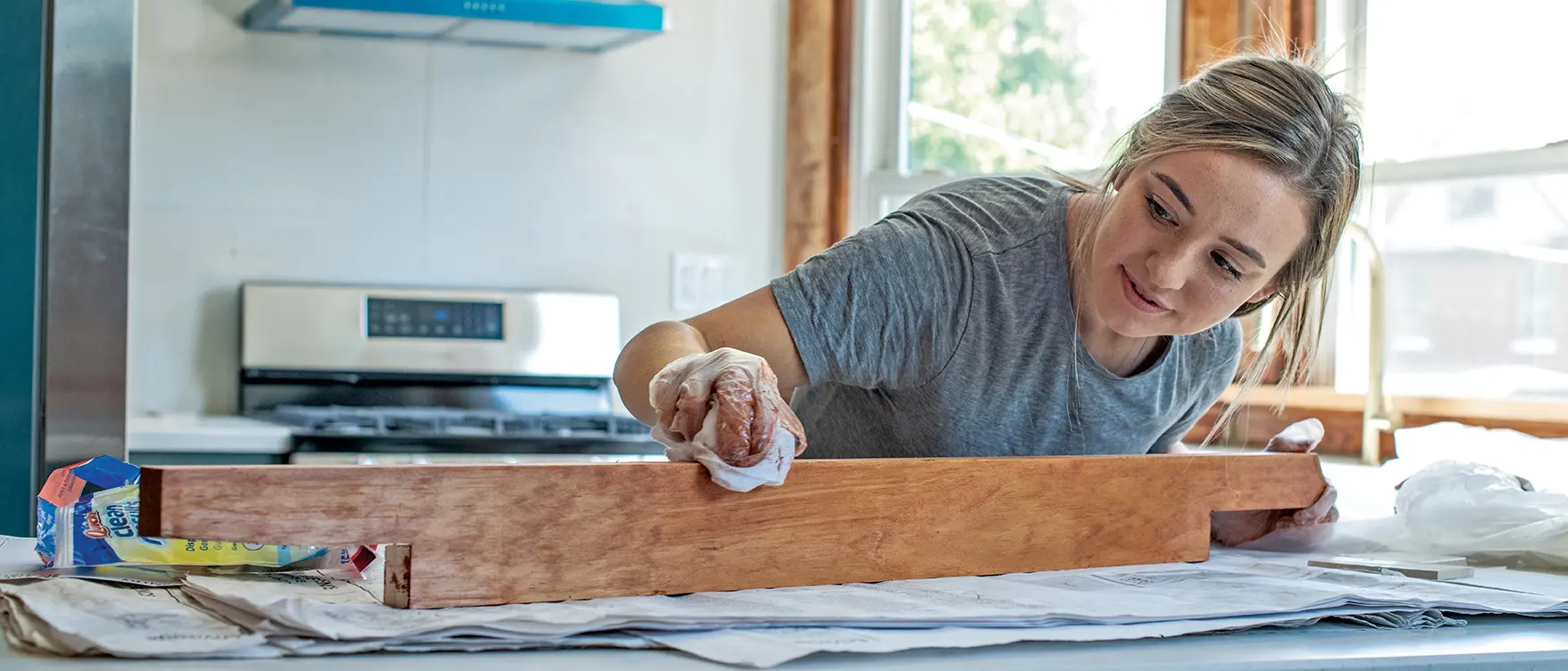 Our Alumni
Inspiration + perspiration + some TikTok magic
Taylor Gruenwald '16 has never met a space she can't transform. From renovating her childhood home to spearheading large-scale development projects in Greater Cincinnati, she uses every tool in her belt to help her community flourish.
Taylor Gruenwald '16 has never met a space she can't transform. From renovating her childhood home to spearheading large-scale development projects in Greater Cincinnati, she uses every tool in her belt to help her community flourish.
Over the next six months, the one-bedroom, one-bathroom lower level where Gruenwald lives with her fiancé, Charlie Vogt, transformed from a sea of forest green — Charity's favorite decor color — and array of outdated wallpaper into a warm, modern blend of classic finishes and playful accent pieces. With the help of an army of friends and family, paid in pizza, Gruenwald meticulously laid subway tile in the bathroom, created a beadboard kitchen backsplash and restored original fireplaces and trim to maintain the historic feel.
Marty Gruenwald witnessed his daughter's determination as he and Charity worked alongside her to reimagine their former home. "Without a doubt, the most rewarding job — and the most backbreaking — was the two nights we spent covering nasty popcorn ceilings with new sheetrock," he says. "As far as we knew, Taylor didn't have any experience hanging drywall boards. But by the end of those two nights, she was taking measurements, cutting the boards, operating the lift and screwing everything into place like a pro!"
Drywall was far from the lone uncharted territory for Gruenwald. "This project involved a lot of firsts for me," she says. "On TikTok, it was important for me to be transparent about the challenges and costs of this process so it could help other people tackle their own projects."
Despite the rapid proliferation of home renovation accounts on TikTok, Gruenwald managed to keep her followers engaged by giving them an honest look at the backbreaking effort that went into the various stages of demolition and installation. Over the course of a year, she posted nearly 50 short videos showing time-lapse shots of work completed, big reveals of finished spaces and before-and-after comparisons.
With every new post, she received comments from users who were undertaking projects of their own and eager for advice on topics from financing to floor plans. They celebrated with her when she tackled more enjoyable tasks, such as using a massive spray gun to paint the kitchen, and commiserated with her while she painstakingly ripped up old tile and subflooring with a hammer and crowbar. Some devotees were Cincinnati locals who saw the duplex while walking by; others were international viewers with questions about American duplexes.
Gruenwald reached 300,000 followers halfway through the process — earning an astonishing 7 million views on a video summarizing her progress at the midpoint — and 450,000 followers by the time she unveiled the completed first-floor unit in April 2021. Her following put her among the top U.S. TikTok content creators of the time.
Discovering her passion
Gruenwald has always demonstrated a willingness to pour time and energy into her goals. At 13, she pursued a summer job as a golf caddy at Cincinnati's historic Maketewah Country Club. Long days on the links felt even longer when lugging heavy golf bags. But she was spurred on by the potential for an Evans Scholarship, a full tuition and housing award that dozens of universities offer to selected caddies, and the knowledge that no other female caddy had lasted more than two seasons at Maketewah. She made it five.
The bigger reward, though, was the Evans Scholarship she earned to attend Ohio State, where she began as a pre-med student before discovering an elective in city and regional planning that would change her path. "That was when everything clicked for me," she remembers. Instead of competing with one another, her interests in areas as varied as social work, business, architecture and public policy coalesced around a single goal: to create cities and spaces where people can flourish.
Under the guidance of professors such as Kyle Ezell, whose introductory course in the Knowlton School sparked her interest in the field, Gruenwald learned the nuts and bolts of city and regional planning. Looking back, she credits her semester-long studio classes for providing practical, real-world experience.
"I've always loved tight-knit communities with urban density, so I was drawn to the studio classes that involved a downtown component."
Taylor Gruenwald
In her most memorable studio class, taught by Bob Oast, she devised a plan for downtown Fostoria, a small town of some 13,000 residents in northwest Ohio. Gruenwald and her classmates connected city leaders with funding sources and presented short- and long-term plans for restoring a business district hollowed out by job losses and recession.
"Through projects like these, the city and regional planning major gave me a tactile approach to solving problems," she says. "I began to look at the world through the lens of a planner."
Effective developers strike a delicate balance between opposing forces, Gruenwald learned in her years at Ohio State. "We don't want to gentrify to the point where we displace long-term residents, while at the same time, we have to be open to change and progress," she says. In the Midwest, known more for rolling farms and sprawling suburbs than vibrant urban centers, she is passionate about extolling the benefits of dense, walkable communities that attract newcomers while preserving the history and character of neighborhoods.
This mentality serves her well as a developer with The Model Group, an integrated property development, construction and management company. In a typical day, Gruenwald applies for funding sources for pre-development projects and evaluates new markets and growth opportunities in the Cincinnati area. And as she manages teams of architects, designers, engineers and consultants in implementing development plans, she draws heavily from the diverse skill set she learned in college and honed in previous roles.
Her ascent up the ladder has been swift. At 27, she is working on $100 million projects. But in the stacks of financial statements and blueprints, she never loses sight of the end goal: to effect positive change in local communities. She chose to work at The Model Group not only to manage large projects, but because of the company's commitment to create affordable housing and convert decaying urban blocks into thriving community hubs.
Hometown vision
Outside of work, she volunteers her time to the St. Bernard Community Improvement Corporation, a publicly funded organization that acquires land and buildings to promote development in the village. Jonathan Stuchell, mayor of St. Bernard and president of the CIC, invited her to come aboard in an advisory role when she moved back to the area after graduation. "My goal in getting involved was to empower my neighbors by giving them the knowledge I've accumulated over the years, particularly when it comes to future trends and core principles of responsible development," she says.
For the past four years, Gruenwald has lent her development experience, strategic lens and bountiful connections to help the CIC undertake 10 residential and commercial development projects. Early on, she added substantial value by helping the group develop a new application process for potential business tenants and residents. "She's incredibly systematic, and she points out things we wouldn't think of otherwise," Stuchell says. "We're lucky to have her on our team."
In one of her city and regional planning classes at Ohio State, Gruenwald was tasked with identifying a potential improvement project in her hometown. At the time, she chose a strip mall in St. Bernard that was following the same path of decline as countless counterparts across the country. There actually was a plan in place to sell the complex to a new owner, who wanted to keep it largely intact and add a few fast-food joints.
When that plan fell through several years later, Gruenwald stepped in with the connections and expertise to help the CIC pivot to a more advantageous approach. Soon, the site will be reborn as a $37 million, 200-unit mixed-use space with businesses and apartments throughout. From Stuchell's perspective, Gruenwald has been instrumental in the CIC's push toward greater density as a strategy for attracting new businesses and increasing village revenue.
Many people shy away from spending their professional and personal time on similar pursuits, but Gruenwald has no qualms about doubling up when it comes to development. She's eager to help her Greater Cincinnati neighbors learn to manage and finance their dream projects.
As for her own home renovation ventures, she doesn't plan on stopping with the upper unit of her duplex. In fact, she is already hunting for the next property to renovate in St. Bernard. "I have the itch now," she recognizes. "This is how I plan to spend my time and energy for the foreseeable future — contributing to the revitalization of my community. There's nothing better than seeing transformation happen right in front of you."