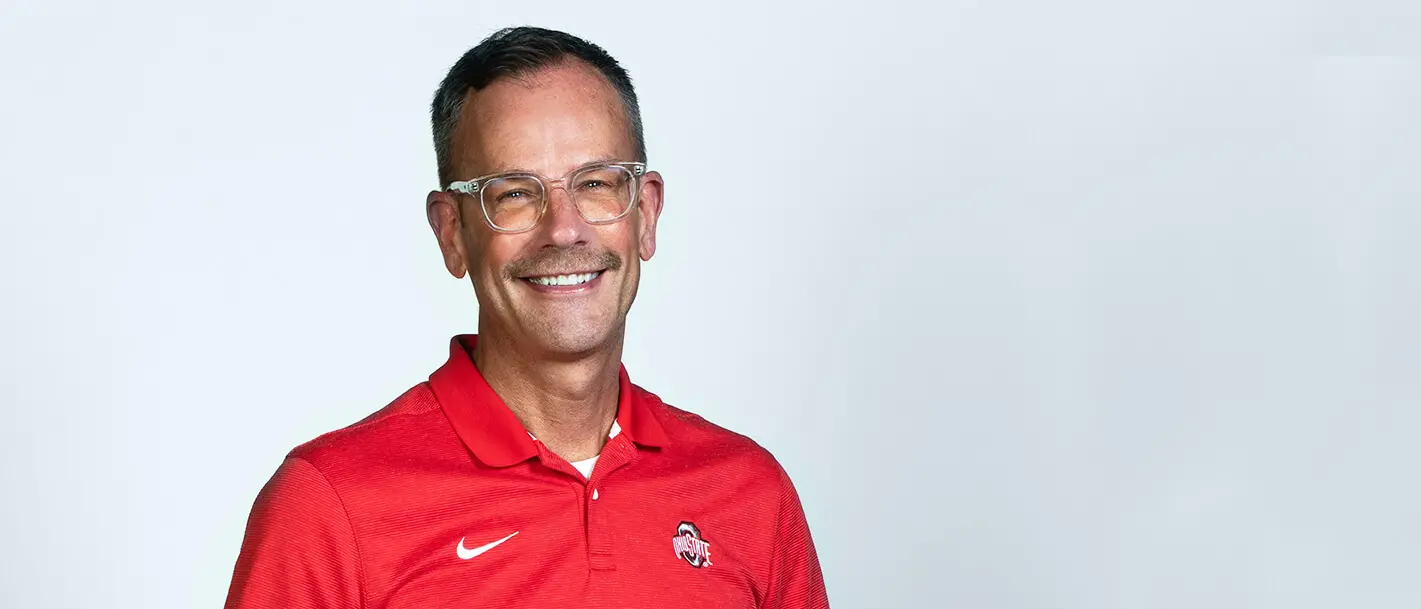 Our Alumni
He wants alumni to know: It's more than football
The alumni board's Matt Hall is a proud Buckeye for many reasons, and an expert in building cultures that benefit all.
The alumni board's Matt Hall is a proud Buckeye for many reasons, and an expert in building cultures that benefit all.
Matt Hall '93 recently celebrated his 35th anniversary at Huntington Bank. He started working at the Columbus-based bank the summer after his freshman year and has ascended to the position of culture development director. In that role, he focuses on building culture, trust and engagement for the bank's 20,000-plus colleagues spanning 12 states. He credits his Ohio State experiences and education for preparing him for his professional career as well as his proudest moments since joining the alumni association board.
"I'm most proud of the evolution of our diversity, equity and inclusion efforts within the OSUAA board. We started with a focus on emotional intelligence, then unconscious bias and into very open conversations about diversity, equity and inclusion, which is the most important and makes us hold each other accountable. While we still have work to do, we have made great progress. The balance of a board's responsibility is both education and development, and we're living that every day."
Q What is your most memorable day as an alum? As a student?

A

As a student, it has to be graduating in Ohio Stadium. I remember that day so clearly and seeing my parents there. As a first-generation college student, I was so proud to graduate, and they were so proud of me. I actually extended my undergraduate experience and took one class so I could graduate in the stadium … and, thank goodness, it didn't rain!

As an alum, there are two. First, the national championship game in 2015. I'd been to a couple losses in big games, and I wasn't going to go tothat one against Oregon, but Craig Little from the alumni association convinced me to take the trip through the Alumni Tours office, and two other friends went with me. When we knew we were going to win, we all just started screaming, Craig was probably crying, and it was just so wonderful to be surrounded by Buckeyes in that moment.

The other one is when I got the call to be on the alumni board. It was a pinch-yourself moment. I was just so honored.

Q What is your most meaningful piece of Ohio State gear?

A

My "Believe" T-shirt from Homage. I was wearing it underneath something else during the national championship game. I'm a little superstitious.

Q How did your Ohio State education prepare you for your incredible career at Huntington?

A

I went to a small Catholic high school and had 52 people in my graduating class. At Ohio State, I luckily ended up on a business floor in Smith. I thought I wanted to be an eye doctor, but I really enjoyed my work in the financial field. I started working at Huntington the summer after my freshman year. My mom worked there as a manager, so I couldn't work in her branch, but I got a job in a different location and I loved it. It taught me how to balance my time, how to follow through on the commitments I make, and how to think differently and be smart. I was learning in my classes and applying those lessons at the same time; it was a win-win for me. I majored in finance and eventually started working full time and going to school part time. I was still enjoying my friends, being on the Oval, going to games. On June 12, I celebrated 35 years at Huntington.

Q What single piece of advice do you have for students joining Ohio State this fall and for new alumni?

A

For new students, there is this perception that Ohio State is so big that you can get lost or just be a number. Again, I had 52 people in my high school graduating class, and Ohio State never felt too big to me. It's as big as you want to make it and what you want it to be.

I encourage new alumni to get involved as soon as possible after graduation. I kick myself for not doing that. There is so much engagement and so many opportunities available through the alumni association. It's not just football or giving money, it's career and life lessons and support. When you're young, jump in. There's time for all of it.

Q Why did you choose to serve on the OSUAA board?

A

As I matured and served on other boards, I really understood what OSUAA offered. Craig asked me to help start Scarlet and Gay, which I was proud to do, and then I moved to Pittsburgh for work. While I was there, I got really involved with the regional alumni group and realized how important that was to me —and not just because I can't watch games on TV by myself! So I moved back to Columbus and about four years ago was wrapping up my term as president of the North Market board, and the timing was finally right for me to pursue joining our alumni board.

Q You recently played a leading role in modernizing the alumni membership model. Why was that important?

A

I think it is always important to listen to feedback from our alumni and review policies to ensure they are supporting the outcomes you want. By nearly 90%, our alumni approved changes to our constitution that will lead to adjusting our membership model in a way that is inclusive of everyone and creates more opportunities for alumni to be recognized for their contributions. All alumni continue to be recognized as members, and anyone who makes a gift of any amount now will be recognized as an alumni donor. And we also have the opportunity to be recognized as an annual life donor.