News You Can Use
Hungry? Try a dish from star cook Nancy Radke
It's a safe bet the state fair standout will shine again in this year's cooking competitions. Here, she shares some blue ribbon-winning recipes and her tips for gaining a competitive edge.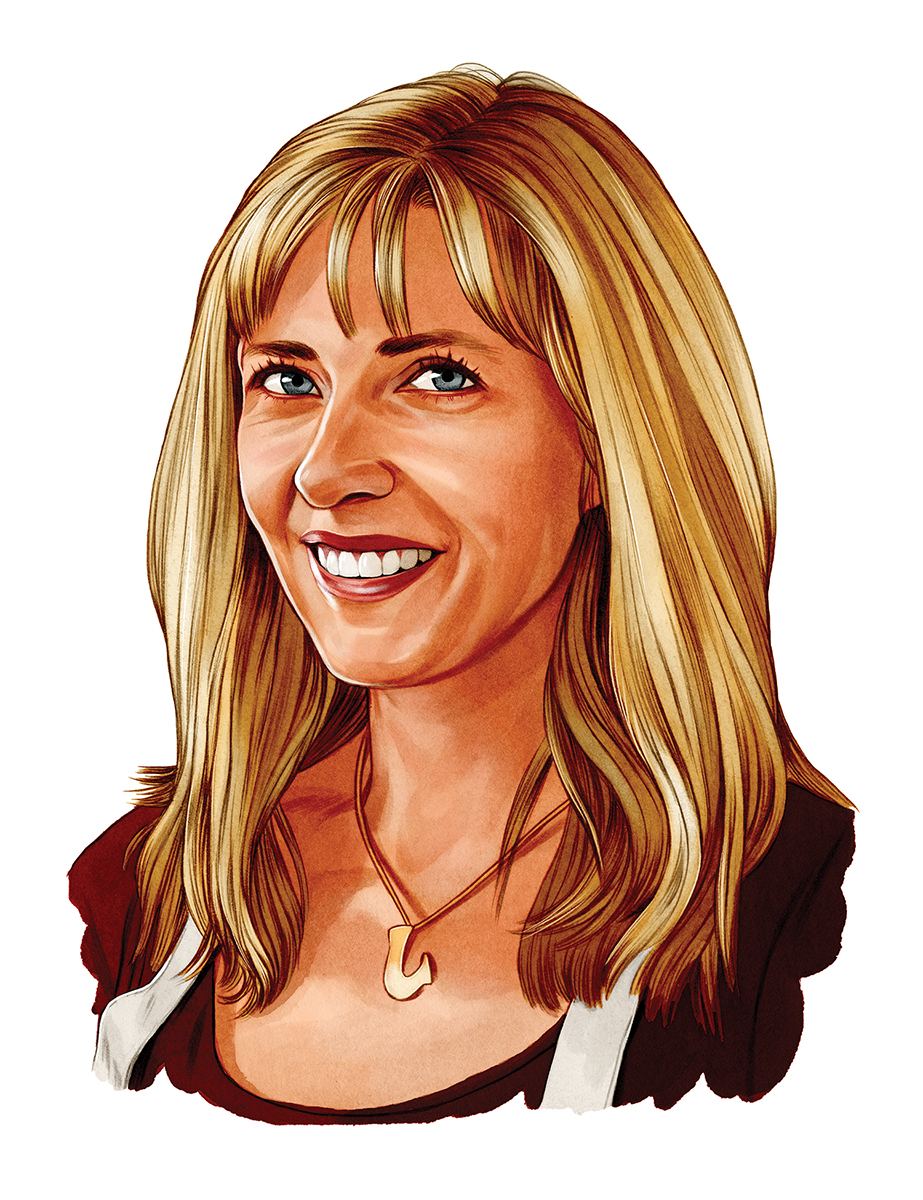 Growing up on an egg processing farm outside Wooster, Ohio, Nancy Radke and her four sisters, led by their showman-of-a-salesman father, set up shop three times a week at an indoor market in Cleveland. They'd make multiple stops along the way to pick up the meat, cheese and produce they'd sell alongside eggs. The job called for hustle, improvisation, averting disaster and conveying delicate product across unforgiving terrain. 
Funny enough, fair competitions require the same skill set.
Take the year of the Italian braided appetizer loaf. "It wasn't done," Radke '84 says. "There were competitions before that one and I had that other stuff ready and I was like, 'I have to go now.'" 
Radke wrapped the loaf in aluminum foil and positioned it on the dashboard of her car, where, she hypothesized, it might continue to bake in the August heat. After her first competition, she retrieved it, presented it and ruminated on worst-case scenarios.
"I'm in the last row, thinking it's going to be raw in the middle. I hope they don't cut it down the middle. Sure enough, they cut it right down the middle," she says. She knew what would happen: "They're gonna say, 'Here's an example of what not to do.' 
"But no! They were like, this is perfectly baked. I won! I got first place!"
Moments like that are what keep her coming back — and what made her miss state fair competitions so much the past two years. Like a lot of home cooks, she spent the time honing her skills, exploring salsa, seasoned salts and compound butters, and expanding her repertoire of holiday chocolates — all of which she loves to give to friends and family.
Longing for competition, she entered a lamb cooking contest at the independent Hartford Fair in Licking County last year, though she doesn't eat or cook lamb herself. Reader, she won. 
"That's why you compete. It challenges me to learn something new. I don't cook with lamb, but that was the sponsor. Well, let's try something with lamb and go with it! It's been fun to try new things."
Nancy's tips for competition success
Research food trends so you know what's starting to peak — and what's lost its luster.
If you think you have a novel idea, run it through an internet search engine. Maybe it's not so original after all.
If you've done your research and your idea is a good one, elevate it to great with a twist: What unexpected ingredient, technique or presentation can you add?
Don't be afraid to change something, even at the last minute, if your internal voice is telling you something is off.
A taste of Nancy's recipes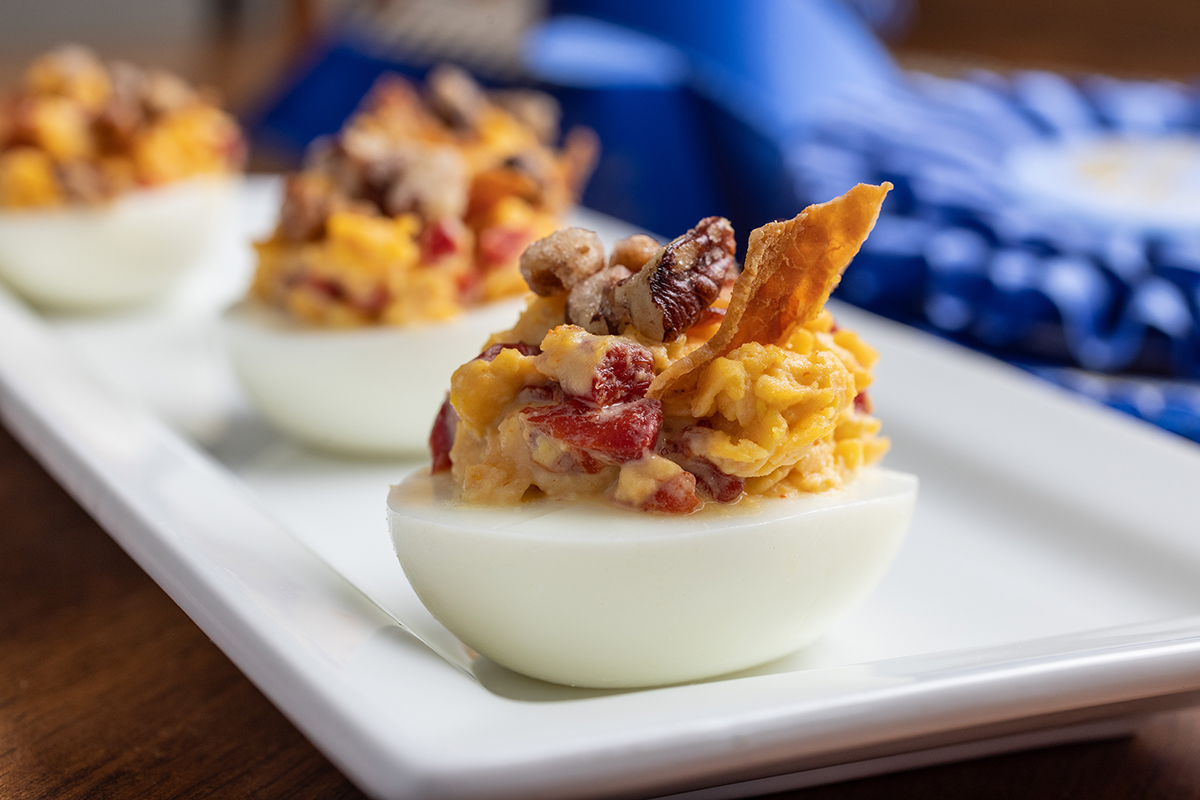 Pimento Deviled Eggs with Pecan and Bacon
First place, deviled eggs competition, 2018 Ohio State Fair
Recipe by Nancy Radke
Makes 12 egg halves
Ingredients
6 hard-cooked eggs, peeled
¼ cup Miracle Whip
1 ½ tsp. Worcestershire sauce
1 ½ tsp. Dijon mustard
¾ tsp. garlic salt
½ tsp. onion powder
¼ tsp. cayenne pepper (for more spice, add up to ½ tsp.)
8 oz. sharp cheddar cheese, shredded
4 oz. (1 jar) diced pimentos, drained
4 strips crispy bacon, chopped
2 Tbsp. candied pecans, chopped
Directions
Slice eggs in half lengthwise. Remove yolks and place in a medium bowl. Arrange whites on serving dish and set aside.
Mix yolks well with fork until well blended. To the yolks, add Miracle Whip, Worcestershire sauce, mustard and spices. Mix well. Add cheese and pimentos. Stir until combined.
Spoon filling into egg white halves. (You'll probably have extra filling, which can be served on the side with pita chips or other sturdy crackers.)
Top each egg half with a few bacon pieces and pecan pieces just before serving to keep them crispy. Serve immediately.
Honey Mock Apple Pie
First place, honey and bee items competition, 2018 Ohio State Fair
Recipe by Nancy Radke
Makes 1 9-inch pie
Ingredients
Filling
5 cups zucchini and yellow squash, peeled and sliced
¾ cup clover honey
1 ½ tsp. cinnamon
¼ tsp. nutmeg
Dash of salt
2 Tbsp. cornstarch
Zest of one lemon
One 9-inch prepared pie crust, unbaked
Topping
1 cup chopped walnuts
⅓ cup clover honey
½ Tbsp. cinnamon
4 Tbsp. butter
3 Tbsp. all-purpose flour
Directions
Preheat oven to 350 degrees. If your packaged pie crust comes with two, remove one and reserve the other for later use. Place the crust in a pie plate and crimp the edges to your liking. Refrigerate the pie dish and crust while you prepare the filling.
Cut the squash into ¼-inch-thick slices and remove seeds. In a large saucepan filled about ⅔ with water and boil the squash for 2 to 3 minutes. Drain well. Cool. 
In a large bowl, stir squash and honey together. In a separate small bowl, combine spices, salt and cornstarch. Add to squash-honey mixture along with lemon zest and stir to combine. Pour into pie crust.
Bake 45 to 50 minutes or until the crust is golden brown. While the pie is cooling on a wire rack, make the topping.
In a large skillet over low heat, mix all topping ingredients until butter is melted and all ingredients are well incorporated. Increase heat to medium. Cook, stirring continuously, for 5 to 8 minutes. Remove from heat and allow to cool for 10 minutes. Spoon over the top of the cooled pie and serve.
Gyro Bread Pudding with Salad Topper
First place, EGGstra Savory competition, 2018 Ohio State Fair
Recipe by Nancy Radke
Makes 8 servings
Ingredients
Bread pudding
1 loaf white bread
¼ cup olive oil
8 eggs
3 ½ cups half-and-half
½ cup parmesan cheese, grated, divided
2 ½ tsp. Greek seasoning blend (such as Penzey's)
½ cup olives, thinly sliced
¼ cup sun-dried tomatoes, finely diced
12 oz. gyro meat, cubed (Radke found hers at Trader Joe's)
Salad topper
3 cups romaine lettuce, chopped
½ c. red onion, chopped
¼ c. feta cheese, crumbled
Dressing
½ cup sour cream
3 Tbsp. buttermilk
½ tsp. Greek seasoning blend
½ tsp. dill
¼ cup cucumber, thinly sliced
Directions
Preheat oven to 350 degrees.
Trim crust from bread and tear into 1-inch pieces. Place on rimmed baking sheet and drizzle with the olive oil. Bake for 15 to 20 minutes or until bread is toasted and golden. Set aside.
In a large bowl, mix eggs well. Whisk in half-and-half, ¼ cup of the parmesan cheese and 2 ½ tsp. Greek seasoning blend. Add olives, tomatoes and gyro meat. 
Toss in bread cubes and stir to combine.
Scoop the mixture into a greased 9-by-13 casserole dish. Top with remaining parmesan. Cover with foil and bake 45 minutes. Remove foil and continue baking about 10 minutes or until middle is set and top is golden brown.
While casserole is baking, prepare dressing. In a medium bowl, mix all dressing ingredients until combined. Cover and refrigerate.
To serve, top casserole with lettuce, onion and a drizzle of dressing, and finish with a layer of feta.