Paying Forward
Oh, the places BuckeyeThon took these alumni!
As BuckeyeThon celebrates two decades as a spectacular student-led philanthropy, it is natural — and impressive — to measure success by the more than $12 million raised to fight pediatric cancer and assist affected families. But with the annual dance marathon coming up Nov. 6–7, 2021, these Ohio State alumni also demonstrate how involvement in BuckeyeThon creates a ripple effect within and far beyond the organization.
Victoria Piper '20
Quality manager at Epic Systems health care software company
I've been able to keep living my mission to improve health and compassion in the world by working at Epic Systems. Through BuckeyeThon, I honored kids fighting pediatric cancer, and now I get to keep supporting them by doing work that saves lives.
BuckeyeThon enriched my Ohio State experience by showing me a depth of passion and spirit unmatched by even the best game day in the 'Shoe. It gave me hope and strengthened my ties to Ohio State and the Columbus community.
Joey Dillon '14
Internal social media lead for The Ohio State University Wexner Medical Center
BuckeyeThon is one of the greatest memories of my entire collegiate journey. I truly got to be a part of something bigger than myself and help positively impact kids who deserve to grow up and change the world. I think the biggest thing it showed me is how much of a family Buckeyes are.
In my role with Wexner Medical Center, where we have The James Cancer Hospital and partner with Nationwide Children's Hospital, it is extremely rewarding to see the direct impact BuckeyeThon has on the kids and their families.
Lexi Hitchens '19
Food scientist, rider for Pelotonia and cheerleader on Buckeye Cruise for Cancer
The BuckeyeThon dance marathon and fundraising leading up to it were a large part of my life as a student. It also opened my eyes to all the amazing cancer-stopping work that is being done all around Columbus.
Like many others, I have known many family and friends who have been impacted by cancer, which really drew me to BuckeyeThon. It pushed me to become team captain for the Spirit Program's BuckeyeThon team, and I spend a lot of time and effort recruiting student-athletes from the cheer, dance and mascot programs to participate and raise funds.
Right before my senior year, my boyfriend (and now husband), Jeremy, was diagnosed with a rare form of sarcoma. That experience changed my whole perspective on cancer. I am so grateful I already had participated in BuckeyeThon for three years, because it was my outlet and major fundraising effort for my senior year.
Jeremy and I do everything we can to promote Pelotonia and help raise money for cancer research. For the past two years, I have been honored to be chosen as a cheerleader and performer on the Buckeye Cruise for Cancer. I never would have heard of these programs if it weren't for my husband's experience with cancer and the amazing exposure BuckeyeThon provides.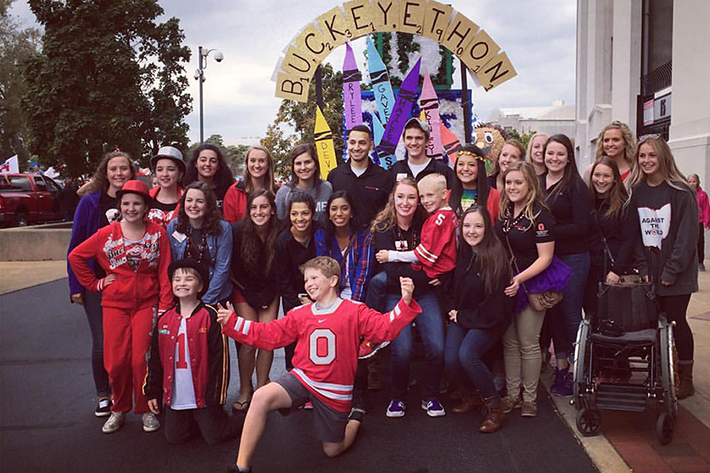 Elissa Kuharich '17
Assistant director for student philanthropy in Ohio State's Office of Student Life
Through my role in Student Life, I have the pleasure of working with the amazing students and staff who breathe Buckeye spirit into the dance marathon. I pursued a career in higher education, in part, because of my experiences with BuckeyeThon, which engendered my confidence in the power of Ohio State students to create real change in the world.
BuckeyeThon's cause is pediatric cancer, but the students involved also are passionate about education, social justice, food insecurity, wellness — the list could go on forever. BuckeyeThon gives them the tools to champion these causes and give back to their communities throughout their lives.
I wanted to work in student affairs because it gave me a chance to support students' personal and professional development. In my own time as a student, I found support in Ohio State staff and alumni who cared about my well-being, shared opportunities and challenged me to identify and pursue my own version of success. I try to give students that same consideration and support.
BuckeyeThon touched almost every aspect of my Ohio State experience. In some ways, it was like my gateway to all other student organizations and experiences. It also was an important supplement to my academic experiences because it gave me a real-world environment to apply things that I was learning in the classroom: strategic planning, communication, conflict management, budgeting and more. I got to test things out and take risks, knowing that my decisions had real impact, good and bad, but also that I had the support of my peers and Student Life staff if I made a mistake.
The dance marathon is a kind of homecoming for BuckeyeThon alumni. We come back to see old friends and support current students. As a student, it was so special because I got to see friends who had already graduated. I remember feeling such intense gratitude for them — for their friendship and the work they had done to set me and my peers up for success. They stayed connected, served as mentors and continued to give to the organization. They were incredible role models for what I've come to understand the alumni experience to be.
Garren Cabral '10, '12 MLHR
Accounting/finance recruiter and active volunteer
I was very involved during my time at Ohio State, and BuckeyeThon was my favorite student organization. Most of the things I participated in were for the benefit of the student population; BuckeyeThon was not only a student organization, but you could tangibly see how you were giving back to the community outside the university.
It really helped instill in me the value of trying to make a difference in other people's lives. These days, I volunteer for the Greater Hollywood Food Coalition, which serves meals every day to homeless people near Hollywood, and am a part of the Greater Los Angeles Chapter of the League of Women Voters.
I have many great memories, but I think my team's success my last year as a morale captain, during my first year of grad school, means the most because it also was the first year BuckeyeThon doubled its fundraising.
Kristen Reymann '15
Fundraiser for Ohio State's College of Veterinary Medicine
BuckeyeThon was probably my favorite experience at Ohio State. The energy from a dance marathon weekend is something I don't think I'll ever experience again. It was so special to come together as a Buckeye community to do really important work, which also was fun.
My involvement gave me the foundational skills for my professional career, which involves fundraising for causes I am passionate about, specifically Ohio State alumni, students and animals. Buckeyethon was my first real look into peer-to-peer fundraising. It sparked a passion for working with an organization that strives for monumental impact through fundraising.
I invited my parents to see the grand reveal my senior year so they could get a little glimpse of the magic. I was so happy to share that moment with them.
Jump in the line
Want to support BuckeyeThon and network with fellow Buckeyes? Email osuaa@osu.edu to learn more about the BuckeyeThon Alumni Society.