News You Can Use
Unique to you: How to upcycle an old buckeye necklace
Clay artist Lizzie Howald '20 shares her process for creating colorful oven-baked beads so you can customize your own nutty statement piece.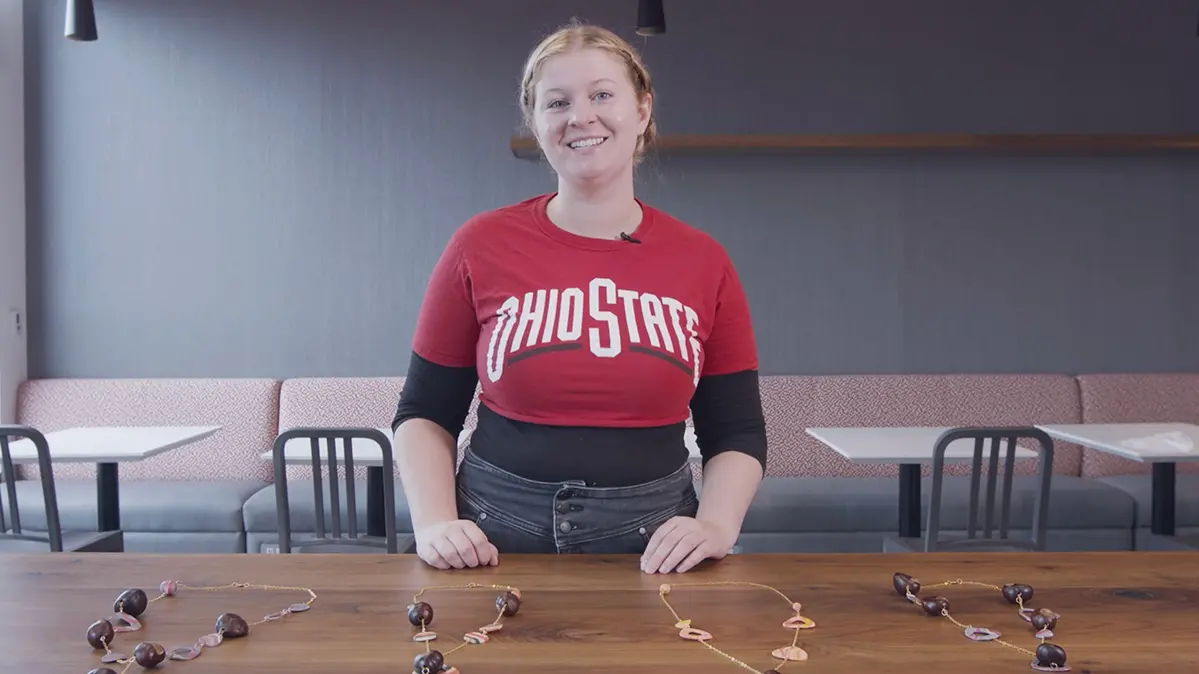 On their face, buckeye necklaces might be a string of big brown seeds and plastic beads. But as any Buckeye knows, they mean so much more. They proclaim who we are and flaunt our pride in our team and our community. Plus, they're a fun way to accessorize for any Ohio State event.
But do they always have to look the same? If you've ever wanted to don a buckeye creation as unique as you are, you've come to the right place.
We here at Ohio State Alumni Magazine tapped clay artist Lizzie Howald '20 (read more about her below) to help us customize buckeye necklaces by upcycling ones we already own. One benefit of starting from an old necklace: You can avoid drilling holes in the nuts.
Whether you want to create your own piece of wearable art or a fun craft project for youngsters, Howald recommends pairing your buckeyes with marble-patterned beads you make from oven-bake polymer clay. The material is simple to shape, comes in bright colors (which means you can skip painting your beads) and can be purchased at craft supply stores or online.
Check out the video above to see Howald make her take on a buckeye necklace, then unleash your imagination. Happy crafting!
Supplies:
At least one buckeye necklace
Oven-bake polymer clay
String or cord strong enough to hold your creation if you're going for an all-beads-and-buckeyes necklace; alternatively, chain (which is what Howald uses)
Optional: Jump rings; stencils or mini cookie cutters to make shapes; craft foil or gold leaf; toothpick, needle or other appropriately sized piercing instrument; rolling pin or other roller, such as a can of soda; pliers; flexible beading needle
Steps:
Choose your colors. If you're making multicolored beads, as Howald does in the video, you'll want more than one color of clay. Work your chosen clay with your hands. The warmth and movement will not only soften the clay, but will help prevent problems during baking.
Combine your clay to create patterns. Break off pieces of each color and roll them together to create a marble effect. For extra sparkle, you could layer in gold leaf or colored foil.
Make your shapes. Here you could flatten your combined clay (not so much that you can see through it) and press stencils into it to create shapes, as Howald demonstrates in the video. For round beads, you would form your clay into a log, cut same-sized pieces and roll each into a sphere.
Turn your shapes into beads. If you'll be using jump rings to attach your beads to chain, use your skewer to poke holes through the top and bottom. If you plan to string your beads, push the skewer through the center of the bead and wiggle and rotate it a little.
Bake your beads. Follow the clay manufacturer's directions. How thick your beads are might affect how long you bake them.
Attach connectors. Once the beads have cooled, attack your jump rings. Break down your old necklace and add connectors to the buckeyes, if need be. If you're stringing together your necklace, prepare the string so that it's somewhat longer than you want your finished piece to be. It never hurts to double up the string.
Finish your necklace. If you used connectors, attach your chain. If you're using string, add your beads and buckeyes in your preferred pattern — a flexible beading needle can be useful here — and tie the ends of the string together once complete.
Wear proudly and enjoy!
---
Lizzie Howald thrives on change
A still-growing artist embraces the evolution of herself, and how Ohio State prepared her.
 
Know thyself.
Lizzie Howald '20 believes in the power of that ancient advice, perhaps with a modern twist: Whoever you are in this moment, explore it. The future will probably bring an evolution.
Allowing herself this room to stretch has paid off. Howald started college in Southwest Ohio, but recognized the experience wasn't exactly what she wanted. After her first year, the North Canton native transferred to Ohio State, where she made the decision to pursue majors in studio art and art administration.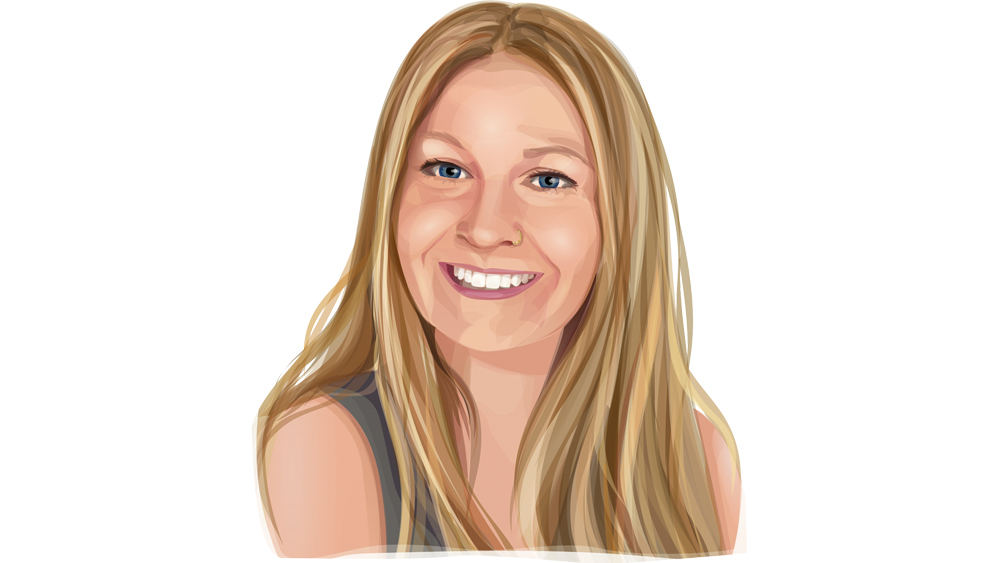 "It was kind of like working backstage and as an actor at the same time," says Howald, now administrative and festival coordinator at McConnell Arts Center in Worthington, Ohio. "I was prepared for how an arts nonprofit works, meaning I knew I was going to be doing the job of like six people.
"I'm excited to be doing it, though, because I'm passionate about it," she says.
The art and experiences she's exposed to — such as when she planned McConnell's summer festival for 115 artists and 15,000 visitors — fuel her own creativity. She hand-throws ceramics and experiments with printmaking.
"I embrace changes in work and changes in what I'm creating," she says. "Who you are is a very fluid experience, and it's going to change depending on where you are in life."